The skin is the largest organ in our body… and a very important one, at that! Scarring, or skin injury, at some point in our lives, is oftentimes inevitable. Acne, burns, surgery, pregnancy or other traumas, can leave the skin damaged and left with a resulting mark. Scars can come in many forms – they can be raised, discolored, indented, stretch marks, or burns, but they're our body's natural response to injury. While scarring is a normal part of healing, it can be an ugly reminder of an injury that you would much rather forget. Thankfully, there are non-toxic scar creams for kids and adults!
But how can you naturally heal a scar without harmful chemicals? What ingredients are in scar creams? What are best practices to avoid making scarring worse? Are non-toxic scar creams available on the market? Keep reading to learn more!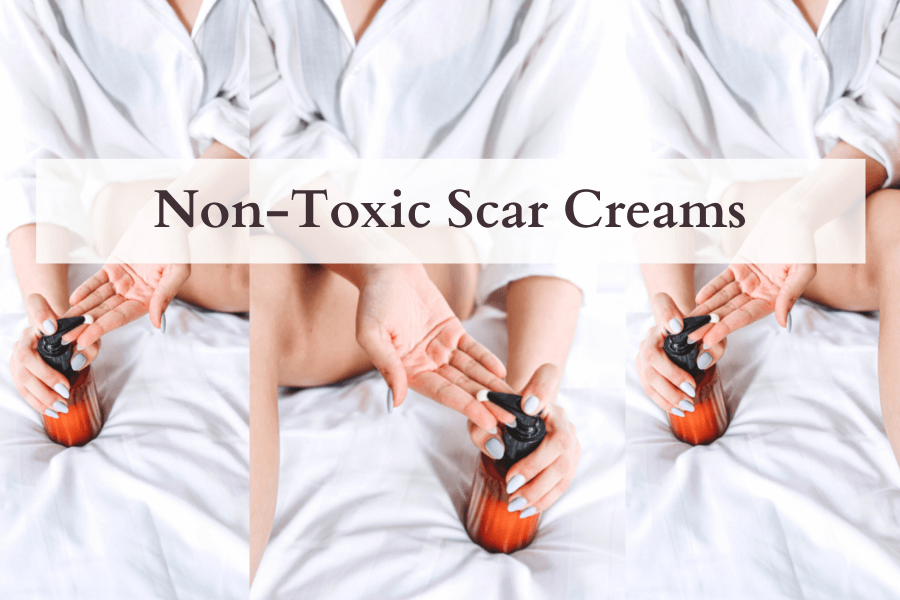 Note: This article contains affiliate links, meaning In On Around will make a small commission at no additional cost to you. This helps me maintain the site. As always, I value full transparency & only work with brands I love and trust.
---
What's Commonly In Conventional Scar Creams?
Beware: like most cosmetics, many scar creams contain a long list of harmful ingredients! Even though they can help to "reduce the appearance of the scar," they can come with a host of possible negative side effects.
Some ingredients commonly found in anti-scar creams include:
Silicone
Mineral Oil
Lanolin
Glycerin
Ceresin
Lactic acid
Petrolatum
Propylene Glycol
Butrylated Hydroxytoluene (BHT)
Benzlakonium Chloride
PEG
Parabens (Butylparaben, Ethylparaben, Isobutylparaben)
Disodium EDTA
FD&C Dyes
Fragrance
DMDM Hydantoin

This is a potential Formaldehyde releaser

Vitamin E (tocopherol)
I go into detail on why these ingredients can cause harm in my Clean Beauty Checklist. Many of these ingredients are potentially linked to cancer, endocrine disruption, allergies, fertility issues, and more (no bueno!).
The Common Scar-Healing Protocol
When you're usually healing from a small injury (like stitches), it's common for dermatologists to recommend putting petroleum jelly (aka petrolatum, paraffin oil, mineral oil, white petrolatum) on the injury. These may help protect the wound from additional harm and keep it moist for healing.
While these products can help protect the scar, they are oftentimes derived from petroleum and can be linked to allergic reactions. Any allergic reactions can seriously slow the healing process. Topical antibiotics can potentially contribute to antibiotic resistance. [4]
There are other options that can keep the wound protected, without the use of petroleum-based products that can be contaminated with polycyclic aromatic hydrocarbons (PAHs). [5, 6] PAHs are linked to cancer, unless the product is fully refined. Unlike Europe, petroleum-based products are not always fully refined in the United States. [7, 8]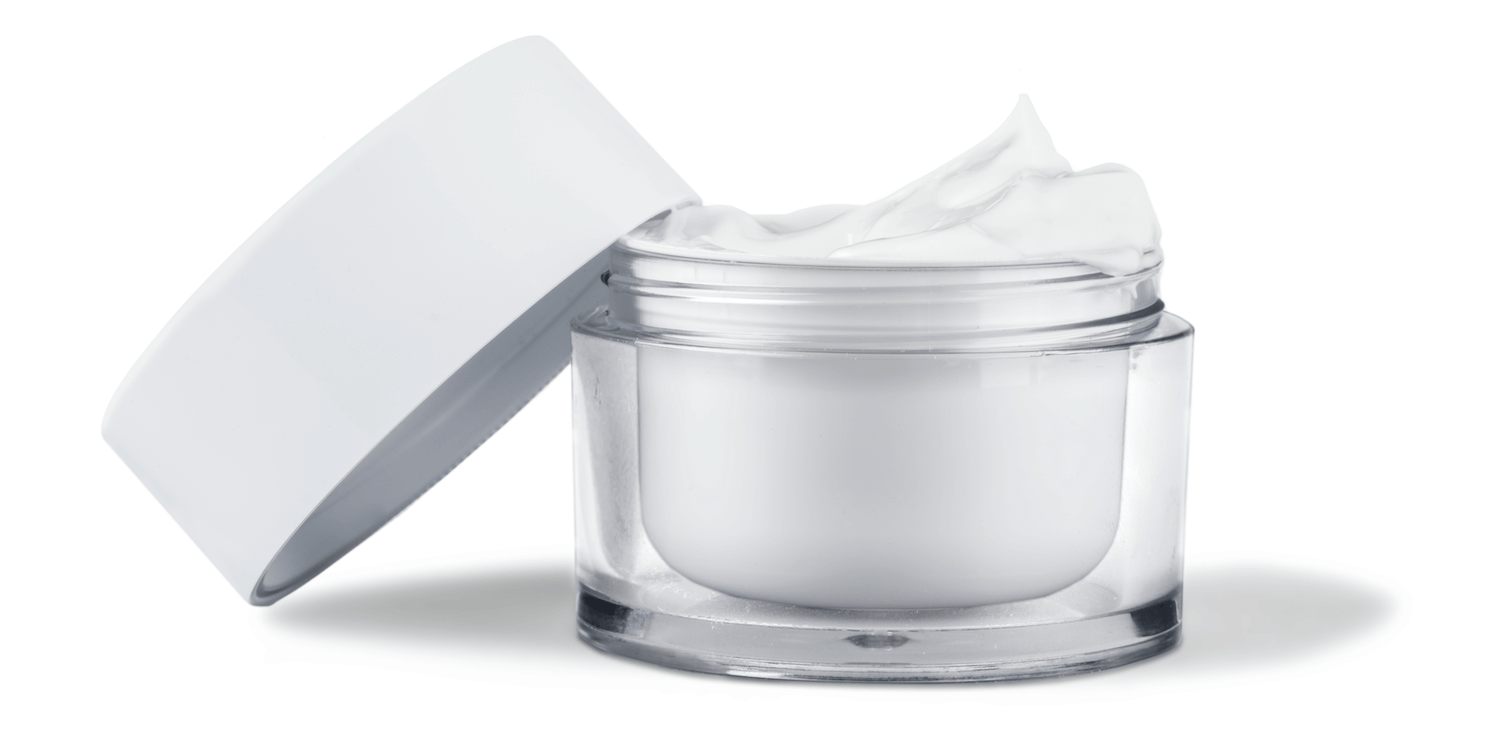 Best Practices To Avoid Scarring
The severity of a scar usually fades over time, but following these tips can help ensure the scar is not made worse.
Look for the following active ingredients:
Avoid scar creams with questionable & toxic ingredients (like parabens, unnecessary fragrance, specific preservatives). Many harsh ingredients can lead to dry skin, which can make healing even more difficult.
Skip the petroleum-based products & antibiotic topicals, unless necessary or there is a serious risk of infection (discuss this with your doctor).
Beware of very bold claims which can misrepresent the product.
Never pick at the injury! This will only make healing more difficult. Leave the damaged skin alone to heal (especially if you're trying to avoid acne scars).
As always, it's best to patch test any new product to ensure you don't have an adverse reaction.
Use a non-toxic scar cream as soon as you can, but wait for it to properly heal first (once approved by your dermatologist or doctor). The longer you wait, the harder it can be to fade.
Keep the injury clean with non-toxic soap (not antimicrobial soap) and covered with a clean bandage

In fact, uncovered wounds can take 50% longer to heal than if they were protected with a bandage. Cover it up with a moisture-protective agent, like beeswax. [14]

See a doctor if there's intense pain, pus, or signs of infection.
Protect your scar from the sun.

Wear clothing to cover it, bandages, and stay in the shade. Sun exposure can darken the scar and lead to irritation, especially if you're using a cream that makes you more prone to sunburn. Adequate sun protection is key.

Be patient & remain consistent. It will take a while before you see results (sometimes 2-6+ months). Don't expect the scar to disappear in 24 hours! Scar treatment takes time.

The amount of healing time can depend on how deep the scar is (or the layer of skin impacted by the wound). Very deep marks are more difficult to fade.
Some creams will require consistent reapplication a couple of times a day.
---
What Are Better Non-Toxic Scar Creams For Kids?
For Wound Healing
BLDG Active Skin Repair Scar Shield Hydrogel (before the scar is formed)
For Moisture
Earth Mama Organics Skin & Scar Balm (petroleum-free, 100% organic)
Healthy Jelly (petroleum-free plant-based jelly with beeswax and castor oil)
For Scar Reduction
Pure Aloe Vera – directly from the plant (not for open wounds)

Great to help your skin repair – it's rich in skin-healing properties!
Anti-inflammatory and anti-septic

Organic Coconut Oil

Naturally high in Vitamin E and fatty acids
When applied topically, it's great for massage, but keep in mind it can clog-pores (don't use on face, especially if you have extra sensitive skin).

Vitamin C Serum
Organic Rosehip Seed Oil (RHO)

Can reduce the appearance of wrinkles in a natural way [15]

An "okay" option, but certainly not perfect: Derma-E Scar Gel with Panthenol & Allantoin

Contains active ingredients, like onion bulb extract, that can encourage self-healing
Better ingredients than other commercial scar cream options, but not the best.
However, also contains Tocopheryl Acetate, Retinyl Palmitate and Phenoxyethanol (ingredients you should avoid in skin care ingredients, according to Clean Beauty Checklist)
Check Out The In On Around Shop
Other Natural Scar-Reduction Techniques
Eat nourishing foods and drink nourishing drinks, like green tea and collagen-rich proteins.
Gently massage your scar in circular motions once healed

Scar massaging can help boost collagen production and increase blood flow to skin cells

May help to flatten scars and increase skin flexibility
Can reduce the build-up of scar tissue
Note: don't massage your scar prematurely. This can cause it to tear or reopen.

Microneedling

This involves getting microscopic punctures on your skin by a dermatologist to treat scarring and wrinkles
It can help to encourage the production of collagen, which can smooth out skin tone [16]

Red Light Therapy…aka Low Level Laser Therapy (LLLT)
There are plenty of home remedies that can potentially help to reduce hypertrophic scar tissue, keloid scars, raised scars, atrophic scars, contracture scars, or other types of scars!
---
Non-toxic Scar Creams For Kids & Adults – Frequently Asked Questions
Click on the below FAQs to learn more!
What is in scar cream?
Can massaging a scar help reduce its appearance?
What is microneedling?
When should you start using scar cream?
---
There are many scar cream products on the market that can cause more harm than good – be very cautious… especially if you're looking for scar creams for kids. Instead, opt for non-toxic scar creams and healing solutions that are effective, yet natural.
Have you used scar cream?
Let me know in the comments! You can watch our web story here.
xoxo,

Want to read more? Check out my other articles here!
Information on non-toxic scar creams for kids and adults from: Women's Health, Healthline, Moffitt Cancer Center, British Skin Foundation, DermStore, NewsBytes, Marjorie Brook, Degree Wellness, Toxic Free Foundation, Byrdie, Advanced Tissue
Copyright In On Around LLC 2021 ©. The statements made on this website have not been evaluated by the FDA. (U.S. Food & Drug Administration). They are not intended to diagnose, treat, cure, or prevent any disease. The information provided by this website should not be used as individual medical advice and you should always consult your doctor for individual recommendations and treatment.