Whether you're watching TV, taking a cat nap, or catching up with friends, the living room couch is likely a popular space in your home. Unfortunately, many sofas and sectionals can be off-gassing nasty chemicals into your home environment (even some marketed as "non-toxic couches").
In fact, upholstered furniture is one of the primary sources of exposure to halogenated chemicals. Dangerous chemicals oftentimes found on couches and furniture have no place in your home (… especially when there are better options available)! Are dangerous chemicals lurking in your furniture? What are the best non-toxic or organic couch brands?
Let's dive into all the details. Keep reading to learn more!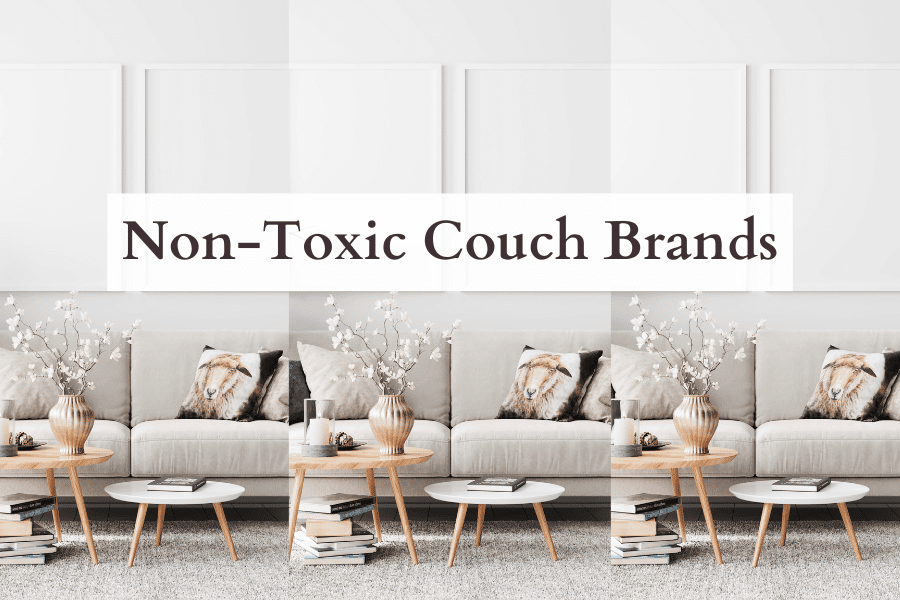 Note: This article contains affiliate links, meaning In On Around will make a small commission at no additional cost to you. This helps me maintain the site. As always, I value full transparency & only work with brands I love and trust.
---
Why You Should Have A Non-Toxic Couch
As mentioned, the couch is usually a popular gathering place in the home. This is why it's of utmost importance to make sure you're not sitting on (or breathing in) chemicals from your sofa or sectional. There are far too many chemicals hiding in plain sight in mass-produced conventional couches.
A Silent Spring Institute study found that 100% of the homes tested had measurable levels of flame retardants in them, with 50% of the samples containing over 41 different chemical flame retardant compounds, including brominated tris.[1]Much of this flame retardant exposure (especially for children) can come from (… you guessed it) – furniture and couches!
American babies are born with some of the highest levels of flame retardants in their blood across the world.[2]Halogenated chemicals (like brominated and chlorinated flame retardants from upholstered furniture) impact the thyroid and are potentially linked to thyroid disease.[3]
The textile and furniture industries especially can be very, very toxic. You can learn more about non-toxic textiles/fabric here: Healthy, Non-Toxic Textile Certifications (GOTS, Oeko-Tex)
Furniture is responsible for about 30% of greenhouse gas emissions. [4]
Toxic Chemicals Commonly Found in Couches & Upholstered Furniture
Let's dive into the materials commonly used in sofas:
1. Stain- and Water-Resistant Sprays & Finishes
While they're convenient, stain-resistant sprays are oftentimes made with forever chemicals or perfluorinated chemicals (PFAS, PFOA, PFOS, PFCs).
Believe me, spills happen… especially on couches! But there are risks associated with stain-resistant fabrics. These chemical coatings can be linked to cancer, weakened immunity, endocrine disruption/hormone disruption, weight gain, and more.
You can read more about forever chemicals here: Per/Polyfluoroalkyl Substances (PFAS) – What Are Forever Chemicals & How Do We Avoid Them?
2. Flame Retardants
Many pieces of furniture can off-gas, meaning they release volatile organic compounds (VOCs) into the air. We breathe these VOCs in and can oftentimes smell the "newly manufactured" scent.
In 1975, TB117 (Technical Bulletin 117) in California required manufacturers to use fire retardants in furniture for fire protection. Luckily, in 2014, the US Consumer Product Safety Commission updated its recommendations to note that flame retardants are dangerous and ineffective. The risks of these unnecessary chemicals outweigh the benefits – especially since they show up in the bodies of children and harm our environment.
If your sofa was made before 2015, it likely contains flame retardants.

About 85% of all foam couches contain flame retardants. [5]
3. Synthetic Fabrics
Synthetic fabrics are commonly derived from petroleum. This includes any polyester blend or poly fabric! While they're more stain-resistant and affordable, they can be dyed with toxic chemicals and these fabrics NEVER degrade in the environment, meaning they release microplastics (which you can breathe in).
There are certain synthetic fabric brands that are "better" than others, which we'll discuss below, but you should always use a high-quality air purifier near these couches, especially as they age.
To learn more about the best air purifiers for microplastics, check out: Best Air Filter Buying Guide
4. Foam
Most couch cushions are made from polyurethane foam, which is very flammable and requires flame retardants. Polybrominated diphenyl ethers (PBDEs) are commonly found in sofa foam and may be linked to hormone disruption, neurodevelopment issues, and hyperactivity.
These foams can deteriorate over time and they can off-gas airborne chemicals. Many brands also claim to use "plant-based" foams (like soy foam), however, these are oftentimes polyurethane foam mixed just with a hint of added soy oil. It's a big greenwashing tactic to make it seem "healthier" or more "eco-friendly"!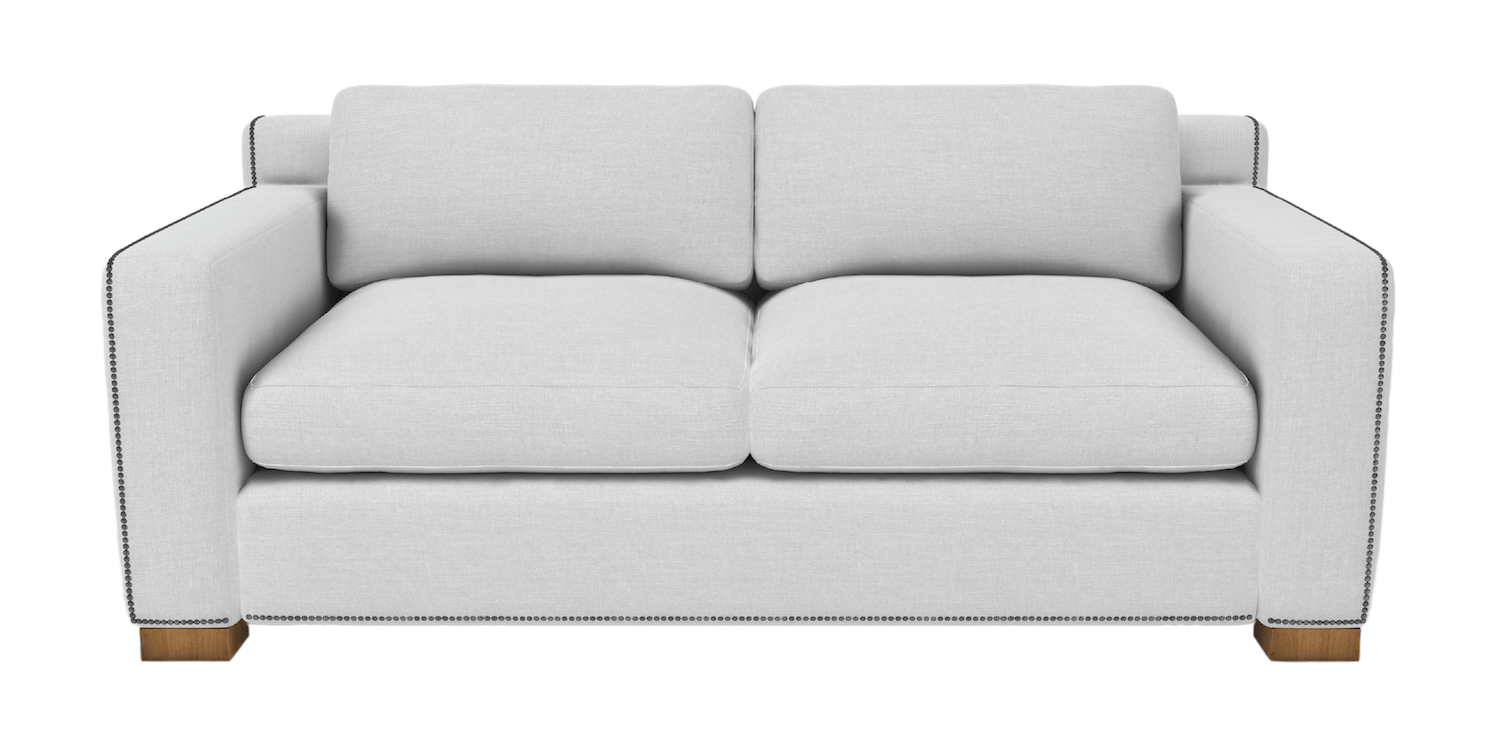 5. Engineered Wood
Most couches incorporate some wood, which isn't necessarily a bad thing as long as it's harvested sustainably. However, many furniture brands use plywood, medium-density fiberboard (MDF), particleboard, hardboard, or wood composites, which can off-gas formaldehyde.
Instead of pressed particle board, it's best to look for a solid wood frame with a low-VOC finish.
6. Heavy Metals
Your couch may be the last place you would think to look for heavy metals, but it's a rampant issue in the industry! Toxic metals like lead, mercury, cadmium, and nickel can be present in your couch. [6] These heavy metals are commonly found in dyes, fabrics, fire retardants, and furniture finishes.
There are also little-to-no testing requirements required for heavy metal levels (aside from children's products and certain adult furniture). There's usually very little transparency with heavy metal reporting amongst furniture manufacturing!
7. Glue
Typically manufacturers don't disclose the chemicals used in their glues, however, formaldehyde and benzene are commonly used to make glues. These are known carcinogens that may also affect neurological development. It's best to support brands that use zero-VOC or low-VOC products.
Many of these materials are also found in mattresses. You can learn more about non-toxic mattresses here: The Most Organic, Safe, and Affordable Nontoxic Mattresses
Are Secondhand Sofas Safer?
No, secondhand sofas are not usually safer. Over time, cushions and foam begin to crumble, which can further release toxic chemicals or microplastics into the air. Many old couches use flame retardants in their foam, which is certainly something you want to avoid.
Furniture can be off-gassing for the lifetime of its use.
Are IKEA Couches Non-Toxic?
While IKEA furniture is really affordable, they do use materials that should be limited. IKEA couches are flame-retardant-free (after 2020) and don't use perfluorinated chemicals (which is great!), but they can still use VOC-off-gassing glues, chemical sealants, polyurethane foams, press boards, and other artificial materials. They're certainly "better" than products with flame retardants… but they're not necessarily "clean." It's best to opt for a better option (which I discuss below), if your budget can afford for one.
Keep in mind that any "sleeper sofas" (with pull-out mattresses) can contain another host of chemicals, which you can read more about here: The Most Organic, Safe, and Affordable Nontoxic Mattresses.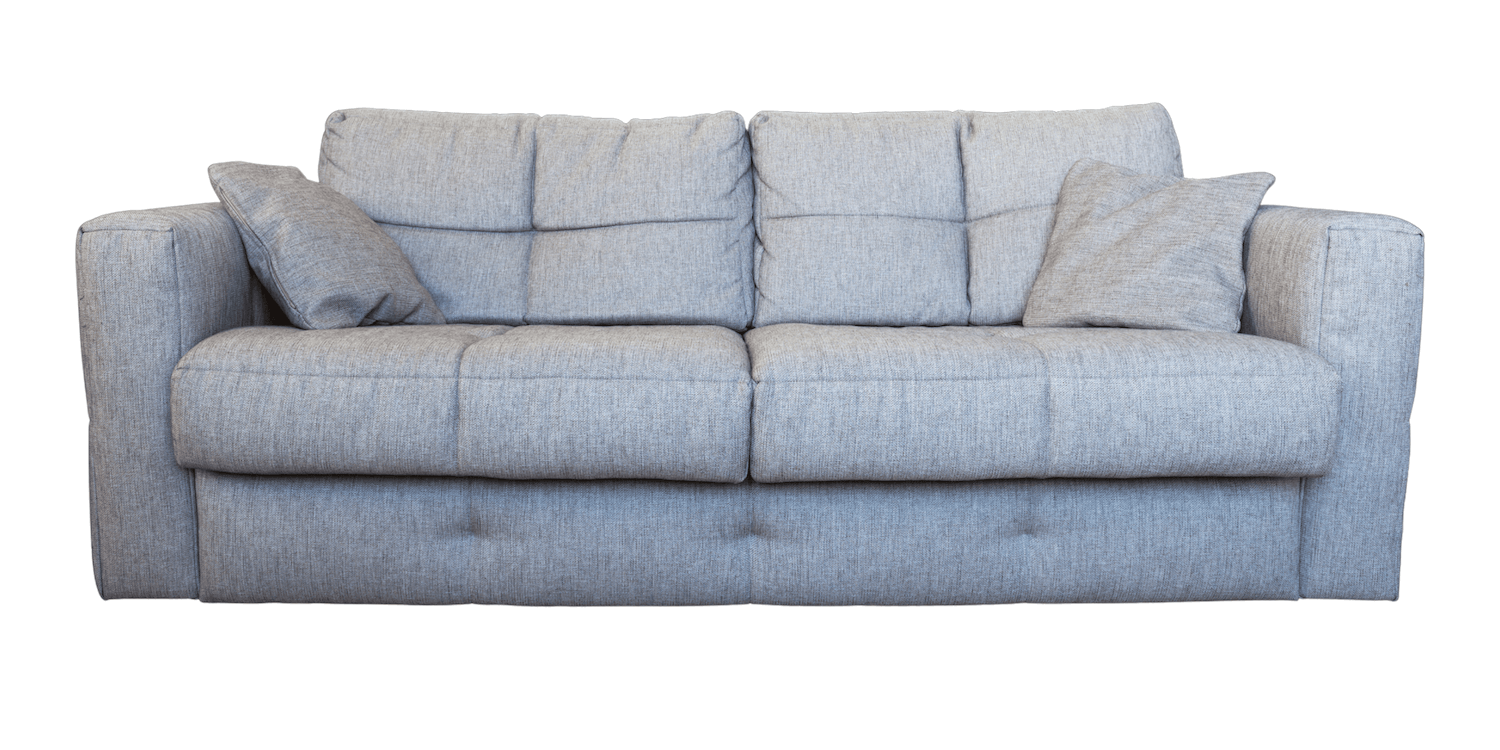 Third-Party Certifications To Look For In Non-Toxic Couches
The best third-party certifications for non-toxic sofas are Global Organic Textile Standard (GOTS) and Global Organic Latex Standard (GOLS). OEKO-TEX Standard 100 and Greenguard are also great certifications if you're opting for synthetic fabric.
If a company claims to be "certified non-toxic" or just "non-toxic" – ask for proof.
When shipping for sofas, always look at their TB117-2013 label. It should say that "the upholstery materials in this product contain NO added flame retardant chemicals."
While CertiPUR-US is oftentimes thought to be "better" than no certification at all, I don't rely on it since most foam can meet their standards. In fact, CertiPUR-US is an internal certification created by the foam industry and they "certify" against chemicals that would not be found in foam in the first place. [Greenwashing alert!]
Beware of furniture greenwashing!
Non-Toxic Sofas and Couches – What to Look For
Look For
Natural cushion fill with organic cotton, down, wool, or 100% natural latex (NOT polyurethane foam or memory-foam)
Low or zero VOC wood glue/adhesives
No flame retardants whatsoever (in both the foam, fabric and finishes)
All natural wood that has a low or zero VOC finish OR high-quality metal frame
No chemical or formaldehyde treatments (undyed, untreated upholstery is best)
GOTS Certified and GOLS Certified Latex
Bonus: Forest Stewardship Council certified (from responsibly managed forests)
Avoid (When Possible)
Treated down/feather fillers, which are commonly cleaned with harsh chemicals and are not usually cruelty-free.

Always ask the company if they use organic feathers that are untreated.

Leather, which is oftentimes tanned with heavy metals, like lead acetate, as well as formaldehyde and coal-tar derivatives.

If you're opting for leather, look for vegetable tanned and ask whether the animal skin was a natural byproduct.
This is especially important since lead acetate has a sweet taste, which can encourage young children or babies to chew on it.

Anti-microbial, stain and water-repelling treatments or sprays
Fake or Faux Leather (Pleather), which is really just made from plastic. Usually it's a combination of polyurethane, polyester, PVC, or polyamide microfiber. This also includes olefin (polyolefin) fiber, which is usually made from polypropylene or polyethylene.
… yes, that's a lot of info! Don't worry – I simplify it all for you at the end of the article & list In On Around approved brands!
Lead can be used in fake leather products. Some can be 90x higher than lead levels allowed in paint! [7, 8]
Non-Toxic Couch Brands
Despite the fact that there are thousands of couches on the market with harmful materials, there are a growing number of companies manufacturing non-toxic sofas.
The "Best" Healthy Couch Options
In no particular order – these are all great options!
They offer fabrics that are OEKO-TEX certified, 100% organic cotton, 100% GOTS-Certified, or 100% Wool.
They use GOLS-certified organic latex, virgin, wool, and coconut coir. They're free of polyurethane, flame retardants, stain-repelling treatments, and other petrochemical foams.
Made with OEKO-TEX-certified wool, organic latex, FSC-certified wood USA sourced, low-VOC plywood. Free of flame retardants!
Previously known as "Stem Goods"
[DISCOUNT: Code INONAROUND saves you 20%!]
Made with organic fabrics, natural latex, GOTS-certified upholstery, organic wool, and formaldehyde-free plywood!
Free of flame retardants and formaldehyde! They use water-based, low-VOC glues and stains.
Important note: Their performance fabrics are free of PFOS and PFOA (forever chemicals), but not all of their other fabrics are. Make sure you're selecting the performance fabric options only (not leather or merino).
Free of flame retardants, perfumes, and dyes. Made with natural wool and GOTS-certified organic cotton.
If you have a futon frame, they also sell organic cotton futon cushions on their own!
[Custom made] Custom couch designer who uses FSC-certified wood, jute webbing, GOLS-certified organic latex, organic cotton, and more.
[Custom made] They use wool (which is naturally fire-resistant), low-VOC finishes, organic latex, and organic feathers.
Note: for some products, it has a California Proposition 65 warning for wood dust and carbon black. This risk is likely limited.
Brentwood Home is an excellent brand that's free of flame retardants. They're one of the only Greenguard Gold and formaldehyde-free kids play couch options on the market.
Pure Upholstery is another great option, however, I'm not a fan of their couch styles (especially for their very expensive price-point). If you're looking for great non-toxic furniture for your couch (like side tables and coffee tables), Avocado is a GREAT option.
The "Better" Healthy Couch Options
These options are best for stain resistance, however, they used poly fabrics or Olefin, which are derived from petroleum (thinly woven plastic fibers). Many of these are made from recycled plastic water bottles.
If a couch brand markets itself as stain-resistant, they usually use either 1) chemical treatments (like PFAS), or 2) polyester fabric blends.
[DISCOUNT: this link saves you $75!]
Burrow is free of formaldehyde, fire retardants, or chemical fabric treatments! Some of their couches are made with Olefin, while others are leather. It's best to avoid leather when possible.
[DISCOUNT: code INONAROUND saves you $50!]
Made with FSC-certified wood with low-VOC stains. They're free of formaldehyde, glues, and flame retardants.
If you're on a lower budget, they have some more reasonable prices.
[Custom made] Made with OEKO-TEX-certified fabric options and FSC-certified wood frames!
Another in-store option: Pottery Barn, West Elm, and Williams Sonoma are also expanding into lower-tox furniture, with the use of organic cotton and OEKO-TEX certifications. This is on a case-by-case basis, however. Always ensure that the furniture does not contain fire retardants or stain-resistant coatings.
Many popular sofa brands, like Lovesac, Rove Concepts, and Anthropologie don't make my list.
If you're worried that your non-toxic couch might get stained, opt for an organic couch cover! It's always best to rotate and vacuum the cushions regularly and use a non-toxic spot cleaner, when necessary. The best non-toxic cleaning products can be found here.
---
Final Thoughts – The Bottom Line on Non-Toxic Couches
Sofas are usually high-traffic pieces of furniture, so it's always best to opt for lower-tox, eco-friendly, and sustainable options if possible. Be cautious of brands that claim to be "non-toxic" or "eco-friendly" without backing them up with the proper certifications.
If the couch has a strong smell, it likely is off-gassing. It's always best to air out your home & use high-quality air purifiers as much as possible. Regular home ventilation is crucial (and it can be as simple as opening up your windows)!
Of course, it's not always easy just to discard of your current couch and buy a new one. They are expensive pieces of furniture! But this information is crucial to know if you're in the market for a new sofa.
A sofa is one of the most used pieces of furniture in a home.
⬇ Pin this "Non-Toxic Couches?" pic on Pinterest for future reference! ⬇
---
Frequently Asked Questions About Non-Toxic Sofas
Click on the below FAQs to learn more about this topic: Non-Toxic Sofas, Organic Sofas, and Non-Toxic Couches
Which country uses a high amount of flame retardants?
Are secondhand sofas safer or less-toxic?
How can you find a non-toxic sofa?
Do non-toxic couches exist?
---
Do you own a non-toxic or organic sofa?
Let me know your thoughts in the comments below!
You can watch our web story here.
xoxo,

Want to read more? Check out my other articles here!
References on Non-Toxic Couches: The Filtery, Organic Olivia, My Chemical Free House, Natural Baby Mama, NY Times, Amy Baratta, Green Snooze, Healthy House On The Block, The Honest Consumer, MD, Revolution Fabrics, About Mechanics, Sarahs Scoop, Gimme The Good Stuff, The Nontox Shop, The Eco Hub, Ruan Living, The Good Inside, Consumer Reports
Copyright In On Around LLC 2022 ©. The statements made on this website have not been evaluated by the FDA (U.S. Food & Drug Administration). They are not intended to diagnose, treat, cure, or prevent any disease. The information provided by this website should not be used as individual medical advice and you should always consult your doctor for individual recommendations and treatment. The information contained in this site is provided on an "as is" basis. Related to this site, there are no guarantees of completeness, accuracy, usefulness, or timeliness. In On Around LLC assumes no responsibility or liability for any errors or omissions in the content of this site.