We spend so much of our lifetime in bed (about 1/3 of our lives, to be exact)! It's essential that we're not snuggling up to unsafe chemicals. We shouldn't need to threaten our health in order to get a good night's sleep. Especially considering that we use the same mattress for years on end! Investing in a non-toxic mattress can protect you and your family… but what's the most affordable nontoxic mattress available?
So what are the hidden dangers of conventional mattresses? How can it impact you and your family? This article will dig deep into it all! Keep reading to learn more.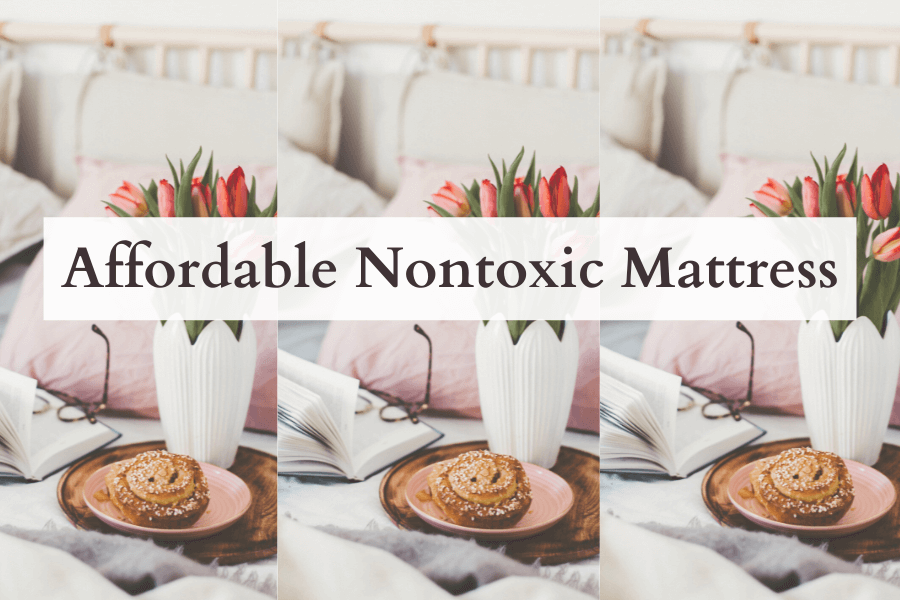 (Note: This article contains affiliate links, meaning In On Around will make a small commission at no additional cost to you. This helps me maintain the site. As always, I value full transparency & only work with brands I love and trust.)
---
What's Commonly Found In Conventional Mattresses?
There are many toxic ingredients that can be used in the manufacture of conventional mattresses. You will oftentimes find:
PFAS, aka "forever chemicals"
Antimicrobials
Plasticizers
Phthalates
Flame Retardants
Heavy Metals
Volatile Organic Compounds (VOCs)
Synthetic Latex
… just to name a few.
These are potentially linked to asthma, chemical sensitivities, allergies, dizziness, hormone disruption & even cancer.
We all must be conscious consumers and do our due diligence before supporting brands. We vote with our dollars! Our regulations are not doing nearly enough to protect us from these dangers.
What Is Off-gassing? What Are VOCs?
Conventional mattresses usually off-gas, meaning they release volatile organic compounds (VOCs) into the air. We breathe these VOCs in and can oftentimes smell the "newly manufactured" scent, like in a new car.
In addition, flame retardants are purposefully added to conventional mattresses for fire protection, but certified organic wool is naturally flame-resistant and can be a safer alternative. The risks of these unnecessary chemicals outweigh the benefits – especially since they are showing up in the bodies of children and harming our environment. [1] The efficacy of these flame retardants are being questioned – as they should be. [2]
The efficacy of flame retardants are being questioned.
What Is Greenwashing?
Greenwashing is when a company market's their product or brand as "eco-friendly" or "healthy," even though it's really not. It is a very, very common practice in more industries. Consumers are made to feel like they are buying a product that is both good for their health and the environment, however it does not mean the final product is actually safe.
Beware of deceptive marketing!
This is why it is so important to use fully-transparent brands that care about your wellbeing and sell products that are actually nontoxic/healthy.
The Hidden Dangers Of Mattresses
This is a great video from Consumer Reports on the hidden dangers of conventional mattresses! [3]
What Certifications Should You Look For In An Affordable Nontoxic Mattress?
When shopping for a new mattress, be on the lookout for the following certifications:
Greenguard Gold
OEKO-TEX
Global Organic Textile Standard (GOTS)
Global Organic Latex Standard (GOLS)
Eco-INSTITUT® for latex
100% Organic Cotton
Be careful with brands that claim to be "natural" and "safe" – if they don't have a certification, it will be nearly impossible to ensure how safe they really are.
Note: you likely won't find many mattresses with every certification listed above. Finding a brand that is certified in one or two is much better than none!
---
The Best Non-Toxic Mattress Brands
There are many safe, affordable nontoxic mattress brands available online, however one brand really stands out from the pack.
1 – Avocado Mattress
One of the most affordable and high-quality nontoxic mattress brands on the market = Avocado Mattress
Avocado has safe adult & crib mattresses available that are free of toxic ingredients and are GOLS & GOTS certified. They have latex & vegan versions available as well! They also have a couple of in-person stores on both the East & West coasts in order to try the mattress out yourself. Avocado's mission is to "make healthy sleep accessible and affordable" – love that! Not to mention, they are environmentally friendly and sustainable.
Avocado (especially their new Eco mattress and mattress toppers) are at the lower end of the price range. If you want to save some money, be sure to check out their offerings.

2 – Brentwood Home
Brentwood Home is another excellent non-toxic bed option! They are owned by the same parent company as Avocado.
Brentwood also offers affordable mattresses that are high-quality, Greenguard Gold, GOLS, and OEKO-TEX certified! Note: Not all of their mattresses have all of these certifications – look for the ones that do!
They also have a great assortment of dog beds, nontoxic crib mattresses, mattress toppers, organic sheet sets, and pillows! All of these can be found in the In On Around Store.
3 – Naturepedic
Naturepedic is a fabulous option! These mattresses are really high quality, so they are on the pricier side, BUT they will likely be the last mattress you ever buy. While most mattresses only last 7-10 years, this mattress can be refreshed by replacing the top layers, which will make your bed feel like new again.
They also offer a 100-night trial to adjust & customize how firm or plush you like it.
Always let new mattresses air out for a couple of days.
Other great options: Happsy, which is easily available on Amazon, and Lullaby Earth!
With any mattress, make sure it airs out for a couple of days before using it…especially if it's wrapped up in plastic lining. It's best to air it out outside (although this is weather-dependent). If that's not possible, place it in the garage, basement, or an unused room with an air purifier blasting.
I personally bought a Natures Beds Ultima Latex OEKO-TEX, 100% Organic cotton mattress from SleepWorks since they are local – if you're in New York, check them out too! It uses a natural thistle as a fire retardant.
---
Eco-Friendly Organic Mattresses – Frequently Asked Questions
Click on the below FAQs to learn more about safe, nontoxic kids mattresses!
What should I look for in a non-toxic mattress?
What is the best non-toxic mattress?
Why are non-toxic mattresses safer?
Where to buy a non-toxic mattress?
---
Do you have a non-toxic mattress?
Finding a new bed can be a challenging task (especially since some people prefer softer or firmer mattresses), but luckily there are plenty of available options!
Let me know your thoughts and comment below!
Watch our web story here!
xoxo,

Want to read more? Check out my other articles here!
Information provided by Elemental Green, Coway, Gimme The Good Stuff, Savvy Rest
Copyright In On Around LLC 2021 ©. The statements made on this website have not been evaluated by the FDA (U.S. Food & Drug Administration). They are not intended to diagnose, treat, cure, or prevent any disease. The information provided by this website should not be used as individual medical advice and you should always consult your doctor for individual recommendations and treatment.