Known as a popular modern cure-all in the holistic health and wellness space, bone broth is trending! Some people are even swapping out their morning cup of coffee for this ancient beverage. But… what's all the fuss about? Are there healing benefits? Is bone broth truly a superfood? Can you drink bone broth for gut health?
Let's dive into all of the details about the power of bone broth! Keep reading to learn more. Bone-Appetit!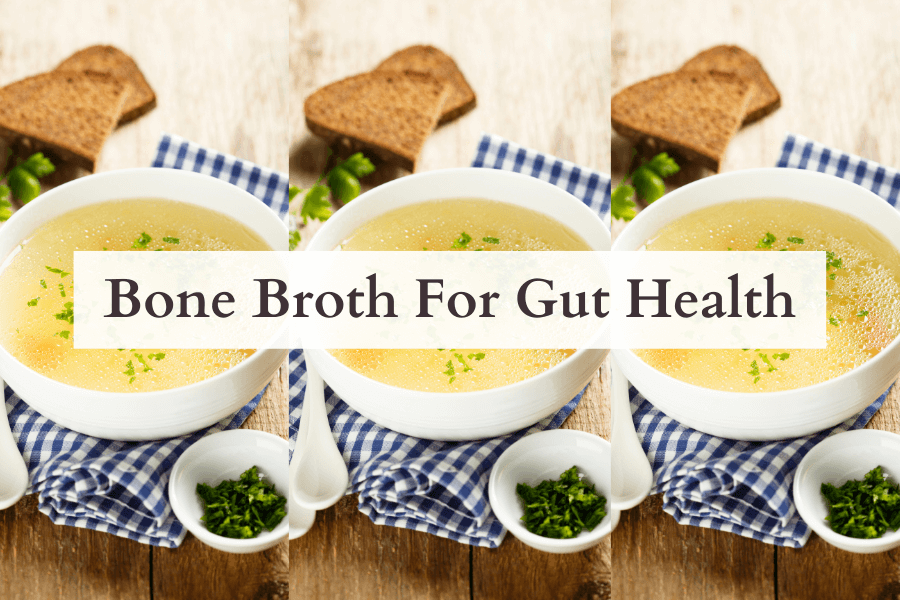 Note: This article contains affiliate links, meaning In On Around will make a small commission at no additional cost to you. This helps me maintain the site. As always, I value full transparency & only work with brands I love and trust.
---
What Is Bone Broth?
Bone broth is made by slow-cooking & boiling animal bones (like chicken or beef) in water. It's commonly slow-cooked with spices, cartilage, and vegetables as well. The long simmer of the bones helps to extract gut-healing compounds, like collagen and gelatin.
Bone broth can be made with any animal bones such as:
Chicken
Fish (for marine collagen)
Beef (for bovine collagen)
Pork
Veal
Turkey
Bison
Lamb
Venison
Influencers, naturopaths, athletes, and celebrities are all claiming that bone broth is "life-changing" and incredibly healing for the digestive tract… they're not wrong! Bone broth dates back to prehistoric times – it's nothing new by any means! It was a very common part of traditional and ancestral diets. Our ancestors used to use the whole animal as hunter-gatherers – everything from bones to organs, hooves, knuckles, and more.
It's super (or should I say soup-er) nutritious!
How Is Bone Broth Different From Stock?
Bone broth is a type of stock. They're very similar overall, just with a minor distinction. Both are made by simmering bones in water with vegetables.
While stock can be cooked for only a couple of hours, bone broth usually needs to be simmered on low heat for a long period of time (like 24-48 hours, depending on the recipe). The long simmer time helps to release the gelatin and nutrients from the bones. This is what truly differentiates bone broth from other stocks.
Usually, broths in general are made with uncooked bones, while stock is made with cooked bones.
How Is Bone Broth Different From Regular Broth?
The "broth" that's commonly sold on shelves in the grocery store is not usually bone broth. Bone broth is simmered over a long period of time to extract the maximum amount of nutrients and gelatin from the bones. Bone broth even has a Jell-O-like texture when it's cooled in the fridge due to the high amounts of gelatin. Don't confuse the two – they're similar but nutritionally very different.
Don't get confused: most broths on the market are not bone broth.
Gut Health 101: What Is A Healthy Gut?
Gut health is foundational to so many processes throughout the body! It's essential for the modulation of your immune system, nutrient absorption, fat storage, and so much more.
A healthy gut protects you from disease, helps digestion and the absorption of nutrients, produces hormones, regulates your metabolism, and so much more.
The gut lining has a diverse, essential microbiome that is comprised of a balance between good & bad bacteria in the gut flora. When the microbiome is out-of-whack, it can have serious negative impacts on how you feel.
Additionally, a healthy gut consists of tight junctions in the gut lining (also known as an intestinal barrier made of intestinal epithelia). Think of them almost like little doorways throughout your gut wall that protects the intestine from the bloodstream. With a "leaky" or unhealthy gut, those tight junctions can become looser and these large particles can be seen as foreign invaders by your body.
You want your gut to be ultra-picky about which cells pass through your digestive wall. Let's dive into the term "leaky gut" in more detail.
Gut health is foundational.
What Is Leaky Gut Syndrome?
When you have a leaky gut, the gut lining is compromised and it becomes more porous. Meaning the junctions that are supposed to be tight, aren't as tight anymore. In reference to the analogy above, it's almost like the "doors" in the walls of the intestine let in too many visitors, such as partially digested proteins. The barrier gets breached and it's not functioning as optimally.
Basically:
Leaky Gut Syndrome = Increased Intestinal Permeability = Unhealthy gut lining
Keep in mind that Leaky Gut Syndrome isn't classified as a legitimate medical diagnosis at this time (more research is needed). It's recognized as more of a symptom than a diagnosis, however, increased intestinal permeability can lead to chronic inflammation throughout the body. If your body is always inflamed, then it's at a higher risk of contracting other serious diseases or autoimmune disorders.
To learn more about eating a low-inflammatory diet, check out: How To Eat An Anti-Inflammatory Diet
We likely all have some degree of "leaky gut" – some more than others.
How Can You Tell If You Have An Unhealthy Gut?
When your gut is imbalanced, you can experience a number of symptoms such as:
Abdominal pain & cramping
Gas
Bloating
Change in your bowel habits (diarrhea and/or constipation)
Brain fog
Fatigue
… and so much more. Gut issues are also related to a ton of chronic diseases, like depression, autism, asthma, skin conditions (eczema and psoriasis), heart disease, and more.
What goes in, on, and around your body matters.
Those with Irritable Bowel Syndrome (IBS) commonly experience these symptoms on a regular basis. Keep in mind, that IBS is an umbrella term, not a diagnosis. Usually, its root cause can be something like an H. pylori infection, parasites, microbiome imbalance, or more. It's best to work with a naturopathic physician and order a GI-MAP test to get a better idea of what's actually going on in your gut.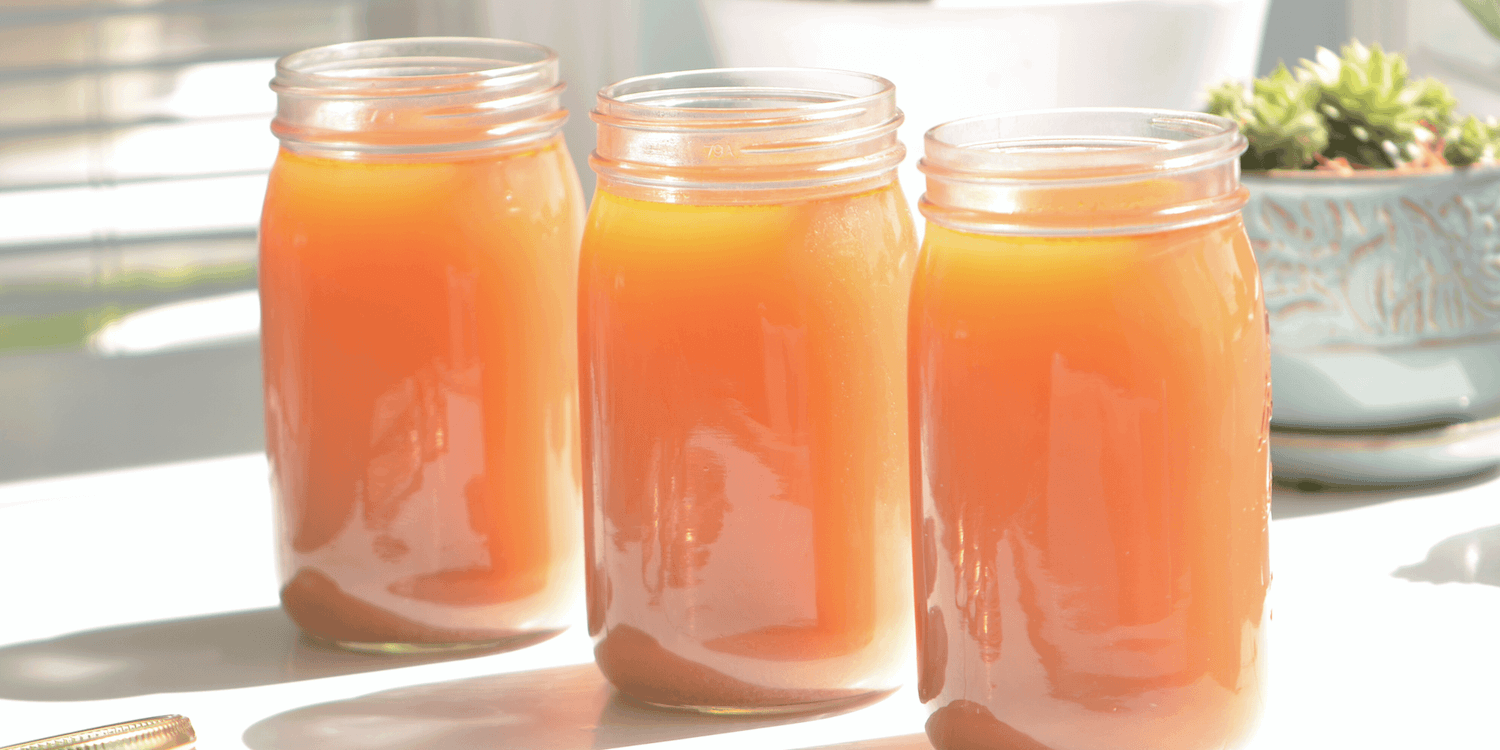 How Your Gut Health Gets Compromised
Gut health can be compromised in a number of different ways, such as foodborne illness, viruses, antibiotic use, NSAIDs (like ibuprofen or common over-the-counter medicines), chronic illness (like Celiac Disease), processed foods, and more. Chronic stress and toxin exposure can also have a negative impact on the gut.
… Yes, even personal care products can potentially impact your gut health! This is why I created a database of hundreds of non-toxic products on the market.
This is why it is so important to look at health holistically and always think about what could potentially negatively impact your microbiome. Think of your gut as the foundation of your house. If the foundation starts forming cracks, the whole house can begin the crumble over time.
What Are The Health Benefits of Bone Broth?
Where do I even begin?! There are SO many potential health benefits of bone broth. It's incredibly healing. [1, 2, 3] Here are just some of the potential benefits of bone broth:
Rich in

vitamins and minerals

Highly nutritious in iron, vitamin K, vitamin A, zinc & more.

Can reduce inflammation
Might help fight osteoarthritis
Enhances brain function
Helps the digestive system
May improve joint health
Can aid in weight loss (helps to keep you full with low-calories)
Improves sleep
Can improve skin health, skin regeneration, and wrinkle prevention
Helps support hair & nail growth
May help improve mental disorders
Boosts amino acids
Supports leaky gut
Helps create a strong gut lining
… and so much more!
What People Are Saying About Bone Broth And Gut Health
I reached out to thousands of followers on Instagram to ask them about their experiences with bone broth.
To be honest, as an ex-vegetarian, drinking bone broth initially grossed me out, big time… until I tried it. Believe me, I understand any hesitancy. Drinking something from bones doesn't necessarily sound appealing, but don't knock it until you try it!
Here's some of the feedback I received:
Question: How has your experience been with bone broth?
Answer: "I absolutely love it and try to drink it every day!"
Answer: "Amazing! Helped heal my gut"
Answer: "I drink warm bone broth before breakfast most days for 1+ year, feel great but unsure about a noticeable difference."
Answer: "I'm scared to dirnk it straight, but I use it for soups often."
Answer: "I feel so much better since I started drinking bone broth regularly!"
So let's dive into what's actually in bone broth…
Bone Broth For Gut Health: Is It Glycine Or The Bones?
Bone broth clearly has many potential benefits for the digestive system and for healing the gut lining, but what is it actually composed of? What is in bone broth that's good for you? In bone broth, you commonly find a mix of different amino acids, which are important building blocks to protein.
Properly simmered bone broth commonly contains:
Gelatin (this is a protein that is similar to collagen)
Collagen (the main structural protein in the human body)
Glycine (antioxidant, cryoprotective, immunomodulatory) [4]
Proline or Hydroxyproline (helps with wound healing and immune responses) [5]
Glucosamine (which depletes as we age) [6]
Glutamine (important for waste excretion, brain function, and digestion) [7]
Vitamins & Minerals/Electrolytes (like potassium, magnesium, and iodine)
Glycoaminoglycans or GAGs (for cell growth and wound repair)
Chondroitin Sulfate (decreases joint pain and inflammation)
Hyaluronic Acid (can reduce skin wrinkles and fine lines)
Bone, bone marrow, and connective tissue each provide a unique profile of amino acids. Many of these components can help heal the gut, aid in digestion, help with food absorption, nourish intestinal walls, hydrate the gut, and decreases inflammation. [8, 9, 10, 11, 12, 13, 14, 15]
Bone broth truly is a superfood.
Can You Drink Bone Broth Every Day?
Yes, you can certainly drink bone broth every day. It really comes down to preference. There is no "right answer" on how often you should drink it, however, many people recommend a cup a day for the best results.
If you're experiencing dehydration, GI issues, or are sick, it's a great time to stock up on bone broth! But keep in mind, as with all food or drinks, it should not be consumed in excess. If you're chugging bone broth or it feels excessive, it's best to moderate your intake.
Is There Vegan Bone Broth?
No, truly traditional bone broth (made with animal bones) is not vegan. While vegetable broths or stocks are delicious, they're not as nutritious as bone broth. Without animal products, you cannot consume collagen.
There are some plant-based foods that can encourage collagen production in the body, such as berries, almonds, spinach, pumpkin seeds, carrots, and more. Don't get this confused though: these foods don't contain collagen, they can encourage collagen production in the body. If you're not vegan, it's best to incorporate BOTH organic plant-based foods with high-quality organic bone broth.
Collage comes from animals, not plants.
When Should You Drink Bone Broth?
Bone broth is advantageous at any time of the day – either morning or night, however many people prefer drinking it on an empty stomach in the morning. It all comes down to personal preference.
Just heat a cup or two of bone broth on the stove (using non-toxic cookware of course). And you don't need to just drink bone broth! You can use it in soups, make rice or pasta, mix it with vegetables, add it to mashed potatoes, and more. There are thousands of delicious bone broth recipes available online.
How Fast Does Bone Broth Heal The Gut?
There is no one-size-fits-all approach to gut healing. We are all bio-individual. Some people may incorporate bone broth and notice a difference in just a week or two. Others may never notice a difference (especially if they have a long list of gastrointestinal illness that needs further help). While it can help "reset" the gut, it may not help everyone, so listen to your body. If you enjoy the ritual of drinking bone broth daily, make it a part of your daily routine for maximum benefits.
Are There Side Effects To Drinking Bone Broth?
There are very few risks to drinking bone broth, however, it is important to note that they oftentimes do contain some levels of heavy metals. A 2013 study from the United Kingdom found that chicken bone broth contained more lead than a broth made just with chicken meat. [16]Is this a big cause for concern? No, not necessarily, but it is something to keep in mind. The levels noted in that study are less than half of what is permitted in drinking water, however, no level of lead is truly safe. [17, 18]
As always, listen to your body and see how it reacts to bone broth.
In my opinion, the benefits of bone broth far outweigh the potential minute exposures of lead, especially since it's high in calcium and other nutrients which can interfere with lead absorption in the intestines. More research is certainly needed to analyze this in more detail.
If you have a glutamic acid sensitivity (from glutamate), you may have additional side effects, like anxiety. Some people may have an upset stomach, bloating, nausea, or other GI distress from bone broth. If this is the case, speak with your naturopathic doctor and limit intake.
How To Find The Best Bone Broth For Gut Health
Commercially-grown meat (like on a factory farm) comes from sick animals. These animals are exposed to high amounts of unhealthy heavy metals, pesticides, antibiotics, and GMOs (learn more about GMOs here). This is why it's essential to only drink organic bone broth. The health of the animal correlates with the purity of the bone broth.
So what type of bone broth is healthiest? Look for the following:
USDA organic certified or mostly made with organic ingredients (especially the bones)
Pasture-raised (difficult to find in stores) OR free-range
Grass-fed
Free of MSG, artificial, or natural flavorings (especially meat flavorers)
Gluten-free
Glass packaging

It's best to look for bone broth in glass packaging instead of plastic or Tetra Pak packaging.
Only opt for high-quality bone broth.
Best Brands of Bone Broth For Gut Health
Here's the best-of-the-best on the market!
FOND (Code inonaround saves you 10% off your first order!) – The best!

I love how FOND is focused on regenerative farming, uses high-quality ingredients, and ships in glass packaging!

Organic Homemade (usually made with filtered water, apple cider vinegar, bones, and seasoning)
EPIC Artisanal and Ancient Nutrition Bone Broth Protein/Powder are popular bone broth brands, but they're not organic so they're certainly not my first choices.
Beware of sodium content in some brands, especially if you're on a low-sodium diet. Some brands sell both non-organic and organic options – always check to make sure you're getting the organic product!
Reminder: always make sure to properly store open bone broth in an air-tight container in the fridge.
Not all bone broths are created equal.
Final Thoughts – The Bottom Line on Bone Broth For Gut Healing
Don't get discouraged if you're struggling with your gut health… believe me, I've been there! This is why I started my holistic health journey in the first place. But incorporating bone broth into your diet regularly has the potential to help you heal. No, it won't take place overnight. Yes, it will take consistency and habit-stacking, but it's a great tool in your toolbelt to improve your gut lining and minimize symptoms. Even if you don't like making bone broth at home, there are great premade options available!
---
⬇ Pin this "Is Bone Broth Actually Healthy?" pic on Pinterest for future reference! ⬇
---
Frequently Asked Questions – Bone Broth For Gut Health
Click on the below FAQs to learn more about the scientific proof of bone broth, how to use bone broth for gut health, bone broth for leaky gut, chicken or beef bone broth for gut health, and how to make bone broth for gut health!
What Is Leaky Gut Syndrome?
When you have a leaky gut, the gut lining is compromised and it becomes more porous. Meaning the junctions that are supposed to be tight, aren't as tight anymore. In reference to the analogy above, it's almost like the "doors" in the walls of the intestine let in too many visitors, such as partially digested proteins. The barrier gets breached and it's not functioning as optimally.
How Can Your Gut Get Injured?
Gut health can be compromised in a number of different ways, such as foodborne illness, viruses, antibiotic use, NSAIDs (like ibuprofen or common over-the-counter medicines), chronic illness (like Celiac Disease), processed foods, and more. Chronic stress and toxin exposure can also have a negative impact on the gut.
Is There Such A Thing As Vegan Bone Broth?
---
Have you tried bone broth?
Let me know your thoughts and key takeaways in the comments below!
You can watch our web story here.
xoxo,

Want to read more? Check out my other articles here!
References on Bone Broth for Gut Health: Bluebird Provisions, GI Society, Harvard, Hungry Huy, Campbells, Kettle And Fire, Paragon Healthcare, Healthline, Verywell Health, Bell and Evans, Just In Health, The Healthy Chef, Medical News Today, Parsley Health, Dana Monsees, Dr Ruscio, Kroma, CDHF, Atlas, MedicineNet, Kara Fitzgerald, Dr. Axe, Fond, Thomas Volck, Bright Life Clinic, Mount Sinai, Natural Force, Emily Roach, Weston Price, Lead Safe Mama
Copyright In On Around LLC 2022 ©. The statements made on this website have not been evaluated by the FDA (U.S. Food & Drug Administration). They are not intended to diagnose, treat, cure, or prevent any disease. The information provided by this website should not be used as individual medical advice and you should always consult your doctor for individual recommendations and treatment. The information contained in this site is provided on an "as is" basis. Related to this site, there are no guarantees of completeness, accuracy, usefulness, or timeliness. In On Around LLC assumes no responsibility or liability for any errors or omissions in the content of this site.