It's extremely important to use high-quality, safe materials while cooking. Unfortunately, the majority of pots and pans have the potential to leach nasty chemicals into your food! While non-stick pans can be easy to clean, don't let the convenience fool you. Convenience has a cost. So, what's the best non-toxic cookware without Teflon? What's the difference between ceramic vs stainless steel cookware? Which pots and pans are the healthiest? What type of cookware material is the best?
Let's dive into these vital tips you should consider when shopping for new cookware. Keep reading to learn more!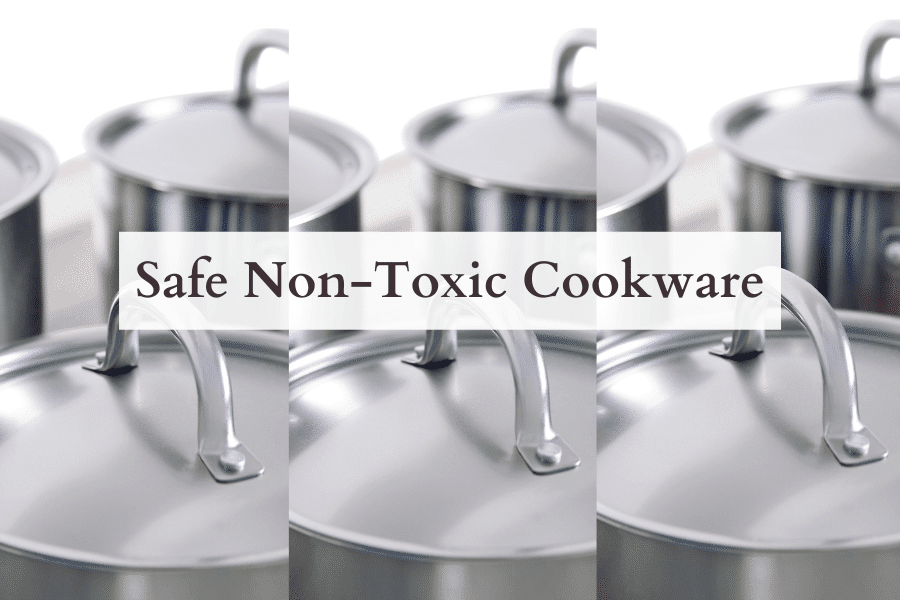 Note: This article contains affiliate links, meaning In On Around will make a small commission at no additional cost to you. This helps me maintain the site. As always, I value full transparency & only work with brands I love and trust.
---
Can Cookware Be Toxic?
Yes, cookware (especially when poorly made) can be extremely toxic to the body. One of the best ways to detox your home and kitchen is to swap to safer, non-toxic cookware.
Many have been found to contain per- and polyfluoroalkyl substances (PFAS), which are also known as "forever chemicals". These man-made chemicals are potentially linked to multiple cancers, weakened childhood immunity, endocrine disruption (hormone disruption), weight gain, and more.
Non-stick pans can oftentimes give off very toxic fumes (whether you smell them or not). They can damage the health and well-being of both human, animal, and environmental health. If the pan is damaged or made from poor-quality materials, it can also flake off and unintentionally get ingested.
Forever chemicals (like PFAS) have been found in 99% of American blood. [1]
Forever chemicals are oftentimes used with non-stick pans, food packaging, waterproof sprays or coatings, and in personal care products.
To learn more about PFAS, read this article: Per/Polyfluoroalkyl Substances (PFAS) – What Are Forever Chemicals & How Do We Avoid Them?
Things To Consider When Shopping For Cookware
There are quite a few things you should consider when shopping for new cookware, such as:
Durability and cookware quality (you don't want it to chip, peel, or vaporize)
Heavy metals/leaching
Ease of maintenance
Cooking ease (how easily food sticks)
How often they need to be replaced
Heat tolerance
Cost
Weight
Lifespan
Style
Prop 65 Compliance

California's Proposition 65 (Prop 65) requires manufacturers to disclose whether the materials used can potentially lead to cancer, reproductive harm, or other birth defects. Manufacturers must disclose if they're free of 800+ compounds.
These all also come down to your personal preference and risk tolerance!
Cookware Pros & Cons
Let's compare the pros and cons of the many different cookware types!
Type
Pros
Cons
1
Non-Stick
Easy to clean. Easy to use. Cost effective.
Contains toxic chemicals that can damage your health & animal health.
2
Cast Iron
Very long-lasting & durable. Oven Safe. Cost effective. Can be non-stick when oiled. Can be helpful for people who need more iron. [2]
Can be difficult to clean. Requires seasoning. Can stain counters when wet. Iron can leach into the food (especially when acidic), which may be a risk factor for cancer. [3, 4] Heavier. Heats slowly. Note: enamel-coated cast irons can contain heavy metals.
3
Stainless Steel
Long-lasting. Oven safe depending on handles. Cost effective. Easy to clean. Can be non-stick when oiled.
Heats faster than cast iron.
Can leach nickel & chromium into the food, especially when acidic with a long cook time. [5] Not for those with nickel allergy.
4
Carbon Steel
Much like cast iron, but lighter. Common in kitchens. Cost effective.

Can be difficult to clean. Requires seasoning. Can rust. Avoid using with acidic foods. Must be hand washed. Can poorly distribute heat. Contains more iron than cast iron.
5
Glass
Little to no heavy metals. Cost effective. Doesn't absorb any flavors. Easy to clean. Oven safe.
Fragile. Heats slowly. Not for the stove top. Requires caution.
6
Ceramic
Easy to clean. Stylish, available in many colors.
Most are ceramic coated (very few true ceramic brands). Can be toxic at high temps. Prone to chipping & leaching metals.
7
Copper
Some are oven safe. Stylish.
Highly reactive to acid. Can leach copper into food (can lead to stomach issues). Not for stove top.
Can dent and oxidize. Usually lined with tin or nickel.
8
Alum.
Cost effective. Oven safe.
May be linked to Alzheimer's Disease. [6] Can leach into certain foods, especially when acidic. Can leave a metallic taste.
Deceptive Marketing In Cookware
New cookware brands are released regularly, but be very wary. There is a lot of deceptive marketing out there.
Oftentimes deceptive cookware brands tout the following claims on the front of their package to make their products seem safe:
PFOA-free (Note: this does NOT mean PTFE/Teflon/PFAS-free! PFOAs were banned in USA cookware in 2015)
Non-toxic PTFE (a plastic sprayed on various items and used in Teflon)
Granite coating
Healthy
Non-toxic coating
100% toxin-free
Titanium non-stick
Stone-derived coating
No harmful chemicals
Eco-friendly
Ethically manufactured
Made from recycled materials
Sand-derived
Clean
… and many more. These claims are not regulated.
Don't fall for the deceptive marketing in cookware!
Even if non-stick cookware claims to be PTFE-free or PFOA-free, they can still use questionable coatings, such as PFOS and GenX (which is now used in Teflon to replace PFOAs). Even if they're marketed as PFAS-free, we don't know what other toxic chemicals they're using to replace those toxins.
Be especially wary of celebrity-endorsed cookware lines. Many celebrities are being paid to endorse a line and most (unsurprisingly) are not ingredient safety experts. You must always do your own due diligence to research the materials used in every brand.
Cookware Materials Compared
Cookware quality matters. The materials you choose matter! Let's dive in a bit more on each of the different cookware types. [To make it easy for you to read, TLDR = too long don't read – skip to the meat of the info!]
1 – Non-Stick Cookware (Teflon)
TLDR: Avoid at all costs
Non-stick cookware coatings are oftentimes made with forever chemicals, such as PTFE, PFOAs, and other PFAS.
Don't use any non-stick or aluminum pans (especially at high heat). When fumes are released into the air, they can be toxic to your pets as well (especially birds)!
Note: Teflon is a DuPont brand trademark that uses Polytetrafluoroethylene (PTFE). It's used to coat a wide range of products to make it nonstick and waterproof. It's oftentimes been marketed as "safe," however in order to manufacture PTFE you need to use PFAS.
Pans can reach 500 degrees Fahrenheit in as little as 2.5 seconds, releasing toxic fumes! [7]
2 – Cast Iron
TLDR: Only use uncoated cast iron (not enameled)
If you're going to invest in an uncoated cast iron pan, make sure you properly maintain it.
Don't use in the dishwasher or with any soap
Buyer beware: enameled cast iron is very different than uncoated cast iron. Some enameled cast iron brands are contaminated with cadmium and lead, which are carcinogenic and neurotoxic. These can be dangerous!
Many dutch ovens and colored cast irons are enamel-coated – avoid these.
3 – Stainless Steel
TLDR: Opt for food-grade 304 (18/8 or 18/10) or 316-grade. Nothing with ceramic enamel or coatings.
Stainless steel is an iron-based metal alloy that is very common amongst kitchen cookware and in homes.
Usually can be a 300 series or 400 series

300 series (with nickel): BEST

304: can be marked as either 18/8 or 18/10

18/10 stainless steel means that 18% is the level of chromium, while 10% is the level of nickel.

316: contains a small about of molybdenum (Mo) or Titanium (Ti); more resistant to corrosion & usually more expensive; can also be called marine stainless steel or surgical steel

400 series (without nickel):

18/0: marketed as nickel-free (usually contains less than 0.75% nickel)
Decreased corrosion- and temperature-resistance (usually lower quality)

Best to opt for food-grade stainless steel only, that passes third-party lab testing (that passes California's Prop 65 standards for heavy metals).

Oftentimes high-quality stainless steel cookware is made with 18/10 stainless steel with an aluminum or copper core (to conduct heat) and stainless steel exterior. Usually, 100% stainless steel pots (without an aluminum or copper core) are more prone to warping.
Buyer beware: stainless steel with "non-stick coatings" or "ceramic enamel" should be avoided. Read labels carefully!
4 – Carbon Steel
TLDR: Much like cast iron (but contains MORE iron and LESS carbon). Only use uncoated (not enameled).
Very similar to cast iron, just much lighter & thinner
Avoid if you're trying to limit iron intake
Avoid using carbon steel with acidic foods when possible
5 – Glass
TLDR: A great option, especially for acidic foods. Just use caution.
Look for oven-safe brands that are not tinted, preferably with borosilicate glass
Never use colored, painted, or tinted glass
6 – Ceramic (Clay)
TLDR: Avoid most ceramic & ceramic-enameled products
Ceramic pans, even when marketed as "non-toxic," can have an interior ceramic substrate with a glazed coating.
Most ceramic coated cookware only lasts a couple of years, at most. Some brands only last a couple of months!
NOTE: There are some ceramic brands that are non-toxic, however, they're not durable and need to be replaced often. Durability is an important factor.
7 – Copper
TLDR: Avoid at all costs
The FDA cautions against all copper cookware! It can make you sick. [8]
8 – Aluminum
TLDR: Avoid at all costs
Anodized aluminum is soaked in an acidic solution to try to prevent leaching, however, there are still risks.
There are safer options on the market, so why risk it?
9 – Silicone (& Other Plastics)
TLDR: Never use with heat
Oftentimes sold as baking sheet liners (like for cookies).
It's best to avoid using silicone cookware with heat. Room temperature or cold use of silicone is acceptable.
They can potentially release estrogenic chemicals [9]
Never store hot food in plastic
About 70% of skillets sold in the United States are non-stick. [10]
Are Ceramic Pans Non-Toxic?
Most ceramic pans are not non-toxic. Most ceramic pans are ceramic-coated, like Greenpan and Caraway.
Many of these so-called "non-toxic" cookware brands, don't meet my standards for safety. Many use a Thermolon coating, where the ingredients are not fully disclosed (red flag)! These coatings are oftentimes "proprietary," so you cannot see the full ingredient list. Some have even been sued in class-action lawsuits for deceptive marketing – yikes.
So, if you're deciding between ceramic vs stainless steel cookware or cast iron, opt for the laterl.
Is Xtrema Non-Toxic?
Xtrema is the only ceramic brand that I would be comfortable using (only in moderation) since it's 100% ceramic (not coated). They test every batch for heavy metals and share their results right on their website. They don't use glues, polymers, coatings, or dyes.
However, an independent X-Ray Fluorescence test disputes their safety, claiming there are heavy metals in the interior of the pan. [11] While the XRF test is important to note, it does not represent the levels of heavy metals leaching into the food. Since Xtrema passes Proposition 65 standards, tests every batch, and provides all heavy metal testing, I'm comfortable using their products in moderation. [12]
That being said, they're not my first choice, but they're a "better" option in moderation only.
"Safe" Cookware Brands To Skip
I'm not comfortable recommending any of the following brands at this time. Many of these are enamel ceramic coated without full transparency on the chemicals used.
GreenPan – they were recently sued under a class action lawsuit for misleading marketing. [13]
Caraway – an independent test has shown over 20 different metals in Caraway pans, 6 of which are extremely toxic, like lead, cadmium, and mercury. [14]
Always Pan
Great Jones Goods Ceramic
Green Life
GreenChef
Our Place
Rock Pans
Mercola Healthy Bakewear (now discontinued)
HexClad
The most popular cookware brands include Cuisinart, Farberware, Chefmate, KitchenAid, Lodge, Mainstays, Le Creuset, Rachael Ray, T-Fal, OXO, Sur La Table, Black + Decker, Pampered Chef, Crate & Barrel, Pottery Barn, Anthropologie, and many more. Most of these don't pass my safety standards.
If they sound too good to be true, they probably are. Stick to the basics.
---
Best Non-Toxic Cookware Brands
It's best to diversify the types of cookware you use, as to not overwhelm your body with any specific leached metals. Opt & alternate between the following:
Stainless steel
Borosilicate glass – best for acidic foods (like tomato sauce)
Cast iron
Carbon Steel
Best
Better
100% Ceramic (not ceramic-coated): Xtrema (in moderation only) – while this may be better than non-stick, I much prefer the options in the "best" category above
Avoid
It's important to avoid any non-stick coating (Teflon), copper, aluminum, lead, unprotected copper, cadmium, chromium, nanoparticle coatings, and nickel (if you have an allergy).
This is not an exhaustive list.
How Often Should You Replace Cookware?
Pots and pans should always be replaced when they're worn down, scraped, or chipped. Any pots and pans with coatings should be replaced every 5 years. High-quality stainless steel, cast iron, and glass can last a lifetime if properly maintained. Take precautionary measures to limit your risk as much as possible.
How To Make Any Cookware Non-Stick
Usually, a pan will start to stick if you're:
Not preheating the cookware
Not using enough fats (like oil or butter)
Cooking at too high of a temperature
You can easily make stainless steel and cast iron more "non-stick" by slowly allowing the pan to pre-heat with healthy fats to grease the surface.
Allow the pan to pre-heat in order to make it more non-stick.
10 Cookware Best Practice Tips
Follow the following tips to find & maintain healthy cookware:
When cooking acidic foods (tomato, lemon, vinegar etc…) in stainless steel, it's best to remove from heat after cooking & storing the food in a lead-free glass container. Don't heat acidic sauces for more than 30 minutes.
Never use "cookware repair spray" (…yes, it's a thing).
Avoid cookware with brass accents (like handles or knobs), which can contain lead.
Avoid any cookware that is painted, tinted or vintage. Hate to disappoint, but those "cute" and "trendy" cookware sets can do more harm than good!
Toss or recycle any pans that are scratched or chipping, especially if you see another metal layer peeking out from below.
Don't use harsh metal utensils when cooking, which can scratch the surface of the pot or pan. Instead, opt for unpainted wood or bamboo cooking utensils.
Do not scour or scrape stainless steel like with steel wool when cleaning (instead, soak with baking soda and gentle remove any residue). Abrasive sponges will damage the surface. Gently hand wash all cookware to prevent scratching or chipping.
NEVER overheat your pan or leave empty pans on a hot burner!
Allow cookware return to room temperature before submerging in cold water. Abrupt changes in temperature can break glass or ceramic cookware.
Always maintain proper ventilation while cooking, with the air purifier on and windows open (especially when cooking at a high temperature). To learn more about the best air purifier, check out this article: Are Ozone Air Purifiers Safe? Best Air Filter Buying Guide
In Summary
Here's the catch: most cookware types have some aspect of risk – some more than others. It's important to weigh the pros and cons of every option. Avoid non-stick cookware at all costs.
The safest cookware options are high-quality stainless steel or cast iron (without ceramic or enamel coatings). For acidic foods, use oven-safe glass. For everyday use, switching between stainless steel, glass & cast iron is great (depending on your sensitivities to certain metals).
When switching over your kitchen products to safer options, don't forget the other items you use on a daily basis, like plates, bowls, and mugs! You can read more about non-toxic dinnerware here: The Ultimate Guide To The Best Non-Toxic Dinnerware. Also, be sure to check out these articles about non-toxic tea kettles and coffee makers as well.
---
Frequently Asked Questions – Non-Toxic Cookware
Click on the below FAQs to learn more about the difference between ceramic vs stainless steel cookware! Which cookware is best for health? What's the best cookware without aluminum surface? I've got you covered.
Can Cookware Be Toxic?
Yes, cookware (especially when poorly made) can be extremely toxic to the body. Many have been found to contain per- and polyfluoroalkyl substances (PFAS), which are also known as "forever chemicals". These man-made chemicals are potentially linked to multiple cancers, weakened childhood immunity, endocrine disruption (hormone disruption), weight gain, and more.
What To Look For When Shopping For Cookware?
How Often Should You Replace Pots And Pans?
---
What kind of cookware do you use?
To eat healthily, you need to be using safe cookware. Let me know your thoughts in the comments below!
You can watch our web story here.
xoxo,

Want to read more? Check out my other articles here!
Information on Ceramic vs Stainless Steel Cookware from: Mamavation, Rebecca Wood, Lara Adler, EWG, Retro Housewife Goes Green, The Good Life Designs, I Love Cookware, The Guardian, EPA, Organic Authority, I Read Labels For You, Conscious Life & Style, Chemsec, Ruan Living, Consumer Reports, Life Without Plastic, Ceramic Cookware Hub, Wellness Mama
Copyright In On Around LLC 2022 ©. The statements made on this website have not been evaluated by the FDA (U.S. Food & Drug Administration). They are not intended to diagnose, treat, cure, or prevent any disease. The information provided by this website should not be used as individual medical advice and you should always consult your doctor for individual recommendations and treatment. The information contained in this site is provided on an "as is" basis. Related to this site, there are no guarantees of completeness, accuracy, usefulness, or timeliness. In On Around LLC assumes no responsibility or liability for any errors or omissions in the content of this site.