Did you know that most of our plates, bowls, mugs, and cups contain heavy metals, like lead and cadmium, that can leach into our food and drinks? Even the smallest amount of exposure to metals, like lead, can have dangerous long-term health effects, especially for children.
So how do you ensure that your kitchen dinnerware is safe? What kind of non-toxic dinnerware should you look for?
This article digs deep into it all!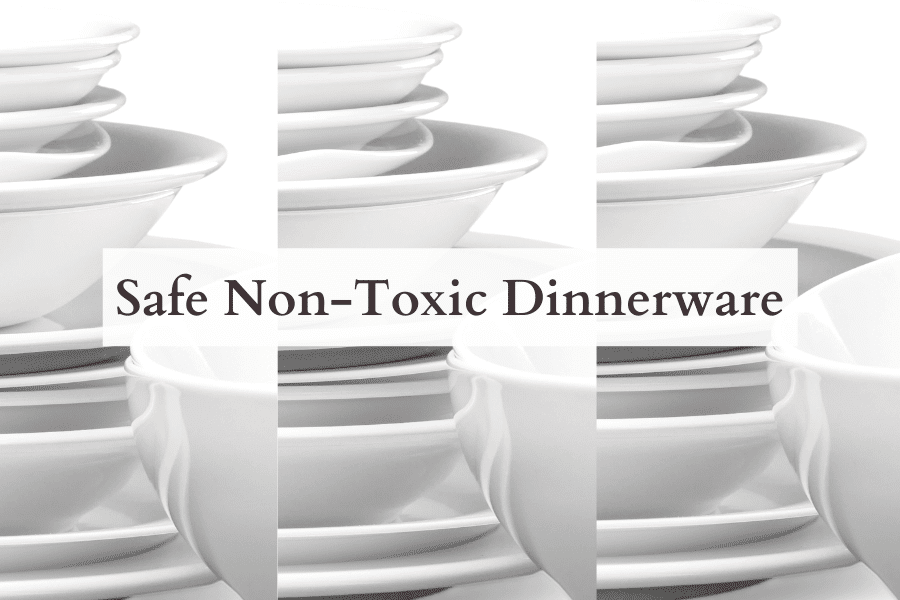 (Note: This article contains affiliate links, meaning In On Around will make a small commission at no additional cost to you. This helps me maintain the site. As always, I value full transparency & only work with brands I love and trust.)
---
Why Non-Toxic Dishware Is Important
Many ceramic, porcelain and china dishes contain glaze, which is used to create a shiny finish, adds vibrant colors, and makes the dishes more durable. Many also contain paint, decorations, or decals on the outer edges that can leach into your food or drinks. [1] Cute plates look and sound great until you realize these metals can also come with a long list of dangerous side-effects. So what kind of compounds are even in these plates?
What Compounds Are Usually Found In Dinnerware?
Many of these compounds add bright colors or glaze to the dishes for decorative purposes. The below heavy metals are potentially linked to:
Lead: Brain damage; Kidney damage; Anemia; Weakness; Death; Birth defects; Lower IQ; Development issues; Nervous system damage; Speech problems; Memory problems; High blood pressure… and more

When dishware is improperly baked, lead can leak out and contaminate the food.

BPA: Developmental defects; Coronary artery disease; Hypertension; Angina; Atherosclerosis; Arrhythmias; Blood pressure issues; Obesity; Liver damage; Obesity… and more
Cadmium: Kidney diseases; Bone disease; Lung diseases; Flu-like symptoms; Reproductive issues; Gastrointestinal issues; Neurological issues… and more
Phthalates: Attention-deficit hyperactivity disorder; Breast cancer; Asthma Low IQ; Autism; Reproductive issues; Behavioral issues; Obesity; Type II diabetes… and more
So your great grandma's vintage china or that handcrafted mug from your local boutique may not be as great of a choice after all… These would work just fine for decoration, but not for when you're eating.
Of course, I'm not saying this to scare you, but it's important to know the long-term effects of using certain types of glassware. It's best to assume that all dishware contains some of the above compounds until proven otherwise.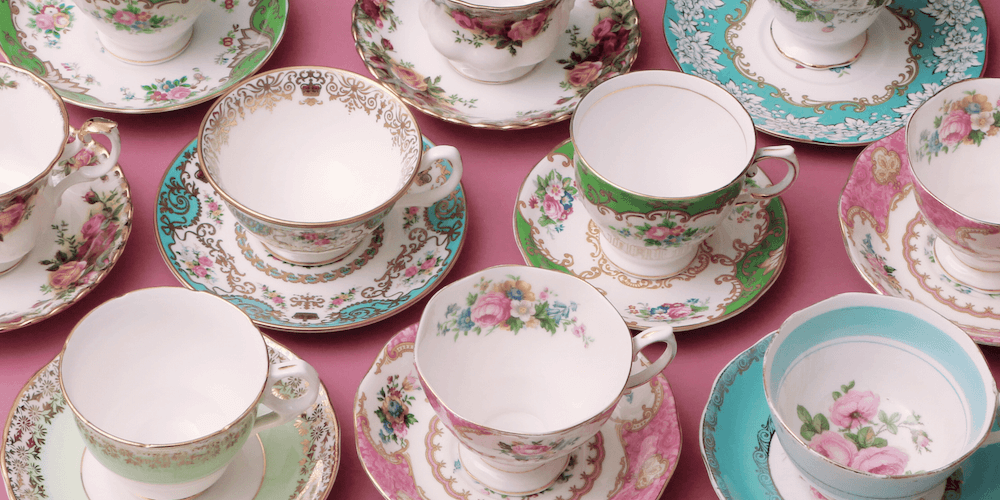 California's Prop 65 Warning on Dinnerware
The US Federal Department of Agriculture (FDA) has established that no more than 3 µ/mL of lead can leech from dishware per day. California's Prop 65, however, only allows up to 0.5 µ/mL per day – this is a much stricter standard. Yes, these amounts are small… but with all things, consistent exposure can have compounding effects. Lead builds up in the body and there is no safe level.
For this reason, it's best to look for dinnerware that adheres to Prop 65 standards (even if you're not in California).
To learn more about Prop 65, check out: What Is Proposition 65 In California? Prop 65 Explained
Look for dishware that adheres to California's Prop 65.
So What Should You Look For In Non-Toxic Plates, Bowls, Glassware etc..?
Look for dinnerware made of clear borosilicate glass without decals or decorations whenever possible
Use a certified lead-free glass that passes Prop 65 requirements (note the difference between "lead-free" and "lead-safe" – the later still containing some lead, some of which could be naturally occurring)
Look for USA-manufactured
Stick to clear or white dishes
"Lead-free" and "lead-safe" are two distinct terms.
There are some test kits that you can buy online where you swab your dishes and it will change color depending on the levels present. They're pretty inexpensive and it can be an interesting activity, however, a negative test does not ensure that the dishes are actually free of harmful compounds. They're not always reliable – it's best to swap to a safer brand altogether.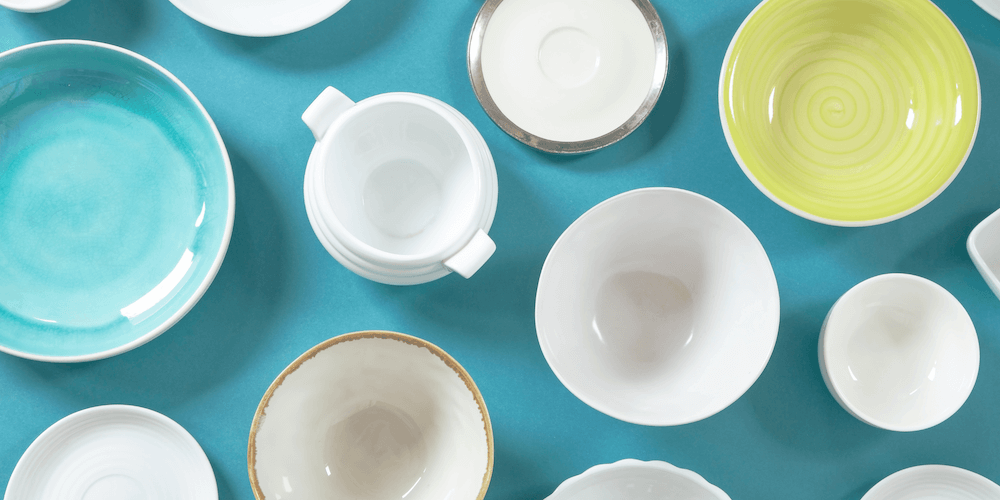 How To Avoid Toxic Dinnerware
Avoid vintage dishware or antiques (especially if manufactured before 1970, when lead wasn't tested by the FDA).
Avoid storing food in bowls or containers that use glaze, especially acidic foods which can accelerate leaching
Limit heating up food in the microwave if the dish has glaze (stick to borosilicate glass containers)
Discard melamine (hard plastic) dishes and cutting boards, which are usually derived from formaldehyde.
Avoid glazed terra cotta, especially in Mexico or the Southwestern United States
Avoid chipping or scraping dinnerware that uses glaze. Dispose of anything that is damaged.
Limit the use of a dishwasher, which can be extra rough on glazed surfaces (stick to handwashing)
Avoid aluminum–coated plates, bowls, and dinnerware.
Best option: ditch the dishware with toxic heavy metals & chemicals altogether!
Avoid decorative dishware, which can have stickers or stamps with the following:

"Decorative"
"Not For Food Use"
"Food consumed from this vessel may be harmful"
"Glaze contains lead"
In 1970 the FDA began testing dinnerware for safety.
---
What Are The Best Non-Toxic Dinnerware Brands?
Swapping out all of your plates, bowls, mugs, and cups can be a long and expensive process. Believe me, I get it – I'm currently in the process of going through this change myself! But if you're looking for safer, non-toxic dinnerware alternatives this can be an important step in your clean home journey.
So if you're in the market for new dinnerware, or if you're ready to switch to safer options, check out the below tips and brands!
If you like white plates, use Corelle's Vitrelle Glass Winter Frost plates and bowls, which are lead and cadmium-free. Plus they're USA-made! Stick to white, since some of their other colors are thought to not be cadmium-free. Still use borosilicate glass mugs, since Corelle manufactures their mugs in China and there are some studies that show they are not truly cadmium-free.
304-grade stainless steel can also be a great option, as long as you're careful not to excessively scrape the surface or put it in the microwave.
Is Dishware From China Safe?
Dinnerware from China can be safe, however, it all depends on the specific brand. Many low-quality products are manufactured in China, mostly because they don't have as strict of regulations as the United States. It all comes down to the company manufacturing the finished product.
It is always in your best interest to request testing documentation from the specific manufacturer.
In addition, be cautious of all dinnerware that is just for decorative purposes – these should never be used around food or drinks.
Low-quality dishware is allowed to be imported into the United States.
Non-Toxic Dinnerware – In Summary
Borosilicate mugs + borosilicate cups + lead/cadmium-free glass plates and bowls = a safer kitchen for you and your family! Non-toxic dinnerware is essential.
It's also nearly impossible to always ensure that you are eating/drinking out of non-toxic dishware (especially when you go out to eat at a restaurant or at a friend's house). However, it is completely possible to ensure that the dishes used in your home are safe and harmless. Make your home your health sanctuary! It's time to ditch the heavy metal plates & switch to safer brands.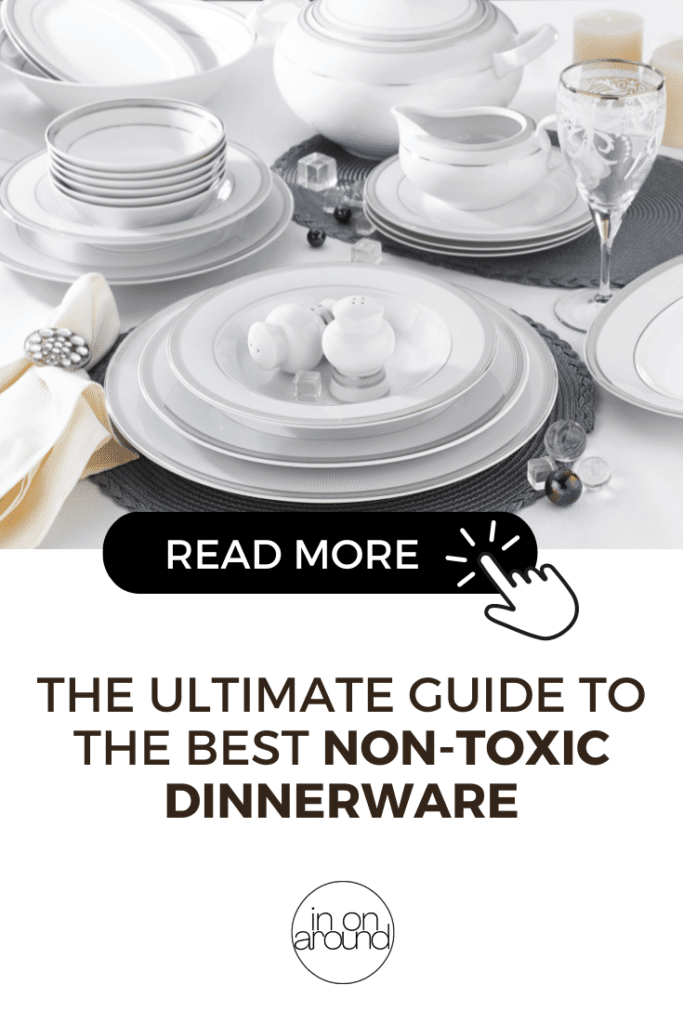 ---
Non Toxic Dinnerware – Frequently Asked Questions
Click on the below FAQs to learn more about safe dinnerware brands!
What ingredients are in dinnerware?

Many ceramic, porcelain, and china dishes contain glaze, which is used to create a shiny finish, adds vibrant colors, and makes the dishes more durable. Many also contain paint, decorations, or decals on the outer edges that can leach into your food or drinks. Dinnerware can often contain lead, BPA, cadmium, and other harmful heavy metals.
What are the regulations on dinnerware?
Are vintage plates safe to use?
How can I find non-toxic dinnerware?
---
Do you use non-toxic dinnerware?
Let me know your thoughts! You can watch our web story here.
xoxo,

Want to read more? Check out my other articles here!
Information from California Department of Public Health, WTHR, Yum of China, Safe Baby Healthy Child, Lead Safe Mama, Corelle
Copyright In On Around LLC 2021 ©. The statements made on this website have not been evaluated by the FDA. (U.S. Food & Drug Administration). They are not intended to diagnose, treat, cure, or prevent any disease. The information provided by this website should not be used as individual medical advice and you should always consult your doctor for individual recommendations and treatment.