Protein powder supplements are becoming increasingly popular, especially amongst athletes and the health-conscious. But with so many options on the market, how do you find a truly clean organic gluten-free protein powder? So many protein powders are so processed that you can taste how artificial it is – yuck! Like any dietary supplement, it should be of the highest quality available… otherwise, it can do more harm than good.
Why do we need protein in the first place? How much protein is too much? What's commonly found in protein powder? What are the types of protein supplements and what should you look for?
Let's dive into all of the details – keep reading to learn more!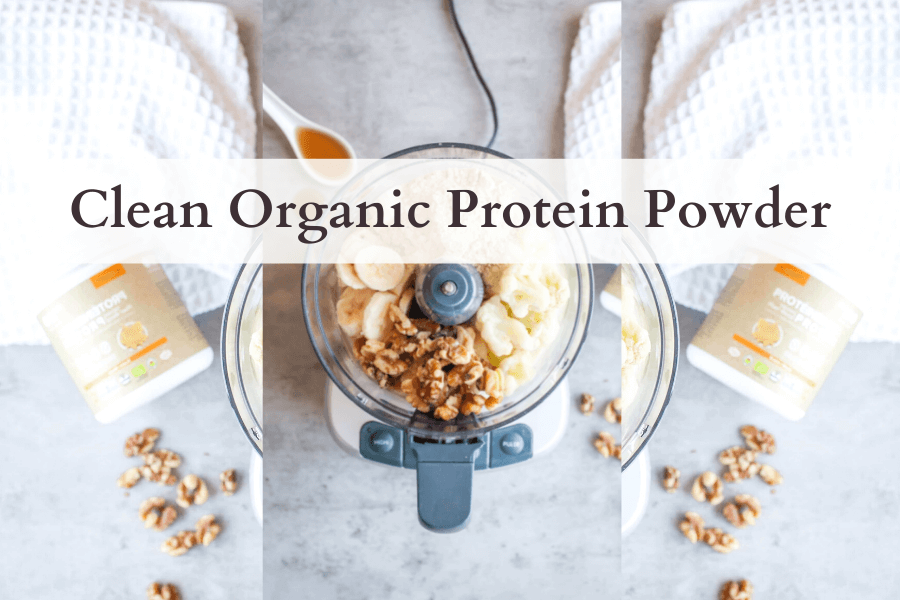 (Note: This article contains affiliate links, meaning In On Around will make a small commission at no additional cost to you. This helps me maintain the site. As always, I value full transparency & only work with brands I love and trust.)
---
Why Do We Need Protein?
Protein is absolutely essential for a well-balanced diet. Every single cell in the human body contains protein… it's the main component of our skin, muscles, bones & hormones. Clearly, it serves a very important function.
Protein helps to:
Repair cells and tissues in the body (stimulate muscle protein synthesis)
Provide energy
Create hormones
Keep you full and regulates appetite
Increase metabolism
Help you grow
Support weight maintenance and body weight loss
Regulate the immune system
… and so much more!
Eating enough protein in your diet can help you stay satiated and potentially lose weight.
How Much Protein Should You Consume Daily?
You should aim to consume at least 10% of your daily calories from protein, with a maximum of 35%. [1] Eating both too much protein and too little protein can cause issues in the body. Below, follow the quick & dirty formula to estimate the minimum amount of protein you should be eating in grams:
Minimum Protein You Should Eat Daily in Grams = Your Weight x 0.36
For example, a woman weighing 130 lbs should eat at least ~47 grams of protein per day.
If you're working out consistently (which you should be), you'll need more protein for lean muscle repair and muscle recovery.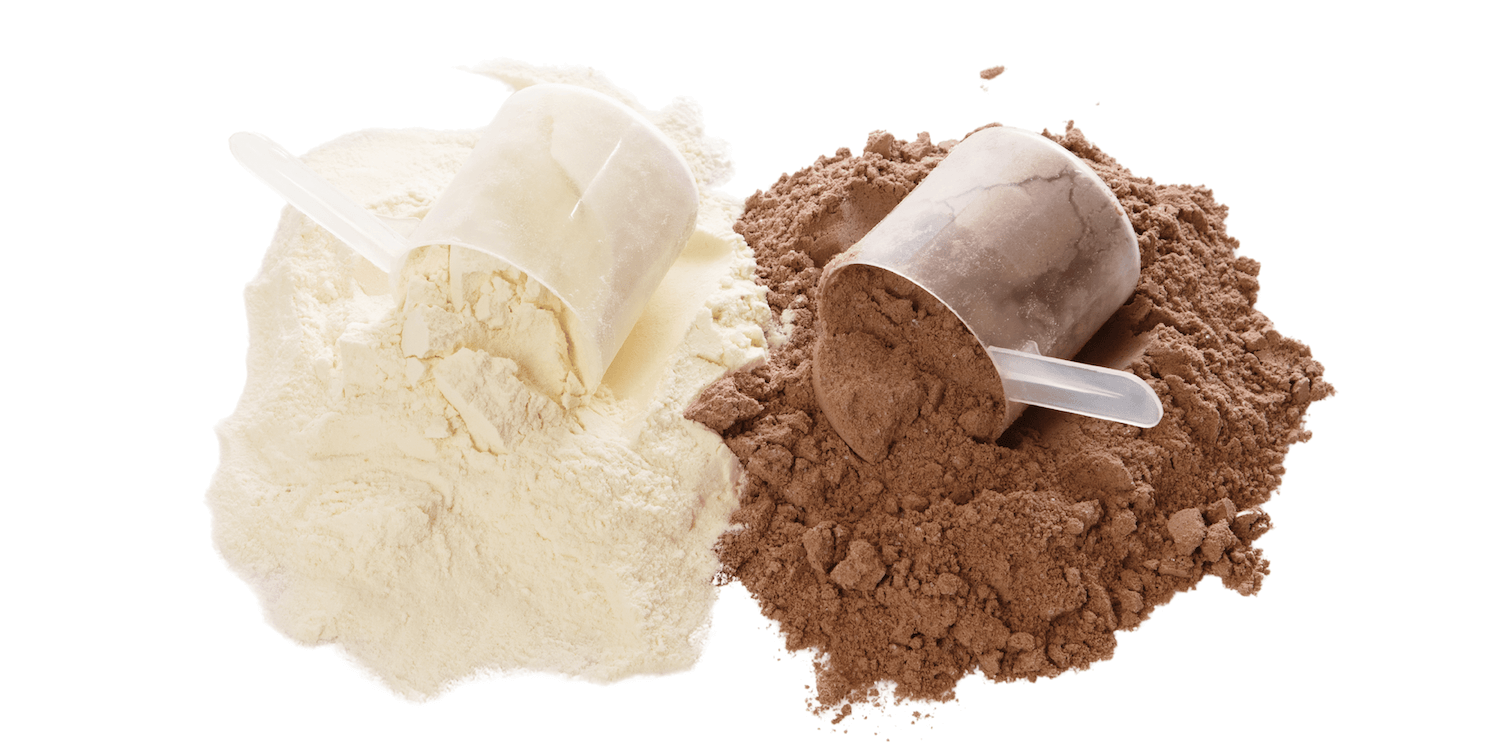 What Happens If You Don't Eat Enough Protein?
If you don't eat enough protein, you can suffer from a loss of muscle mass, increased appetite, swelling, fatty liver, weak nails, and stunted growth.
Vegans and vegetarians take note! It is absolutely possible to get enough protein as a vegan or vegetarian… pretty easily too. All it takes is a bit more planning. It is a myth that vegetarians and vegans are deficient in protein. [2]
While meat & eggs are protein rich, plant-based diet sources can be just as powerful. It's important to ensure that you're getting all the essential amino acids in your diet.
Nine amino acids, known as the "essential amino acids," are not made by the body and must be consumed:
Histidine
Isoleucine
Leucine
Lysine
Methionine
Phenylalanine
Threonine
Tryptophan
Valine
… but you won't find these listed on an ingredient label. Since our body doesn't store protein, it's key that we get all 9 essential amino acids from our food (these are the body's "building blocks" needed for protein synthesis). These can easily be consumed by eating a variety of plant-based proteins.
Plant-Based Protein Sources:
Beans
Legumes
Nuts
Seeds
Tofu*
Tempeh*
Edamame*
Seitan
Quinoa*
Buckwheat*
Chia seeds*
Hemp seeds*
Spirulina*
Nutritional yeast*
Protein powder
* = A complete protein, meaning it contains all nine essential amino acids
Don't stress out… according to the Dietary Guidelines for Americans, most people get more than enough protein throughout their day. [3] Protein powders, as long as they're truly clean and organic, can be a great addition to any diet. As a vegetarian, I incorporate protein powder into my diet daily… but not just any protein powder!
---
What's Commonly Found In Protein Powder? How Can You Find A Clean Organic Protein Powder?
In reality, most protein powders on the market are 💩 – yup, I said it. It is very, very important to ensure that all supplements, especially protein powders, are truly clean.
It's essential to thoroughly read the label. It's not necessarily the nutrition label you should be looking at… it's the list of ingredients. You want the ingredient label to be as clean, simple and whole-foods based as possible.
Most protein powders on the market contain a concoction of…
Thickeners/Gums
BPA
Unnecessary Fillers/Additives
Added sugar
Artificial flavors & sweeteners
Natural flavors
Stevia
Gluten & Dairy
Heavy metals (not listed on the label) – like Lead, Cadmium, Arsenic…

If you're in California, these would be listed with a Proposition 65 warning label (this is one of the stricter limits, but it's not universally accepted outside of California).
Lead can be an issue for many vegetable protein powders, especially in chocolate proteins.
The Clean Label Project's Report On Protein Powder Toxins
The Clean Label Project conducted a large toxicity study on 134 products. [4] They tested for 130 different types of toxins in protein powders, including heavy metals, BPA, pesticides, and other harmful chemicals linked to disease.
The results are shocking… to say the least:
About 75% of protein powders tested had measurable levels of lead, including plant-based protein powders.
Many protein powders contained mercury, cadmium, and arsenic… many above health guidelines.
55% of protein powders tested had measurable levels of BPA, which is a known endocrine disruptor.
Certified organic products had twice as many heavy metals (yikes …but don't cross off organic just yet!)
Protein Digestibility
Protein digestibility is incredibly important! You can be eating enough protein, but if it's not being properly digested, then your body is not fully utilizing it. This is where protein digestibility-corrected amino acid scores (PDCAAS) come into play.
PDCAAS evaluates the quality of protein based on digestibility. The values range from 1 (the highest and most digested) to 0 (the lowest and least digested).
8 Different Sources Of Protein Powder (Animal-Based vs. Plant-Based)
1) Whey
A byproduct of milk
Also on the label as whey protein concentrate (WPC), whey protein isolate (WPI) & whey protein hydrolysate (WPH).
Pros:

Oftentimes less expensive
Complete source of protein (9 amino acids)
Easily found in stores (most popular)
High PDCAAS score (score of 1)

Cons:

Can be linked to digestive discomfort (especially if you have a hard time digesting lactose)
Oftentimes low-quality from factory-farmed animals
Can be inflammatory
2) Casein
The main protein in milk
Commonly: micellar casein, calcium caseinate & hydrolyzed casein protein
Pros:

Digests slowly, so keeps you satiated longer than whey
Complete source of protein (9 amino acids)
High PDCAAS score (score of 1)
3) Egg
Pros:

Digests slowly, so keeps you satiated longer than whey (second to casein)

Complete source of protein (9 amino acids)
Usually affordable
High PDCAAS score (score of 1)

Cons:

Lower in amino acids than other protein sources
Can be linked to digestive discomfort – avoid if sensitive to eggs
4) Soy
Pros:

A plant-based protein
Complete source of protein (9 amino acids)
Better source of protein synthesis/muscle growth compared to casein [7]
Oftentimes easier to digest
Neutral taste
Usually affordable
High PDCAAS score (score of 0.91)

Cons:

Most soy is genetically modified unless certified organic
There is an ongoing debate that soy can be harmful to hormones when consumed in excess.
Some people are intolerant to soy (and they don't even know it!)
Not as effective for protein synthesis/muscle growth compared to whey [8]
5) Pea
Pros:

Easily digested protein
High in iron

Cons:

Can have a strong pea taste in certain powders
Likely sprayed with glyphosate or other herbicides if not certified organic
Incomplete source of protein unless paired with another protein, like brown rice
6) Hemp
Pros:

Easily digestible if cold-pressed seeds [14]

Complete source of protein (9 amino acids)
A good source of fiber
Contain a 3:1 ratio of omega-6 and omega-3 dats, which is the ideal ratio

Cons:

More expensive
Lower in lysine
Lower PDCAAS score
Slightly higher in calories
Has an "earthy" or nutty taste
7) Collagen
Pros:
Cons:

Not a complete source of protein (missing tryptophan), so must be combined with other sources of protein
An animal protein
8) Brown rice
Pros:

High in B-vitamins and fiber
Naturally lactose and gluten-free

Cons:

Not a complete source of protein, so needs to be paired with another source for all 9 amino acids
Low PDCAAS score
Gluten-Free Protein Powder – In Summary:
The protein powder discussion can be confusing! A lot of it comes down to personal preference and whether you aim to avoid eating animal-based products.
Animal-based proteins (like whey, casein, and egg) do have a higher digestibility score, however, pea protein mixes are not far behind. The quality of the product is the most important factor. What works for YOU might not work for someone else – listen to your body.
Even though some plant proteins don't contain all 9 essential amino acids, this can easily be fixed by including a mixture of different plant-based proteins. Some plant-based proteins, like pea, have been shown to be just as effective in muscle synthesis as animal-based proteins. Pea protein also produces similar outcomes to whey regarding muscle thickness, force production, workout routine strength, and performance. Most of these options are great if you're lactose intolerant but always read the label.
Note: A protein shake should not serve as a meal replacement! They should only be used to supplement your diet.
---
What To Look For In A Clean Organic Protein Powder
Certified organic (which is always non-GMO)
20+ grams of protein, preferably with a mixture of plant-based sources, including pea protein
Short ingredient list
Heavy-metal tested (especially for chocolate protein powders)
In addition, avoid multi-level marketing (MLM) companies. While not all of them use poor-quality ingredients, in my research, most of them do. If you're pregnant or nursing – definitely check with your doctor first before consuming protein powder. Only use high-quality protein (and read the FULL ingredient list).
---
The Best Clean Organic Protein Powder On The Market
I've tried a lot of protein powders and I always come crawling back to my all-time favorite. It is absolutely essential that the protein powder you're using is clean and organic, especially if you drink it regularly.
My favorite, by far, is: Truvani
Here's why:
20 grams of protein per serving
Made with simple plant based protein sources (like pea protein, chia seeds, pumpkin seeds etc…)
Gluten free, dairy-free, vegan & (most importantly) USDA certified organic
So many amazing flavors (chocolate, vanilla, banana cinnamon, chocolate peanut butter galore) – they taste so good, they're delicious even just mixed with water.
They also have a great line of other supplements, like Vitamin C and D!
Truvani helps me to achieve a high protein intake!
Mix together some organic almond milk, frozen berries (like goji berries), frozen spinach, and a scoop of protein powder – you'll be good to go! It's also great to bake with. It's perfect for a post-workout shake – adding protein into your diet has never been easier. It can be perfect for your health and fitness routine.
---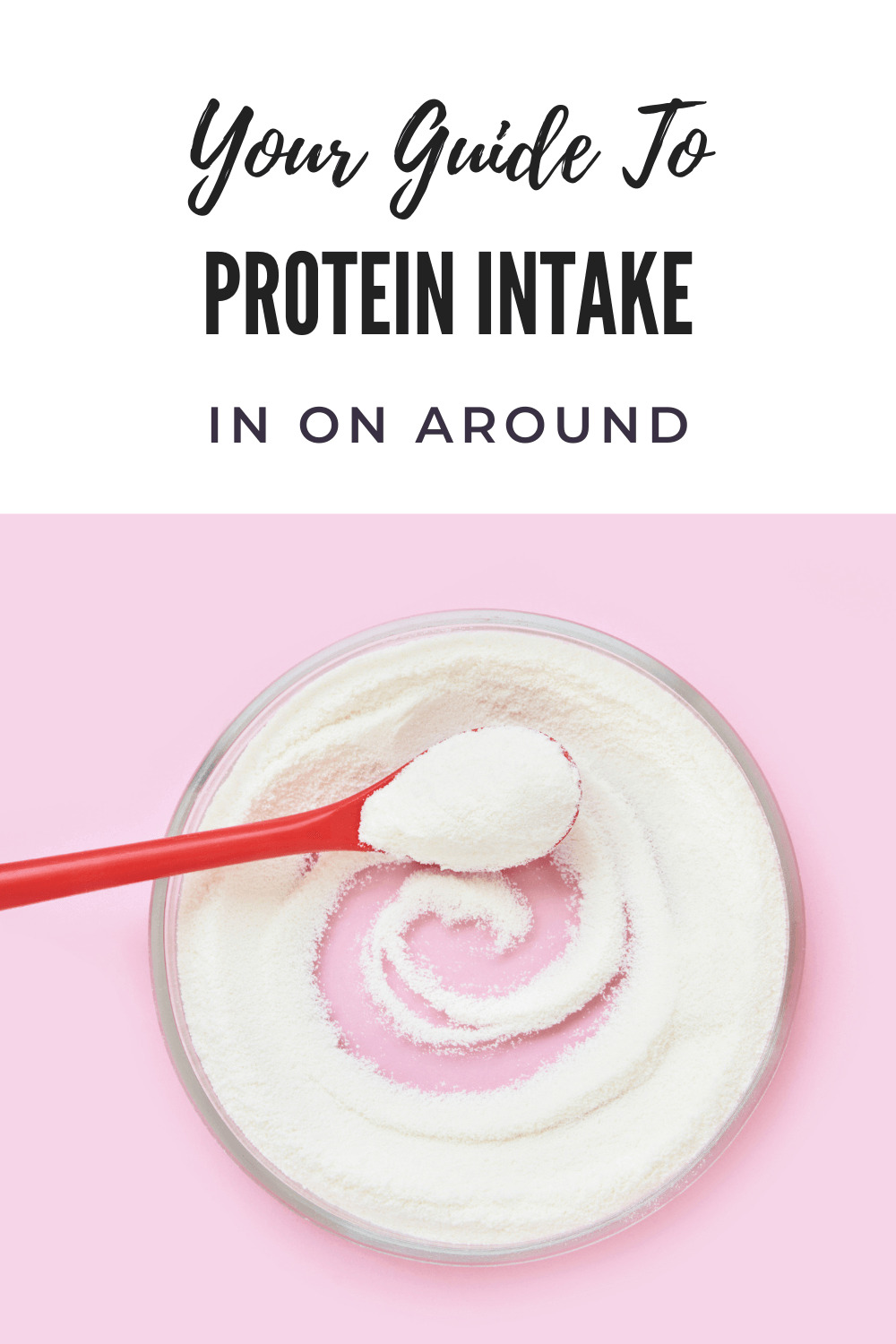 Frequently Asked Questions – Healthy Protein Powder
Click on the below FAQs to learn more!
Why do we need protein?
How much protein do we need daily?
Is protein powder healthy?

Protein powder can be healthy, as long as you're using a brand free of harmful additives. Many protein powders on the market contain harmful thickeners, gums, BPA, fillers, added sugar, artificial flavors and sweeteners, natural flavors, and more. There are many healthy protein options available – you just need to find the right brand.
How to find the healthiest protein powder?
---
As it turns out, many protein supplements on the market are far from healthy. This is why it's so important to do your due diligence before supporting a brand. As always, protein from real food is the best! In On Around is here to help! What goes in, on, and around your body matters.
What protein powders do you use?
Let me know in the comments! You can watch our web story here.
xoxo,

Want to read more? Check out my other articles here!
Information on gluten-free protein powder from: Clean Label Project, Harvard, Your Super, Medline Plus, Medical News Today, Very Well Fit, Livestrong, Healthline, Blender Bottle, EcoWatch, Shape, BarBend, AgroPur, PubMed
Copyright In On Around LLC 2021 ©. The statements made on this website have not been evaluated by the FDA (U.S. Food & Drug Administration). They are not intended to diagnose, treat, cure, or prevent any disease. The information provided by this website should not be used as individual medical advice and you should always consult your doctor for individual recommendations and treatment.