Have you ever thought about what's in a pad or tampon?! Period products come in contact with your most intimate and sensitive body parts… but what are they actually made out of? What are the healthier brands? Let's dive into the best non-toxic period products!
It's time to ditch the toxins & switch to safer alternatives. Keep reading to learn more!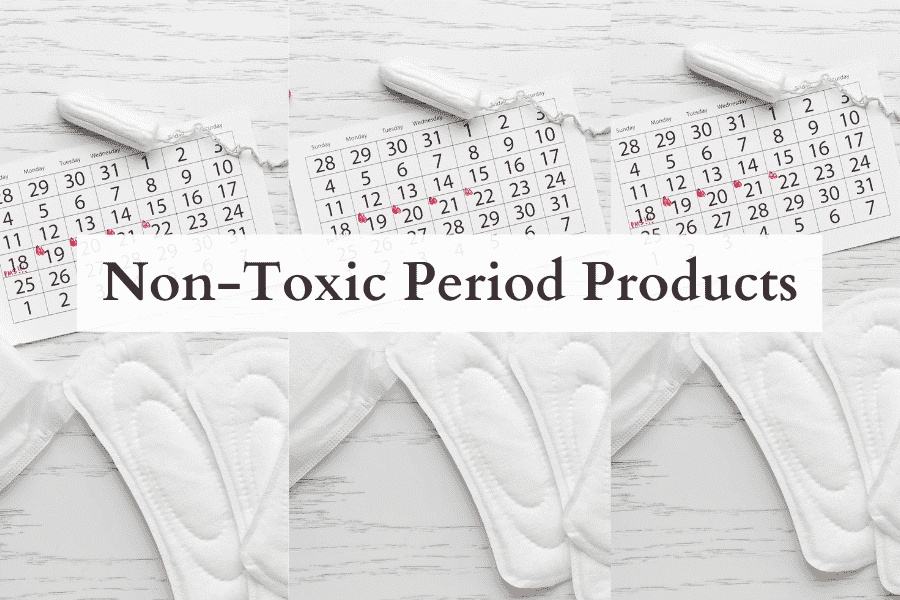 Note: This article contains affiliate links, meaning In On Around will make a small commission at no additional cost to you. This helps me maintain the site. As always, I value full transparency & only work with brands I love and trust.
---
Common Ingredients In Period Products
There are a host of chemicals commonly found in tampons, pads, liners, and period underwear, such as:
Dioxins or Persistent Organic Pollutants – this is from chlorine processing (Note: there are NO safe levels of dioxin since they can disrupt hormones and impact immune system function) [1]
Chlorine – used in the bleaching process
Rayon – commonly associated with an increased risk of Toxic Shock Syndrome [2]

Most coventional pads and tampons are made from synthetic rayon

Genetically modified cotton – the majority of cotton grown in America is genetically modified
Undisclosed Synthetic Fragrance or Parfum
Pesticide Residues
Dyes, like Titanium Dioxide – may be linked to reproductive damage [20]
Paraffins
Volatile Organic Compounds (VOCs) – may damage the kidneys, liver, and central nervous system [3, 4]
Polyacrylate Foam
Polyethylene, Polypropylene
Thermoplastic Polymer Adhesives
Plasticizers, like Phthalates [5]
Triclosan – an antibacterial
BPA & BPS-alternatives – for plastic applicators
Toluene [9]
Parabens
PFAS or Forever Chemicals
With a woman using about 10,000 tampons in her lifetime, these chemical exposures add up. Many of these chemicals are even reproductive toxins. Very ironic when it's used directly for our reproductive systems!
On average, a woman will use about 10,000 tampons in her lifetime.
Regulations In Period Products
Menstrual products, like pads, tampons, and menstrual cups, are regulated by the United States Food & Drug Administration (FDA) as Class II medical devices. This class means that the devices are of "moderate to high risk." Other feminine hygiene products, like wipes & washes, are only considered cosmetics.
Despite the fact that many tampons on the market contain potentially harmful ingredients, the FDA does NOT require that manufacturers list all ingredients. While tampons are legally required to warn consumers about Toxic Shock Syndrome (TSS), labeling requirements for ingredients are slim to none.
The FDA does NOT require ingredient labels on period products.
Manufacturers of tampons classified as medical devices are required to submit a pre-market notification called a 510(k) form to the FDA stating that the product is "safe to use." This process (thankfully) requires manufacturers to include material safety testing, microbiological testing, and absorbency testing, however labeling is weak.
The regulation states that the FDA "recommends that manufacturers include a warning statement about allergic reactions and irritations" for scented products. However, this is recommended (keyword)!
In fact, the guidance says the following:
"FDA's guidance documents, including this guidance, do not establish legally enforceable responsibilities. Instead, guidances describe the Agency's current thinking on a topic and should be viewed only as recommendations, unless specific regulatory or statutory requirements are cited. The use of the word should in Agency guidances means that something is suggested or recommended, but not required."
[10]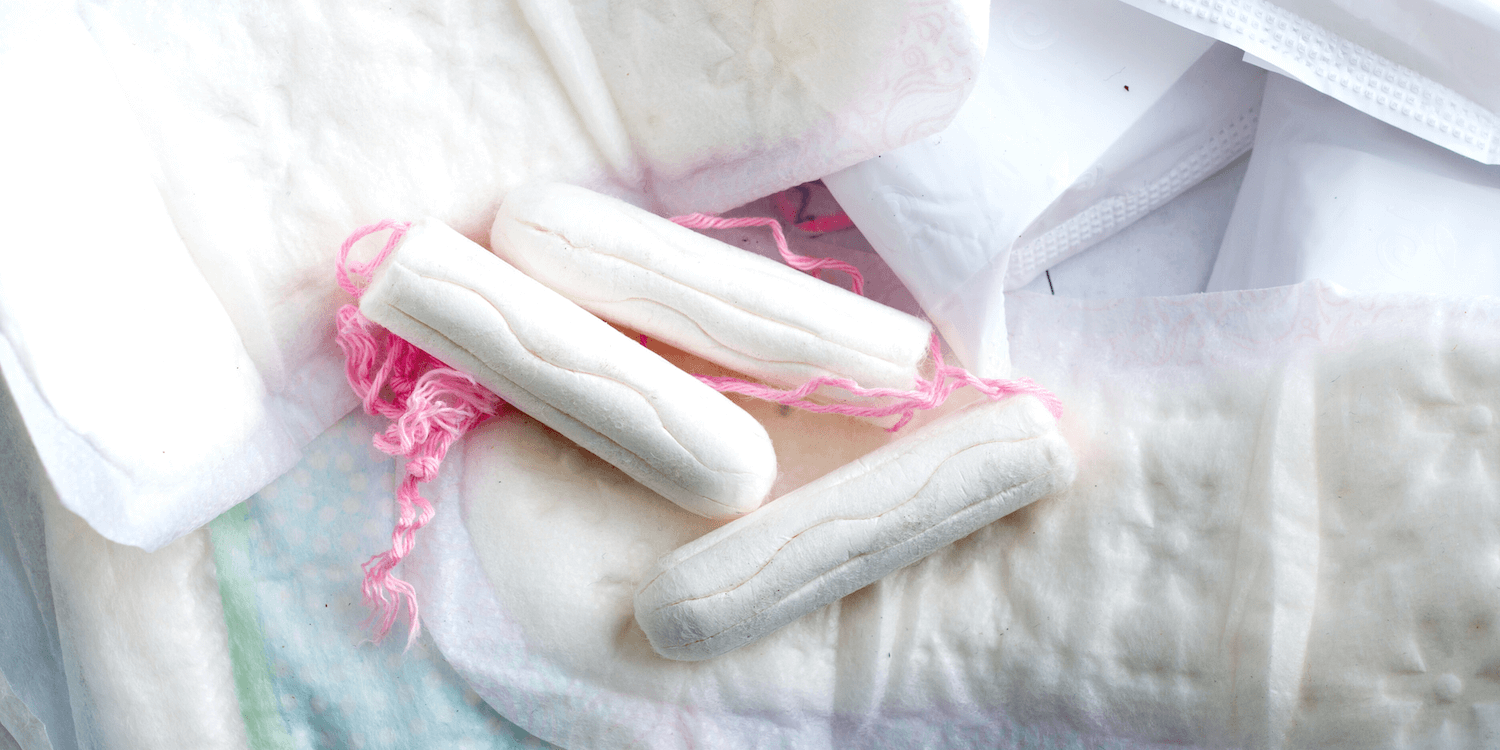 Gaps In The Law
Luckily, New York State passed a 2019 law requiring that manufacturers disclose all intentionally added ingredients on menstrual product labels. This is a great step in the right direction since the NY law is impacting the whole nation, but we need federal-level regulations! [11]
The New York law is certainly not perfect, since many period product ingredient labels are still very vague. Manufacturers oftentimes do not fully disclose the adhesive ingredients they use, nor the types of ink.
Lack of transparency is a major issue in the menstrual health space.
Are Menstrual Cups Safe?
While menstrual cups are extremely sustainable, caution is needed. Menstrual cups are made from silicone, which is a polymer made from siloxane. Silicone is a type of plastic. It's been shown that silicone may degrade over time, especially in warm/heated conditions. [12, 13, 14, 15,16, 17] Whether the silicone weakens or leaches inside a warm human body is still undetermined, but more studies are needed.
Like tampons, menstrual cups are linked to Toxic Shock Syndrome, since they can create a breeding ground for Staphylococcus aureus bacteria, so they're not necessarily much safer. [18] There are also some rumors that menstrual cups may contain unintentional levels of heavy metals. [19] While this information isn't confirmed, I like to err on the side of caution.
If you do opt for a menstrual cup, washing it off with soap and water will not cut it. It must be properly boiled and sterilized before every reinsertion! Opt for high-quality, food-grade, or medical-grade options only if absolutely needed.
How To Choose Nontoxic Period Products
Look for the following when shopping for low-tox menstrual hygiene products:
Unbleached 100% organic cotton throughout (or at minimum, organic cotton cover for pads & liners)
Fragrance-free
Dye-free or colorant-free
Free of Titanum Dioxide
Chlorine-free

Note: many brands label chlorine-free to make it seem healthier than it is. While you definitely should opt for chlorine-free brands, this term on its own does not mean it's necessarily healthy.

Full ingredient labels with the chemical names & function listed
Avoid products that contain plastic (like polypropoylene, polyethylene, and polyester – mostly for tampons, since they're inserted into your body)
PEG-free (which may be contaminated with 1,4 dioxane or ethylene oxide)
To minimize the potential of Toxic Shock Syndrome (TSS), a rare but serious disease, it's best to avoid tampons altogether. Yes… I know, this isn't always possible, so when you need one, opt for the lowest absorbency and change it every four hours. While tampons are discrete and convenient, they're not the only way. Always wash your hands thoroughly before and after. Using tampons for under 4 hours does not eliminate your risk of TSS. If you prefer tampons, cardboard applicators (or no applicator at all) will decrease your exposure to BPA and BPA alternatives.
And most importantly… never wear tampons when going to bed!
Additionally, it's best to avoid most period underwear on the market – many have been shown to contain forever chemicals.
Safer Non-Toxic Period Products
Vaginal walls are very permeable, which means any chemicals that come into contact with it can be absorbed into the bloodstream. Check out the below best, better, & worst period product options.
Best – Opt For These!
Pads
Note: since pads are not going directly into your body, it's less crucial that they're 100% non-toxic since the adhesive is likely not going directly on your skin. For most people, these are perfectly safe.
Natracare – do not disclose glue polymer
Cora – contains polyethylene and polyester (for backsheet & acquisition layer), polypropylene (on wings), and undisclosed polymers/adhesive
Lola – do not disclose bioplastic backsheet or adhesive ingredients
Rael – contains polyethylene and polypropylene, undisclosed polymers, and undisclosed adhesive.
Viv – do not disclose polymer or adhesive (code inonaround saves you 15% off your order!)
Honey Pot – contains undisclosed polymer core with polyethylene and polypropylene backing [ONLY opt for non-herbal options without fragrance]
Tampons
Natracare [opt for cardboard applicator instead of plastic]
Lola [opt for cardboard applicator instead of plastic]
Rael [opt for cardboard applicator instead of plastic]
Many brands also offer applicator-free tampons. These are great alternatives, as long as your hands are thoroughly washed.
Liners
Period Underwear
Bambody – this brand doesn't contain any PFAS and is OEKO-TEX certified.
You can find more feminine hygiene products that I love in the In On Around shop!
Check Out The In On Around Shop
Better
Worst
L. – can't find the ingredient list on their website (lack of transparency). They disclose that their tampons have a 100% organic cotton core, but the majority of ingredients are unclear. Some packaging shows it contains titanium dioxide. Owned by Proctor & Gamble.
Most Honeypot tampons & fragranced "herbal" pads – Some contain polyethylene, polyester (even in tampons!), fragrance, and plastic applicators
Sea sponges – these have become a growing trend, but they can seriously harbor nasty bacteria. Pass!
Anything scented
Any brands using non-organic materials

"100% Natural Cotton" does not mean it uses organic materials. Don't fall for this marketing!
Check your Tampax, Kotex, Playtex, Poise, Flex, Always, Seventh Generation, CVS Health, Walgreens, and more.
Final Thoughts
We deserve the right to know what's in our tampons, pads, liners, & period underwear! The lack of proper regulation in this space is truly alarming – it's yet another reminder of the importance of doing your due diligence before supporting a brand.
The bottom line: beware of the potential hidden toxins lurking in period products. Regulations on menstrual health products are different per country, so make sure you do your due diligence for your specific area. [20] When in doubt, opt for 100% organic cotton pads when possible.
What goes in, on & around your body matters!
---
Frequently Asked Questions – Non-Toxic Period Products
Click on the below FAQs to learn more about low-tox menstrual health products.
Does The FDA Require Labeling On Period Products?
What Is The Safest Tampon Material?
Can You Get Toxic Shock Syndrome From Menstrual Cups?
---
Did you learn something new?
Let me know your thoughts in the comments below!
You can watch our web story here.
xoxo,

Want to read more? Check out my other articles here!
References – Information from: FDA, Liz Winters, Well + Good, Women's Voices, The Hill, The Regulatory Review, Today, EWG, Creative Green Living, Consumer Reports, Goop, Natural Baby Mama, Made Safe, Life WIth Libby, Clearya, Women's Health Magazine, UTexas, Tampax, Environmental Health, National Center For Health Research, Life Without Plastic, Times Union, The Honest Consumer, Mamavation
Copyright In On Around LLC 2022 ©. The statements made on this website have not been evaluated by the FDA (U.S. Food & Drug Administration). They are not intended to diagnose, treat, cure, or prevent any disease. The information provided by this website should not be used as individual medical advice and you should always consult your doctor for individual recommendations and treatment. The information contained in this site is provided on an "as is" basis. Related to this site, there are no guarantees of completeness, accuracy, usefulness, or timeliness. In On Around LLC assumes no responsibility or liability for any errors or omissions in the content of this site.