When you're making the swap over to nontoxic beauty products, don't overlook those beautiful nails! Looking for a pretty mani without the dangerous chemicals? What is 10-Free nail polish? Everyone should be using non-toxic nail polish for toddlers, babies, and pregnancy – otherwise, you're exposing yourself to unnecessary chemicals!
This article dives deep into it what to look for in non-toxic nail polish and what to avoid. Keep reading to learn more!
(Note: This article contains affiliate links, meaning In On Around will make a small commission at no additional cost to you. This helps me maintain the site. As always, I value full transparency & only work with brands I love and trust.)
---
Why Should You Use Non-Toxic Nail Polish?
Many people think that non-toxic nail polish is unnecessary since it's not going directly on your skin. I'm here to tell you that that sentiment is not true! Nail polish DOES get absorbed by your body. Some of the solvents added to nail polish actually make it even more absorbable than traditional beauty products (not to mention you're breathing in the paint vapors).
Nail polish does get absorbed by your body!
The Health Impacts Of Nail Polish
It's time to make the switch! Common nail products oftentimes contain:
Formaldehyde (a known carcinogen & the vapors can trigger asthma)
Toluene (neurotoxicant, developmental damage & potential immune system toxicity)
Dibutyl Phthalate (reproductive & developmental toxicant, can lead to fertility issues)
Xylene (respiratory irritant)
Parabens (potential endocrine disruptor)
…among many others! These are definitely not chemicals you want in, on, or around your body.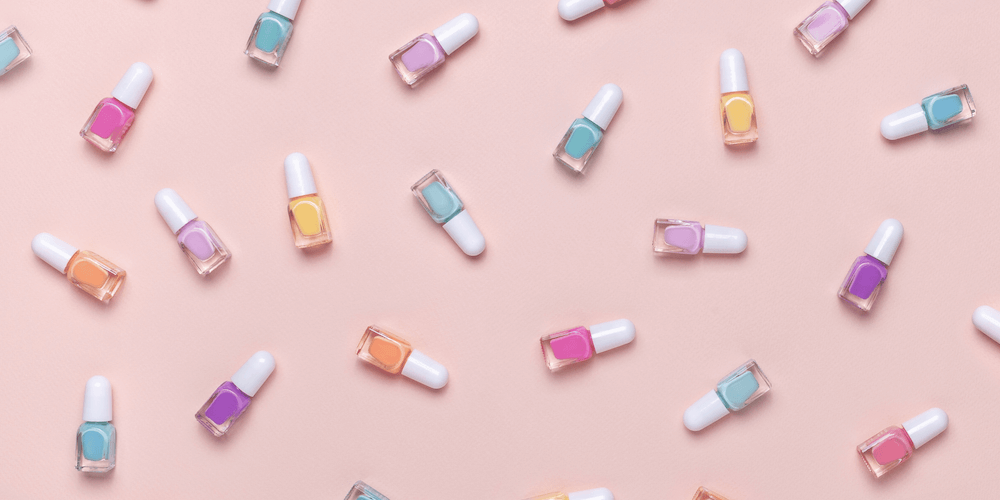 What Should You Look For In Nontoxic Nail Polish? What Is 10-Free Polish?
For these health reasons, it's essential you look for "10-free" polish. 10-free polish is free of the ten most harmful polish ingredients.
These 10 toxins include:
Toluene
Dibutyl Phthalate (DBP)
Formaldehyde
Formaldehyde Resin
Camphor
Ethyl Tosylamide
Xylene
Parabens – learn more about parabens here
Animal by-products
Fragrance
Some nail polish brands will market "3-free," "5-free," "7-free" etc…, but it's essential you only use at least 10-free polishes. There are many brands that are releasing polish with 13-free, 15-free polish as well… these are even better. Your nails deserve the best!
Many nail polishes also contain TPHP (triphenyl phosphate), which is added as a plasticizer to make it more durable. A Duke University study found TPHP metabolites in nearly all of the users' urine. It's absorbed into your body every time you use toxic nail polish… in both adults and children! Stay far, far away from this endocrine-disrupting chemical. [1]
Bottom Line: most nail polish is not tested for safety.
Are Nail Polishes Strictly Regulated?
The short answer: not really. Nail polishes are not strictly regulated. Cosmetics do NOT need FDA approval before going on the market. In reality, according to CNN, of the roughly 84,000 chemicals on the market, only 1% have been studied regarding their safety. Mind. Blowing.
There is a lack of regulatory oversight regarding cosmetics, so please be a conscious consumer & do your due diligence before supporting brands with toxic, untested chemicals.
Nail Polish Best Practice Tips
Luckily, there are a ton of nontoxic alternatives out on the market, so do some shopping around to find your favorites! You don't need to ditch nail polish altogether! You can still have a beautiful mani without a side of pretty poison.
Here are some best practices:
1 – Avoid Nail Salons
If you're looking for a cute mani, do it yourself! Nail salons oftentimes lack adequate airflow and ventilation. These airborne chemicals are often floating through the air (hence the strong chemical smell). Some studies have also shown that working in a salon can be linked to increased rates of reproductive health issues & respiratory problems.
2 – Use In Well-Ventilated Areas
Always paint your nails in a well-ventilated area (preferably outside).
3 – Paint Less Often
Paint your nails less often. Do you constantly have your toes painted even though it's winter and no one ever sees them? Go au-natural when you can.
4 – Don't Chew On Nails
Teach your kids to avoid chewing on painted nails.
If you are pregnant, it is safest to forgo all nail polish.
5 – Opt For Water-Based When Possible
Opt for water-based polish (not nitrocellulose-based), when possible. Keep in mind that most nail polishes on the market at nitrocellulose-based.
Be wary though – some brands market themselves as "nontoxic" because they are free of the 10 most common toxins, however, they contain just as toxic substitutes (like TPHP, benzophenone & tosylamide formaldehyde resin). For this reason, it's very important to use high-quality brands.
Should Children Use Nail Polish?
Just because young children can use nail polish, doesn't mean they should use nail polish. Even the highest-quality non-toxic nail polish will still be closer to "low-tox" than "no-tox." Forgoing nail polish altogether is best for children, especially toddlers and babies.
---
The Best Non-Toxic Nail Polish Brands
Dear Sundays

is a good choice! They have a large assortment of beautiful colors, as well as a non-toxic in-person nail salon in New York City. While they're nitrocellulose-based, they are free of the 10 most common nail polish toxins. As with all nitrocellulose-based polish, only use in

highly ventilated areas

.

Kapa Nui has great options and colors. They're water-based and nitrocellulose free. Since they're water-based, the polish doesn't have a very strong smell.
It's time to ditch the toxins. What goes in, on & around your body matters – including on your nails!
Save this on Pinterest for future reference:
---
Safer Nail Polish – Frequently Asked Questions
Click on the below FAQs to learn more about non-toxic nail polish for kids, babies, toddlers, and pregnant women!
Why switch to non-toxic nail polish?
What is 10-free nail polish?
Are nail polishes regulated?
Are nail salons healthy?
---
Will you make the switch to non-toxic nail polish?
Let me know in the comments below! You can watch our web story here.
xoxo,

Want to read more? Check out my other articles here!
Information on How To Find Non-Toxic Nail Polish from The Healthy, Mented Cosmetics, EWG, CNN
Copyright In On Around LLC 2021 © The statements made on this website have not been evaluated by the FDA (U.S. Food & Drug Administration). They are not intended to diagnose, treat, cure, or prevent any disease. The information provided by this website should not be used as individual medical advice and you should always consult your doctor for individual recommendations and treatment.