From makeup wipes to micellar water & oil cleansing, there are so many ways to take off your makeup… but what's the best way? More importantly, what's the safest makeup remover? What's the best non-toxic makeup remover?
Many makeup removers on the market contain hidden chemicals with a long list of health consequences. But don't get discouraged… there are plenty of affordable, clean makeup removers available that are just as effective! Especially since you use these makeup removers daily, it's essential that these products are clean & toxin-free.
Keep reading for the makeup removing do's & don'ts and my favorite brands!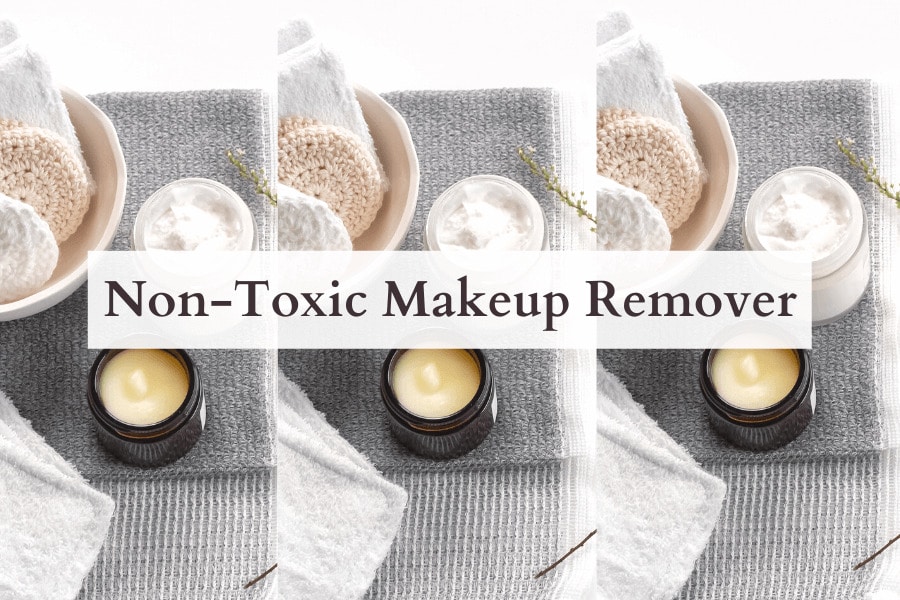 (Note: This article contains affiliate links, meaning In On Around will make a small commission at no additional cost to you. This helps me maintain the site. As always, I value full transparency & only work with brands I love and trust.)
---
Is Makeup Remover Toxic?
Your skin is incredibly porous. While absorption levels depend on the specific chemical, the science is clear that your skin is NOT an impenetrable barrier by any means. What you put ON your body matters (this is my whole mission here at In On Around)!
These are some ingredients you should aim to avoid in makeup removing products:
Preservatives – These are added to increase the shelf-life. Many of these preservatives can release low-levels of formaldehyde, which is a known carcinogen. While many of these ingredients are banned in the European Union, the United States does not require formal approval of cosmetics that release formaldehyde (thanks, FDA). Some ingredients to avoid:

DMDM hydantoin
5-bromo-5-nitro-1,3 dioxane
Methylene glycol
Diazolidinyl urea
Imidazolidinyl urea
Quaternium 15
Bronopol
Hydroxymethylglycinate
2-Bromo-2-Nitropropane-1,3-Diol
1,3-dimethylol-5,5-dimethylhydantoin

Surfactants/Flaming Agents (such as Sodium Lauryl Sulfate). These can irritate the skin, especially for those with sensitive skin types. Definitely steer clear if you have eczema.
Fragrance – Companies are not required to disclose which chemicals they consider to be "fragrance." It's an umbrella term that should be avoided at all costs.
Phthalates – A class of chemicals linked to fertility issues and birth defects in animal models. In addition, they've been linked to neurodevelopment issues in children.
Parabens – Used to reduce the growth of mold, however, they're linked to endocrine disruption/hormone disruption, cancer, and reproductive issues.
Note: some of these ingredients (like preservatives) are essential for the stability of cosmetic products, however, certain ones (like the ones listed) should be avoided more than others. You can learn more about these ingredients in the Clean Beauty Checklist E-Book.
Check Out The In On Around Shop
The Best Way To Remove Eye Makeup
The best eye makeup remover is simple = organic coconut oil. This will, without a doubt, easily take off all of your eye makeup. Waterproof makeup is no match for coconut oil… it'll wipe everything off in an instant (eyeliner, mascara, eyeshadow… you name it).
Simple ingredients can be just as effective at removing makeup!
It's quick, easy & nontoxic. Do keep in mind that coconut oil is comedogenic (aka it can clog pores), hence why I only use this for my eyes (not my full face). Jojoba oil can be a great option for the full face.

Added bonus: coconut oil can help grow your eyelashes! It is incredibly antimicrobial & antifungal, while still moisturizing & protecting the eyelash hairs. I've seen a significant improvement in my eyelash length since using it!
How To Remove All Makeup (Including Foundation)
Since our face is porous, it's essential to only use products that won't clog our pores (and lead to breakouts). When I have on a full face of makeup, I'll opt for an oil cleanser, like Biossance, to melt away all makeup & reside.
Pro tip: Always use a makeup cloth or cotton pads instead of cotton balls (which can leave little fuzzies behind).
After all makeup is removed, I follow up with my regular night-time skincare routine (which I will do a separate blog post about).
Attention: Just removing your makeup is NOT cleansing your skin. You must cleanse your skin afterward! This is called a double-cleanse. Remove your makeup first, then wash your face with a cleanser to clean your skin.
Double-cleansing can transform your skin.
Makeup Removing Best Practices
Be gentle with your skin! Never, ever, ever scrub, especially around the eyes.
Let the makeup remover sit on your eyes for a couple of seconds before wiping away (like the pic). This helps it soak in & penetrate deeper into the caked-on makeup.
Always use an oil-based product when removing waterproof or water-resistant makeup.
Gently wipe away any excess oil that's leftover (otherwise you will wake up looking like a raccoon). I will usually use a towelette to do so.
Say NO to baby wipes – these will not properly remove your makeup (and if they're not designed for the face they can be harsh on skin).
Take your time – you want to minimize pulling on your skin as much as possible
If you're too tired to take off your makeup (we've all been there), try your hardest to still do it! Otherwise, keep makeup wipes and/or micellar water with cotton pads on your bedside table to use before hitting the hay. Only gentle wipe your skin to avoid tugging.
Avoid scrubbing, tugging, or using harsh chemicals on your face.
But… Won't Oil Cleansing Make My Skin Break Out?
Time to hop in the time machine to travel back to high-school Chemistry class with me…
Water & oil do not mix. In fact, oil is what dissolves oil. If you truly want to dissolve all of the makeup on your face, an oil cleanser will do the trick… yes, oily-skin types included!
Oil cleansers are also traditionally soap-free, so they will not strip away any of your skin's natural oils. As always, I recommend doing a patch test to ensure your skin reacts well to any new products.
---
The Best Non-Toxic Makeup Remover Brands
Oils:
Nontoxic Makeup Remover Wipes:

C'est Moi Gentle Makeup Remover Wipes (fragrance-free with organic aloe; biodegradable; EWG-verified) – Update May 2023: difficult to find, may be discontinued

Cleansers: You can find a list of cleansers here.
---
Frequently Asked Questions
Click on the below FAQs for more info on non-toxic makeup remover!
What ingredients are in makeup removers?
What's the best way to remove eye makeup?
Do baby wipes remove makeup?
Does oil cleansing make you break out?
---
How do you remove your makeup?
Remember, what you put in, ON & around your body matters. It's so important that you're not using harmful chemicals to remove your makeup, especially around your eyes.
Let me know! You can watch our web stories here.
xoxo,

Want to read more? Check out my other articles here!
Information on Non-toxic Makeup Remover from: NIH, Allure, EWG, Huff Post, Shape, The Natural Beauty, Healthcare Without Harm, Wellness Mama
Copyright In On Around LLC 2021 © The statements made on this website have not been evaluated by the FDA (U.S. Food & Drug Administration). They are not intended to diagnose, treat, cure, or prevent any disease. The information provided by this website should not be used as individual medical advice and you should always consult your doctor for individual recommendations and treatment.