Looking for healthy wedding gifts? We've got you covered! If you want to impress a health-conscious bride and groom with a thoughtful and memorable gift, you're in the right place. We're diving into gifts that are centered around holistic health and non-toxic living. They're perfect for a bridal shower gift registry too! Here are our most unique wedding gift ideas for healthy couples!
Keep reading to learn more about our top bridal shower and unique wedding gift ideas…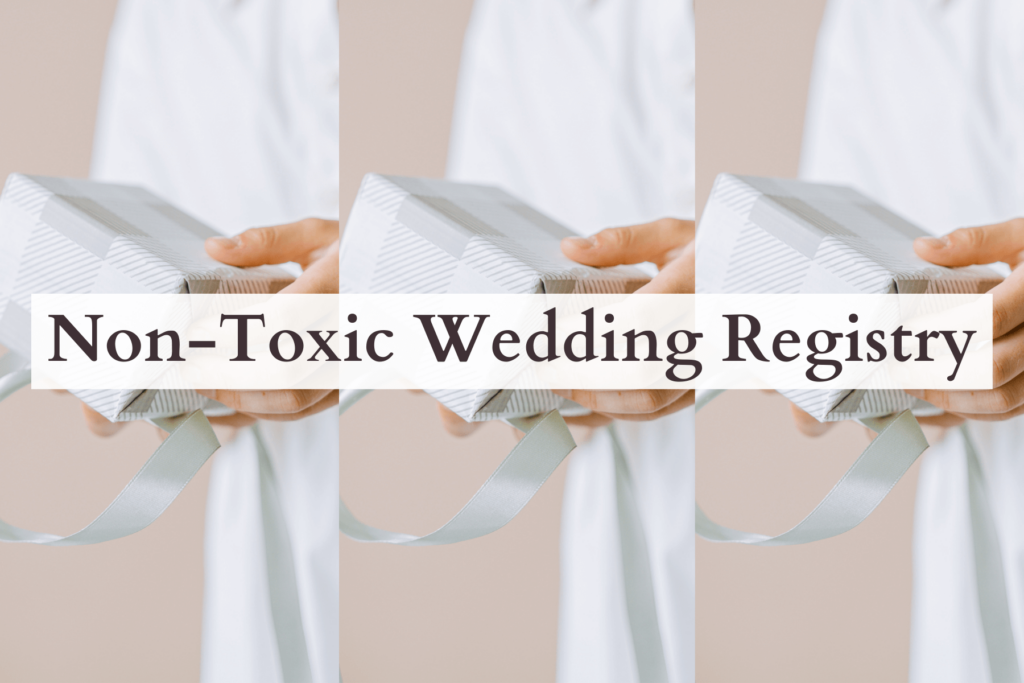 Note: This article contains affiliate links, meaning In On Around will make a small commission at no additional cost to you. This helps me maintain the site. As always, I value full transparency & only work with brands I love and trust.
---
The Importance Of Healthy Gifting
The wedding bells are ringing, and you've been invited to celebrate the love and commitment of a health-conscious couple! While traditional wedding gifts are always appreciated, why not take this opportunity to surprise the newlyweds with something tailored to their wellness-focused lifestyle?
We're about to embark on a journey through a handpicked selection of gift ideas that go beyond the ordinary, ensuring that your present not only expresses your love and best wishes but also aligns perfectly with the couple's dedication to non-toxic living. So, let's dive into a world of thoughtful wedding gifts that will make their special day even more memorable.
Let's dive in!
Wedding and bridal shower gifts help couples furnish their home for years to come.
---
[Use discount code inonaround to save 20%]
360 Cookware is a renowned brand known for its premium, American-made stainless steel cookware that offers exceptional durability and performance. When it comes to wedding gifts, 360 Cookware stands out because of its exceptionally high-quality materials. These cookware and bakeware items can last for years to come!
To learn more about non-toxic cookware, check out: Ceramic vs Stainless Steel Cookware – Non-Toxic Guide
---
Instant Pot has become a household name for its multifunctional electric pressure cookers that simplify cooking and save time in the kitchen. Instant Pot is an excellent gift choice because it empowers couples with the ability to effortlessly prepare a wide range of dishes, from stews to yogurt, all in one appliance. Plus, they have an air fryer attachment – making it one of the only true non-toxic air fryers on the market with a stainless steel interior (free of non-stick coatings).
To learn more about air fryers, check out: Safest Non-Toxic Air Fryers Free Of Teflon
---
[Use this link for a big discount!]
The AirDoctor air purifier is an exceptional choice as a wedding gift due to its commitment to providing clean and healthy indoor air. It boasts cutting-edge filtration technology that removes allergens, pollutants, and contaminants. If it's a group gift (or if you want to really spoil them), you can gift multiple AirDoctors of different sizes, since different models work best depending on the room's square footage.
To learn more about air filters, check out: Are Ozone Air Purifiers Safe? Best Air Filter Buying Guide
---
Duralex dishware makes for a fantastic wedding gift, particularly for couples who prioritize non-toxic materials in their kitchen. Duralex is renowned for its tempered glass dinnerware, which is not only elegant but also free from harmful chemicals like BPA, lead, and cadmium. By choosing Duralex, you're gifting the newlyweds with a set of durable and safe tableware that not only complements their dining experience but also aligns with their commitment to a healthy and eco-friendly home.
To learn more about dinnerware, check out: The Ultimate Guide To The Best Non-Toxic Dinnerware
---
[Use this link for a big discount!]
Selecting an AquaTru water purifier as a wedding gift is a thoughtful choice, as it addresses the couple's desire for clean and safe drinking water. AquaTru uses advanced reverse osmosis technology to remove contaminants, pollutants, and impurities from tap water, ensuring that the newlyweds have access to pure and great-tasting water in the comfort of their home. It's a practical and eco-conscious present that will benefit them for years to come!
To learn more about the best water purifiers, check out: AquaTru vs. Berkey – What To Look For In A Water Filter or Purifier
---
The Breeo smokeless fire pit is a remarkable wedding gift choice that brings sophistication and functionality to outdoor gatherings. Its innovative stainless-steel design ensures a smoke-free experience, allowing the newlyweds to enjoy the warmth and ambiance of a fire without the inconvenience of smoke (and unnecessary carcinogens). This elegant addition to their outdoor space will elevate their entertaining opportunities, creating an inviting atmosphere for friends and family to gather around and create lasting memories.
---
[Use this link to get a free cast iron care kit!]
Field Company cast iron cookware makes for an exceptional wedding gift that combines tradition with top-notch quality. Crafted with precision and attention to detail, Field Company's cast iron skillets and pans offer exceptional heat retention and distribution, ensuring the couple's culinary creations are nothing short of spectacular. This gift not only connects them with the timeless art of cast iron cooking but also represents the durability and lasting commitment they share, as cast iron cookware can be passed down through generations, making it a cherished family heirloom.
To learn more about non-toxic cookware, check out: Ceramic vs Stainless Steel Cookware – Non-Toxic Guide
---
Gifts of new pillows from Brentwood Home and Naturepedic are a thoughtful way to ensure the newlyweds enjoy nights of restful and rejuvenating sleep. Brentwood Home pillows offer luxurious comfort with their eco-friendly and organic materials, while Naturepedic pillows provide exceptional support with their natural and non-toxic components. These gifts not only convey a wish for their well-being but also contribute to the creation of a cozy and healthy haven where the couple can unwind and start each day refreshed, ready to face life's adventures together.
---
Pyrex glass containers are a practical and versatile wedding gift choice that effortlessly combines style with functionality. These durable, oven-safe, and microwave-friendly containers provide the perfect storage solutions for the couple's meal prep and leftovers (without storing them in plastic). By gifting Pyrex, you're offering them a way to reduce waste, lead a more sustainable lifestyle, and reduce exposure to plastics, while keeping their kitchen organized and stylish.
---
More Non-Toxic Wedding Registry Favorites:
Check Out The In On Around Shop
Final Thoughts – Healthy Unique Wedding Gifts
We've explored a variety of unique wedding gift ideas tailored to health-conscious couples! These gifts not only express your heartfelt congratulations, but also align with their commitment to a healthy lifestyle. By selecting one of these thoughtful presents, you'll contribute to their journey toward a life filled with wellness and happiness. Remember, when choosing a wedding gift, it's about more than just the item itself; it's about enhancing their lives together. Cheers to the newlyweds and their future filled with love and good health!
---
Which is your favorite non-toxic wedding gift idea?
Let me know your thoughts and key takeaways in the comments below!
You can watch our web story here.
xoxo,

Want to read more? Check out my other articles here!
In this article: unique wedding gifts, creative wedding presents, thoughtful wedding fit ideas for health-conscious brides and grooms, unique bridal shower gifts, innovative gift ideas for newlyweds, and more.
Copyright In On Around LLC 2023 ©. The statements made on this website have not been evaluated by the FDA (U.S. Food & Drug Administration). They are not intended to diagnose, treat, cure, or prevent any disease. The information provided by this website should not be used as individual medical advice and you should always consult your doctor for individual recommendations and treatment. The information contained in this site is provided on an "as is" basis. Related to this site, there are no guarantees of completeness, accuracy, usefulness, or timeliness. In On Around LLC assumes no responsibility or liability for any errors or omissions in the content of this site.