When you're diving into the world of non-toxic kitchen accessories, toasters are oftentimes overlooked… but In On Around has you covered! No more worrying about harmful fumes from PFAS or questionable coatings seeping into your favorite slice of bread. With these toasters, you can now enjoy a crispy meal or snack without any toast-tastrophes. What chemicals are in conventional toasters and toaster ovens? What are the best non-toxic toaster brands? Should you avoid certain brands?
Keep reading to learn more about non-toxic toasters. It's time to toast without the toxicity!
Note: This article contains affiliate links, meaning In On Around will make a small commission at no additional cost to you. This helps me maintain the site. As always, I value full transparency & only work with brands I love and trust.
---
What Makes a Toaster Toxic? Unveiling the Hidden Dangers
Like many kitchen appliances, conventional toasters, and toaster ovens oftentimes contain non-stick coatings, which are made from per & poly-fluoroalkyl substances (PFAS). These chemicals are also known as "forever chemicals" since they don't degrade inside your body or in the environment.
But it doesn't matter if the inside of the toaster has a non-stick coating, as long as it doesn't touch your food… right? Well, not quite. These chemicals can aerosolize from the inside walls of the toaster and land on your meal. Yum.
You ever start up a brand-new appliance and smell a burnt chemical scent? It's likely burning off some chemicals from manufacturing into your home's indoor air. These chemicals will also get on your food, which you'll consume. It's a hidden danger and something that should be avoided, especially if you're on a holistic health journey or particularly chemically sensitive.
The toaster materials make all the difference.
Types Of Toasters
Just so we're all on the same page, let's dive into the three main types of toasters.
Regular Toasters: These are traditional toasters that toast bread in slots at the top of the appliance. They usually can fit 2-4 slices of bread and it usually comes with a removable crumb tray.
Toaster Ovens: Unlike regular toasters, toaster ovens are typically larger and have doors that swing open.
Convection Ovens/Combo: These use convection fans to push hot air around your food. Any combo appliances that can toast, bake, air fry, etc… would all into this category. You can read more about the best non-toxic air fryer options here: Safest Non-Toxic Air Fryers Free Of Teflon
There are hundreds of toaster options out there, but first let's dive into the common materials used in many toaster oven options.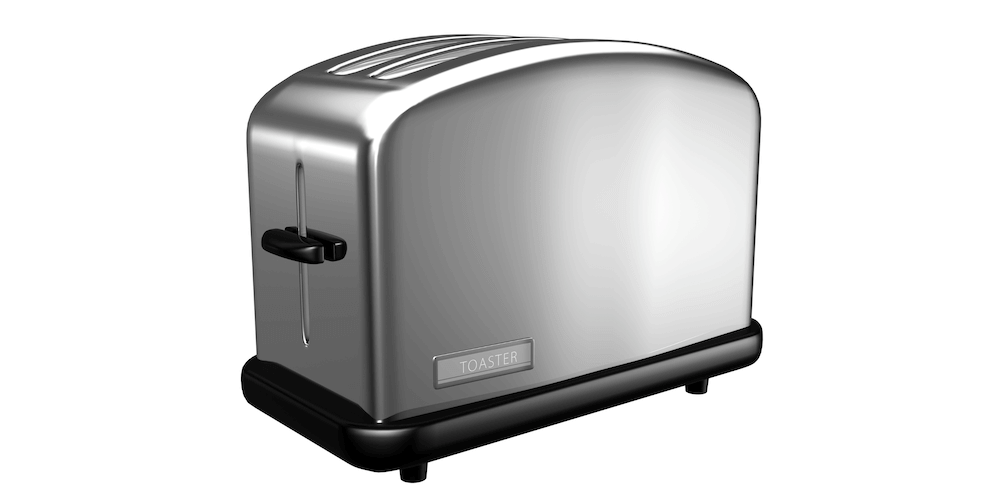 Understanding the Hazards of Toxic Toasters: What You Need to Know
Conventional toasters and toaster ovens commonly contain materials and chemicals like:
Non-stick coatings (likely made with PFAS/PTFEs)

PFAS are potentially linked to:

Testicular, kidney, liver, and pancreatic cancer
Weakened childhood immunity
Low birth weight
Endocrine disruption
Increased cholesterol
Weight gain in children and dieting adults

Keep in mind that if you have pets in the home, the fumes from these chemicals can cause them harm (or sometimes they can even be fatal, especially for birds).
You can learn more about PFAS here: Per/Polyfluoroalkyl Substances (PFAS) – What Are Forever Chemicals & How Do We Avoid Them?

Aluminum

Some brands use "aluminum-plated steel" as their toaster support bar (which holds the bread in place). It can look like stainless steel, but it's really not. Don't be fooled!

Plastic casing

Toasters can contain plastic casings or pieces. While these aren't usually directly in contact with your food, they can off-gas into your indoor air. Luckily, many toaster brands are swaying away from plastic since it can melt.

Ceramic, which can include lead, cadmium, zinc, nanoparticles, etc…
Why Is There A Prop. 65 Warning On My Toaster?
Many toasters and toaster ovens will have a California Proposition 65 warning label somewhere on the product. This doesn't necessarily mean you should immediately be concerned, but it does warrant more research into the brand and product.
If the warning label is in regard to the materials found in the toaster cord, then it's not likely a concern. However, if the warning label is because there are non-stick coatings on the inside of the toaster, then you should look into other options.
Oftentimes you'll need to do some digging and reach out to the brand specifically to understand why they have a Proposition 65 warning label. To learn more about this, check out: What Is Proposition 65 In California? Prop 65 Explained
Many toasters have Proposition 65 warning labels.
Choosing the Right Non-Toxic Toaster: Key Features and Considerations
What sets non-toxic toasters apart? It's all in the materials! We'll delve into the world of non-toxic coatings and components. Finding the ideal non-toxic toaster can feel overwhelming, given the plethora of options available. But fret not! We've got you covered with some handy tips to make your decision-making process a breeze.
Look for mostly stainless steel

This is, unfortunately, very, very difficult to find, so look for as much stainless steel as possible, especially the parts that come in direct contact with your food. Ideally, you don't want any non-stick coatings on the interior of your toaster or toaster oven.
Beware: most toasters claiming to be stainless steel are referring to the EXTERIOR of the appliance, not the interior. If they say "stainless steel shell," then the interior isn't likely made of the same material.

Don't fall for deceptive marketing terms, like "non-stick," "easy to clean," or "BPA-free"

Oftentimes, products with these marketing terms are coated with forever chemicals or other non-stick chemicals.

Look for UL certifications

Underwriters Laboratories (UL) certified products are third-party tested for safety. While this doesn't usually include safety of all chemical coatings, it ensures the toaster is safe to use electrically. You don't want to buy a cheap toaster that isn't properly manufactured that can pose a fire risk.
It's always best to confirm directly with the manufacturer before purchasing. You can reach out to their customer service team to ask them what materials are used in the accessories and interior of the appliance. Oftentimes, customer service team members may not know – so you can ask to be sent to their product quality department for more information. Continue digging until you get the answer you're looking for!
---
The Best Non-Toxic Toaster & Toaster Oven Brands
If you're in the market for a non-toxic toaster, We've done the research for you.
As mentioned, most toasters on the market use non-stick coatings. KitchenAid, Breville, Cuisinart, Oster, Panasonic, AICOOK, and many more popular brands don't meet my standards for the "best" category.
Best Toaster Options
BEST Option (Expensive) – Wolf Gourmet Two Slice Toaster (WGTR152S)

According to their website, the wrapped body is 430 stainless steel, horizontal brush #4 (fine), and the heat shield is polished stainless steel. The food contact area is all chrome and slot sides are sheet metal. The outer rim of the toaster is die cast aluminum. The crumb tray is brushed stainless steel. The control knobs are plastic. The base is metallic painted plastic. The heating wires are nickel chromium alloy.

This is the most transparent materials explanation I have found. It's great to see a company that's fully transparent with their materials!

BEST Option (Slightly More Affordable) – Waring Commercial Products

"Chrome-plated steel construction" on their website
When I called customer service, they confirmed that it's made of mostly stainless steel & a standard heating element. They said it does not use a non-stick coating, however the customer service rep did not seem 100% certain in her answer.

Instant Pot Duo Crisp 9-in-1

While this doesn't have a toast feature, it does offer a bake feature which can give similar results. This is what I have in my kitchen as of now.

Galanz Air Fryer Toaster (GT12SSDAN18)

According to the customer service team, the toasters do not have any non-stick coatings, but they are present on cooking kits/utensils. The Air Fry Kits, baking/roasting pans, and silicone mats have non-stick coatings.
The racks are stainless steel and the pan and crumb tray are galvanized steel (which I'd avoid using).
Models That Didn't Meet Our Standards:
While it looks like a good option, I'm not a fan of the Cuisinart TOB-260N1. They use aluminum-plated steel with a PFOA/PTFE-free nonstick coating. Their pans are ceramic coated, and the baking pan/tray is made of enamel-coated steel. This doesn't meet my standards.
In addition, I called the customer service line inquiring about Black + Decker Stainless Steel (TO3290XSD) and they confirmed that only the exterior uses stainless steel. They use a non-stick coating on the inside, including on trays.
Replacing Toaster Oven Trays
If you're not looking to replace your full toaster oven right now, you can replace the oven pan, which is what comes in direct contact with your food. While this doesn't reduce exposures 100% (since chemicals from the interior can aerosolize), it can help. Make sure you measure to find the best size for your specific toaster oven.
Other Options
If you're willing to forego a toaster altogether, you can also quickly toast bread on the stove using non-toxic cookware, like 360 cookware (discount code inonaround saves you 20%). Just throw it on the pan and let it brown! To learn more about the best cookware options, check out: Ceramic vs Stainless Steel Cookware – Non-Toxic Guide.
While you're at it… pair your new toaster with a slice of gluten-free bread. Want to know why you should try eating gluten-free, read more about it here: Gluten-Free Diet Pros And Cons For Non-Celiacs
For proper maintenance, remember to UNPLUG the toaster before cleaning to avoid the risk of electric shock. Regularly clean up any crumbs in the crumb tray to avoid smoking or a fire hazard.
Check Out The In On Around Shop
Final Thoughts – Non-Toxic Toasters & Toaster Ovens
With non-toxic toasters, you can finally bid farewell to burnt edges and toxic fumes. By understanding the hazards of conventional toasters and embracing the world of non-toxic alternatives, you're taking an important step on your holistic health journey.
So, let's raise our toasts, not just in celebration of a perfectly golden slice, but also in honor of the non-toxic toasters that are available. Toast with confidence, and savor each bite knowing that you're embracing a healthier way to start your day!
Looking to replace other items in your kitchen for better options? Check out these articles:
---
⬇ Pin this "Non-Toxic Toasters & Toaster Ovens?" pic on Pinterest for future reference! ⬇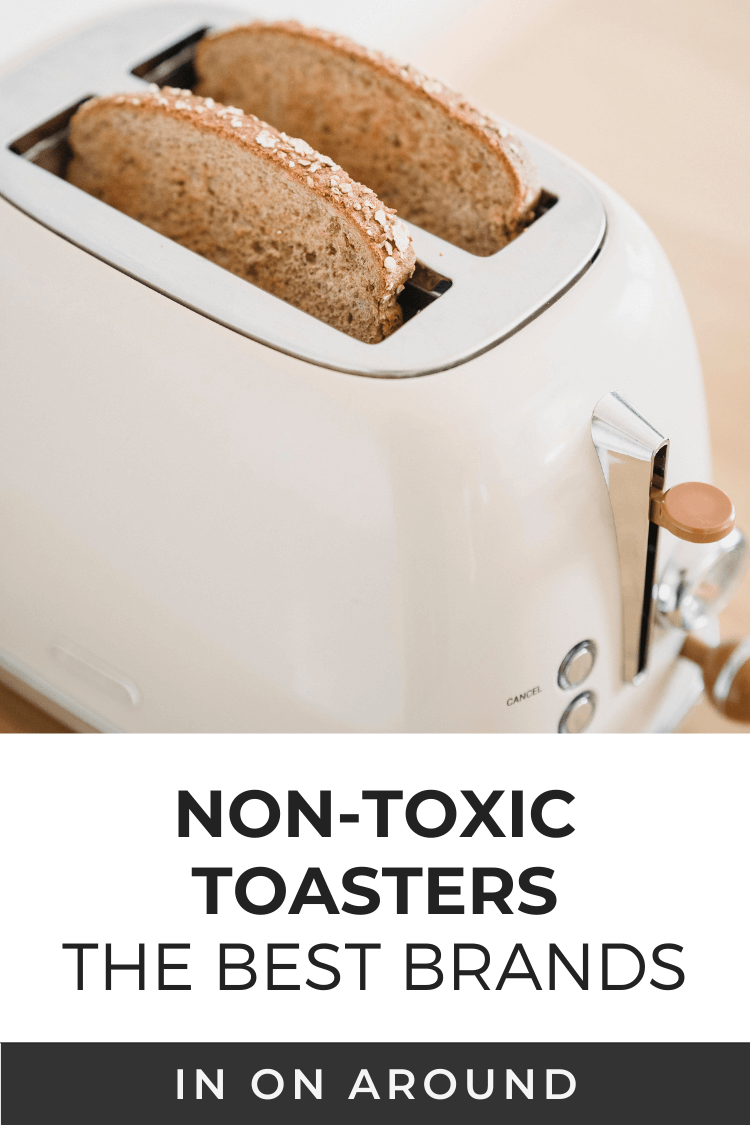 ---
Frequently Asked Questions – Non-Toxic Toasters
Click on the below FAQs to learn more about safe, chemical-free, food-grade, hazardous-free, and non-toxic materials used in toasters and toaster ovens.
What are the best non-toxic materials used in toaster manufacturing?
What are the key features to look for when buying a non-toxic toaster?
What chemicals are used in toasters?
Are BPA-free toasters safe to use?
---
What kind of toaster do you use?
Let me know your thoughts and key takeaways in the comments below!
You can watch our web story here.
xoxo,

Want to read more? Check out my other articles here!
Other references on non-toxic toasters and toaster ovens: Mamavation, Nontox U, Fine Dose, Non-Toxic For Health, A Sprinkle Of Thyme, Happy Trails and Wagn Tails, Sustainably Kind Living, Remodel Or Move, Good Morning Health, Wolf Gourmet
Copyright In On Around LLC 2023 ©. The statements made on this website have not been evaluated by the FDA (U.S. Food & Drug Administration). They are not intended to diagnose, treat, cure, or prevent any disease. The information provided by this website should not be used as individual medical advice and you should always consult your doctor for individual recommendations and treatment. The information contained in this site is provided on an "as is" basis. Related to this site, there are no guarantees of completeness, accuracy, usefulness, or timeliness. In On Around LLC assumes no responsibility or liability for any errors or omissions in the content of this site.