Say goodbye to harmful chemicals lurking in those razor moisture strips and say hello to a clean, green shave that will leave your skin feeling smooth! In this article, we'll unveil the secrets behind traditional razor moisture strips, the potential risks they pose, and introduce you to the world of natural alternatives in shaving cream. If you're in the market for eco-friendly razors, this article is for you!
Keep reading to learn more about these best cutting-edge razor brands (… yes, pun intended).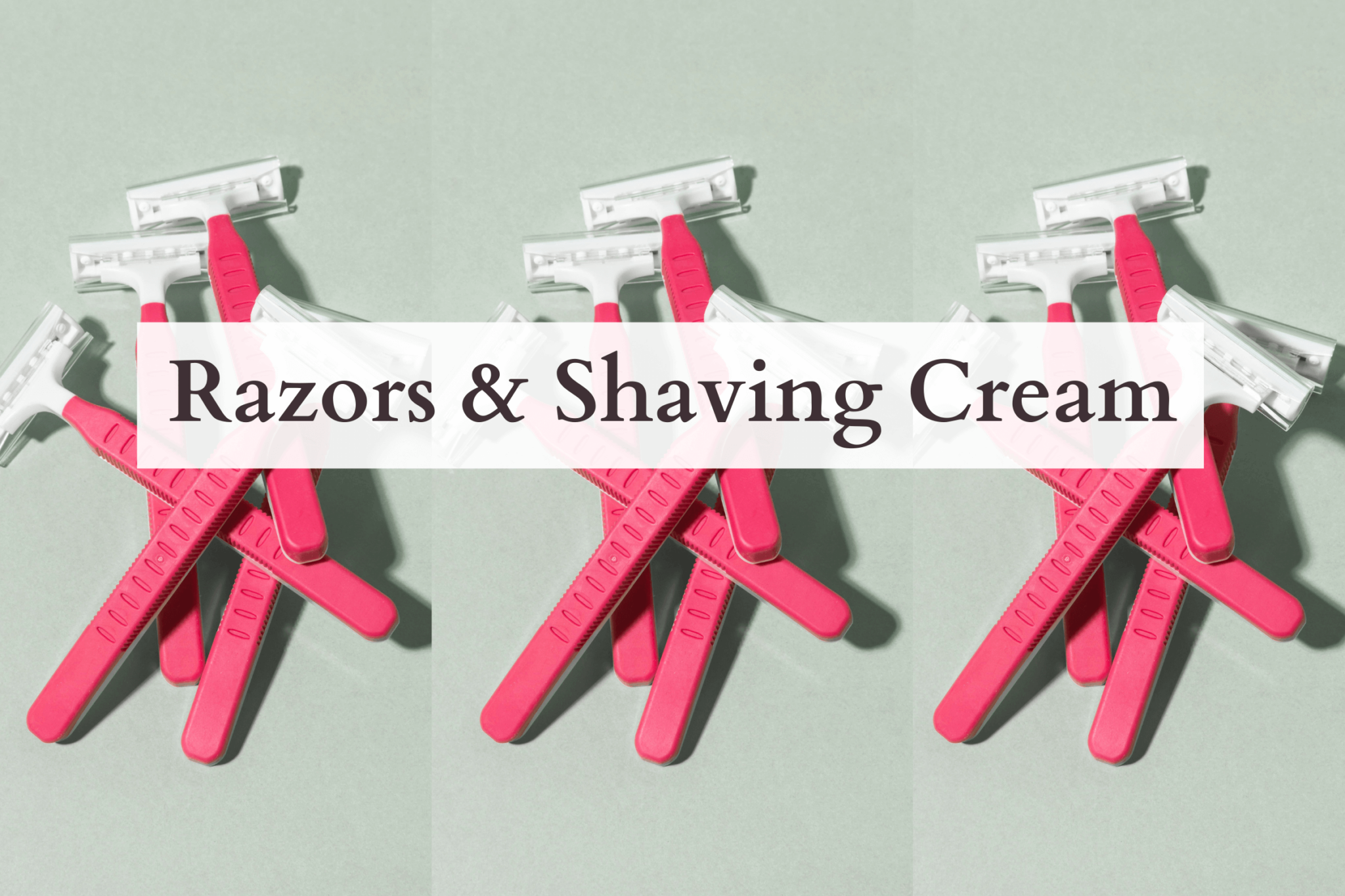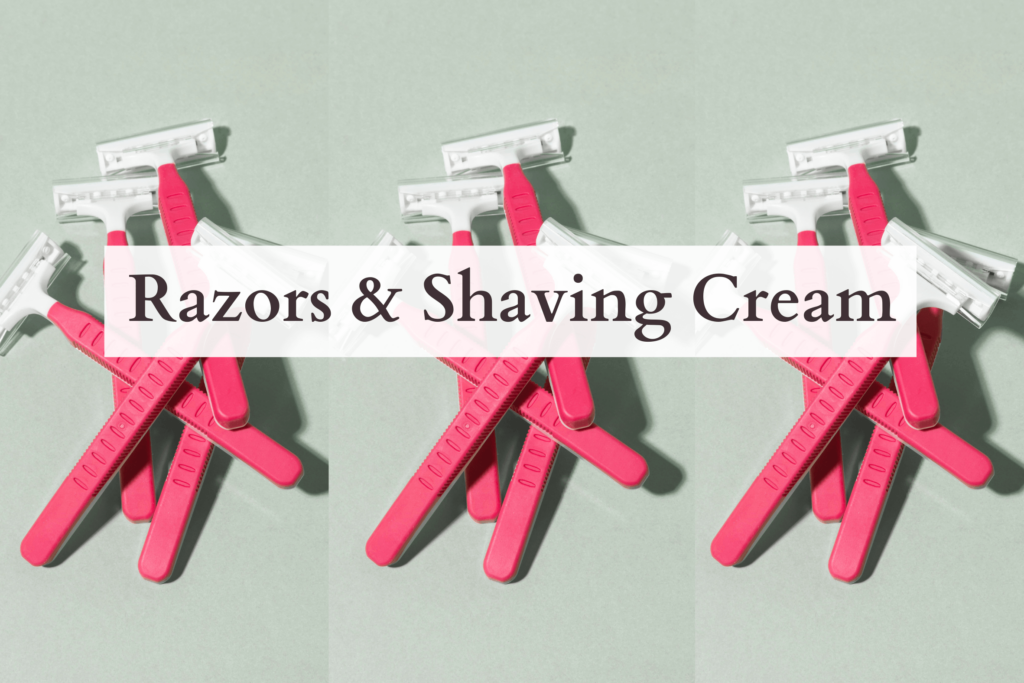 Note: This article contains affiliate links, meaning In On Around will make a small commission at no additional cost to you. This helps me maintain the site. As always, I value full transparency & only work with brands I love and trust.
---
The Problem With Traditional Razors
Traditional razors may seem harmless, but there's more to them than meets the eye. One of the major concerns lies in the chemical-laden components used in their production. Many traditional razors feature moisture strips (typically a blue or white strip) that contain a range of chemicals. These chemicals can be absorbed by your body, especially since you're using them while shaving your skin.
Common Razor Chemicals
Commonly used chemicals in these razors moisture strips include:
Polyethylene Glycol (PEG): Used as a moisturizing agent, PEG can cause skin irritation and allergic reactions in some individuals.
Sodium Lauryl Sulfate (SLS): SLS is a foaming agent that can strip the skin of its natural oils, leading to dryness and irritation.
Synthetic Fragrances: These can contain a mixture of potentially harmful chemicals, such as phthalates, which have been linked to hormone disruption and allergic reactions.
Parabens: Commonly used as preservatives, parabens can mimic estrogen in the body and have been associated with hormonal imbalances.
Propylene Glycol: This ingredient helps to retain moisture but can cause skin irritation and allergies, particularly in individuals with sensitive skin.
The presence of these chemicals in traditional razors raises concerns about their impact on both our skin health and the environment.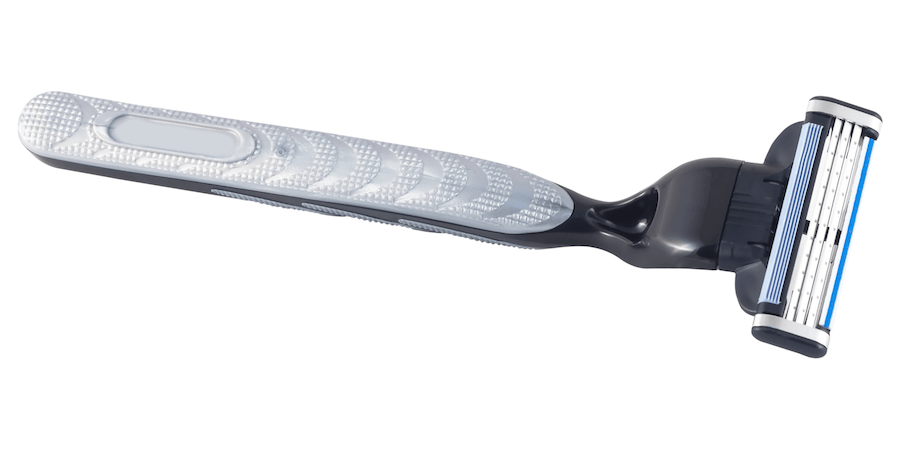 Benefits of Non-Toxic Eco-Friendly Razors
In a world where sustainability and environmental consciousness have become paramount, the demand for non-toxic, eco-friendly products has risen significantly. Among these products, razors have taken a leap toward a greener and cleaner future. Non-toxic, eco-friendly razors offer a plethora of benefits that go beyond just a smooth shave.
#1 – For one, non-toxic razors are skin-friendly and chemical-free. They're free of moisture strips, which can contain toxic chemicals. What goes in, on, and around your body matters – including the products you're regularly using on your skin. Of course, the chemical exposure from a razor moisture strip is very small, but some people are extra sensitive. It's essential to reduce exposure to unnecessary chemicals as much as possible.
#2 – Secondly, non-toxic razors are more environmentally sustainable. Most razors are made with plastic, which takes sometimes up to 500 years to decompose. [1] These plastics can also break down into microplastics, which can then pollute our waterways and drinking water supply.
#3 – Lastly, they're typically longer-lasting and cost-effective. Since many of these razors are made with more sustainable materials, they oftentimes last way longer and end up costing less in the long-run. It's a win-win!
The average person does through over 2,400+ disposable razors in their lifetime. [2]
The Problem With Traditional Shaving Cream
We've talked about razors… but now let's talk about their trusty sidekick: shaving cream.
Traditional shaving cream has long been a staple in grooming routines, but what many people don't realize is that it often comes with a hidden cost to both our health and the environment. One major issue lies in the chemical-laden nature of these products. Commercial shaving creams often contain a cocktail of synthetic ingredients that can be harmful to both our skin and the planet.
Chemicals Commonly in Shaving Cream:
Parabens

These are linked to a host of potential health issues, such as: hormone disruptions, early puberty, reproductive issues, skin irritation, allergic reactions, and so much more.
To learn more about parabens, check out: Paraben Safety – Are Parabens In Makeup Harmful?

Sulfates (SLS, SLES, etc…)

These harsh surfactants, like sodium lauryl sulfate (SLS) and sodium laureth sulfate (SLES) have foaming properties, but they're also potentially linked to skin irritation. They can contain toxic contaminants like 1,4-dioxane and ethylene oxide.
To learn more about SLS, check out: the In On Around Clean Beauty Checklist

Artificial fragrances

Fragrances oftentimes contain phthalates, which are linked to hormone disruption, cancer, birth defects, and more.
They can also potentially disrupt hormones, contribute to asthma, harm reproductive systems, and so much more. It's best to avoid exposure to artificial fragrances whenever possible.
To learn more about fragrance, check out: Safe Fragrance 101 – What Is Natural Fragrance?

Preservatives

While preventing mold and bacterial growth is important, preservatives are potentially linked to skin irritation, allergic reactions, antibiotic resistance, hormone disruption, and more.
Aluminum salts, Polyethylene Oxide, and Polysorbate (PEG) can also be found in some razor moisture strips.
These additives not only pose potential health risks, such as skin irritation and allergies, but they also contribute to water pollution and can disrupt ecosystems when they enter our waterways. It's time to lather up with a cleaner conscience and explore alternative options that prioritize our well-being and the sustainability of our planet.
Benefits of Non-Toxic Shaving Cream
Let's dive into the amazing benefits of switching to a more natural shaving cream!
Gentle on the skin: Non-toxic shaving creams are formulated with natural ingredients that are less likely to cause irritation, redness, or dryness.
Free of harsh chemicals: Free of chemicals like parabens, sulfates, and artificial fragrances, non-toxic shaving creams minimize the risk of allergic reactions and skin sensitivities.
Moisturizing properties: Many non-toxic shaving creams are enriched with nourishing ingredients like aloe vera, shea butter, and natural oils, providing hydration and leaving the skin feeling soft and smooth.
Eco-friendly: Non-toxic shaving creams often come in recyclable or biodegradable packaging, reducing waste and environmental impact.
Transparency: Non-toxic shaving creams often provide transparent labeling, allowing consumers to easily understand what they're putting on their skin and make informed choices.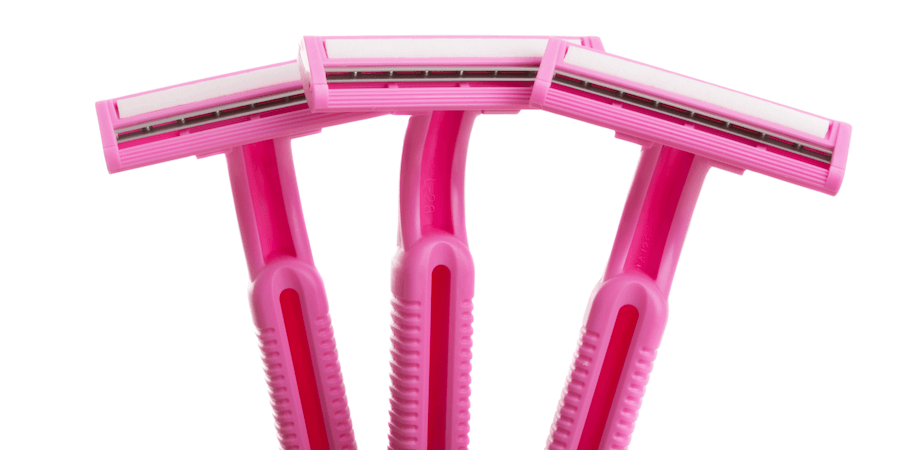 How To Find Non-Toxic Eco-Friendly Razors
It's time to explore alternatives that prioritize non-toxic and eco-friendly options, ensuring a safer and more sustainable shaving experience! So… what should you look for?
Opt for high-quality materials made from stainless steel or high-quality metal

Many bamboo handles use harsh glues to paste the bamboo together. While these are typically more sustainable than plastic, they're best to avoid.

Avoid painted handles, which can contain heavy metals
Support brands that offer replaceable and recyclable blades
Look for brands that use minimal plastic packaging
Remember, finding the perfect non-toxic eco-friendly razor may require some trial and error, but the search will be worthwhile. Keep in mind that many of these reusable razors are more expensive initially since they're made to last. Happy shaving!
---
The Best Non-Toxic Eco-Friendly Razor Brands
Since most of these safety razors are made with metal, they're heavier and you likely won't need to use pressure when shaving. There may be a slight learning curve, so go slow to avoid cutting yourself. These blades are SHARP – you don't want to nick yourself! Make sure you're angling it properly at about a 30-degree to 45-degree angle to your skin. Go especially slow around your knees and ankles.
Best:
These options are stainless steel, which is my preferred razor material.
Better:
Hanni is another option, but it's powder-coated metal, so it wouldn't be my first choice. Out of caution, I prefer any razors that aren't colored. This is not an exhaustive list. There are plenty of other great brands out there!
To keep the razor fresh and clean, make sure it's in a place where it can properly dry. Or, better yet, carefully towel dry it after each use to avoid rusting. If you're not a fan of the blades that come with the razor, test out others! Most are interchangeable.
Note: Prices were pulled from their websites as of May 2023, so please double-check before purchasing. In addition, if you're traveling on a plane, store your safety razor blades in checked luggage only.
Check Out The In On Around Shop
The Best Non-Toxic Shaving Cream Brands
Most shaving cream brands on the market at… trash. It's true, but these brands make the cut:
Oftentimes, non-toxic soap or body wash can also be used instead of shaving cream to help with a smooth shave. (To be honest, most "shaving cream" is just foamy soap/wash and is another product that brands can market to consumers).
After shaving, if you're looking for non-toxic, moisturizing lotions and oils, check out the In On Around Shop for the best options.
Final Thoughts – Eco-Friendly Razors
Embracing non-toxic razors and shaving creams is a game-changer for both our personal well-being and the health of our planet. You can nourish your skin without any nasties! By opting for non-toxic alternatives, we prioritize the care and health of our skin, reducing the risk of irritation, allergies, and exposure to harmful chemicals.
Simultaneously, we contribute to the preservation of our environment by choosing products that are made from sustainable materials. The shift towards non-toxic razors and shaving creams is a small but significant step we can all take towards a greener and cleaner future.
So, let's lather up with conscience, knowing that each shave is a positive choice that benefits both ourselves and the world we live in. Cheers to shaving responsibly!
---
⬇ Pin this "Non Toxic Razor Options" pic on Pinterest for future reference! ⬇
---
Frequently Asked Questions – Eco-Friendly Razors
Click on the below FAQs to learn more about chemicals in razors.
Can You Throw Away Razors?
How Often Should I Change My Razor Blade?
Can Safety Razors Stay Wet?
Are Safety Razors Non-Toxic?
---
What kind of non-toxic razor do you use?
Let me know your thoughts and key takeaways in the comments below!
You can watch our web story here.
xoxo,

Want to read more? Check out my other articles here!
Other references on Eco-Friendly Razors: In On Around Clean Beauty Checklist, Harpers Bazaar, Healthline, Sustainable Jungle, Elle, Beeco, Cosmopolitan, The Round Up, Style Caster, Indiegetup, Sustainably Chic, Aqua Jet, Organically Becca, Denise's Digest, EWG, Little Southern Life,
Copyright In On Around LLC 2023 ©. The statements made on this website have not been evaluated by the FDA (U.S. Food & Drug Administration). They are not intended to diagnose, treat, cure, or prevent any disease. The information provided by this website should not be used as individual medical advice and you should always consult your doctor for individual recommendations and treatment. The information contained in this site is provided on an "as is" basis. Related to this site, there are no guarantees of completeness, accuracy, usefulness, or timeliness. In On Around LLC assumes no responsibility or liability for any errors or omissions in the content of this site.