When it comes to painting our homes, we often focus on the color and cost of the paint, but there's more to consider than just aesthetics and budget. With hundreds of paint companies producing "safer" options, it can be overwhelming to know which to choose. One common buzzword in the paint world is "Zero-VOC" or "Low-VOC," but are these paints actually better for our health and the environment? Let's take a closer at the best non-toxic paint brands!
Keep reading to learn more about the best paint brands!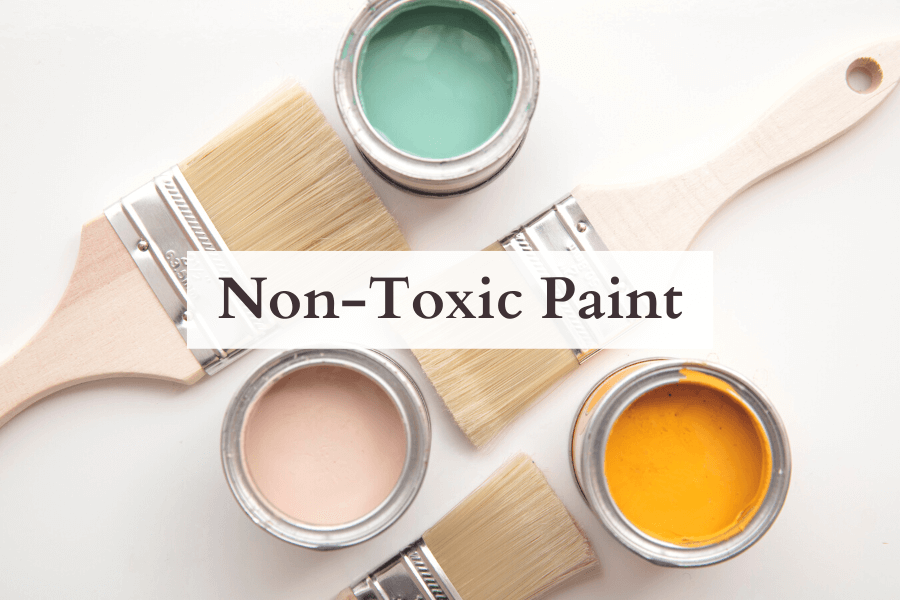 Note: This article contains affiliate links, meaning In On Around will make a small commission at no additional cost to you. This helps me maintain the site. As always, I value full transparency & only work with brands I love and trust.
---
What Are VOCs?
Do you know that strong new paint smell? That's thanks to VOCs!
VOCs stands for Volatile Organic Compounds. Paint, primer, new furniture, carpeting, and other materials can "off gas" these chemicals into the air, which can be inhaled. Toxic acetone, toluene, formaldehyde, and many other potentially toxic chemicals can be found in these off-gassed vapors.
Hazardous Air Pollutants (HAPs) and Toxic Air Contaminants (TACs) are different categories of air pollutants, although they're commonly used in conjunction to VOCs. HAPs are a subset of VOCs and TACs is a category that can include both VOCs and HAPs.
Indoor air is oftentimes 2-5 times more polluted than outdoor air. [1]
Low-VOC vs. No-VOC/Zero-VOC – What's The Difference?
Standard, Low, Zero, No-VOC paints… the marketing terms can be very confusing! Let's dive into the details to compare them:
Standard
This is traditional paint that isn't marketed as low- or zero-VOC
Typically can be applied in just one to two coats
If you go to a regular hardware or home store, this is what you'll likely pick up.
Zero-VOC or No-VOC
Must be 5g/L or less of VOCs total (meaning Zero-VOC paint is not 100% VOC-free)
No VOCs are intentionally added to the product and are considered as "trace contaminants" only
"Zero" VOC paint is also oftentimes referred to as "No" VOC – they're the same thing
Has little to no odor
Typically needs a few more coats when compared to standard paint
Low-VOC
This term is NOT regulated by the Environmental Protection Agency (EPA)
Most companies that are low-VOC abide by under 50 g/L of VOC (… but not all)
"Plant-based paint," or "mineral paint" are usually low-VOC
Typically has less odor than standard paint
Typically needs a few more coats when compared to standard paint
Interestingly, adding color pigments to paints can increase VOC levels, making it essential to check the VOC content for each specific color.
According to the EPA, VOC concentrations are up to 10x higher inside versus outdoors. [4]
Deceptive Marketing
In 2018, the Federal Trade Commission (FTC) took action against four paint companies – Benjamin Moore & Co, IICP Construction Inc, YOLO Colorhouse LLC, and Imperial Paints LLC for misleading customers about their emission- and VOC-free paints. [5] Deceptive marketing is still very prevalent in paint products! This is why it's essential to do your research and look for the best-of-the-best brands (like in this article).
There have also been a number of lawsuits have been filed against paint companies due to their high VOC content, some of which have resorted to large settlements.
Zero-VOC paint is healthier than Low-VOC paint.
Paint Fumes Side Effects
While a fresh coat of paint can transform a room, the fumes emitted by paint can have a range of short and long-term side effects, such as:
Brain fog
Headaches
Nausea
Rashes
Fatigue
Sinusitis
Asthma
Burning eyes, throat & nose
Liver damage
Kidney damage
Central nervous system disruption & toxicity
Cardiovascular problems
Poor coordination
Cancer (depending on the chemical, like inhaled crystalline silica, & length of exposure)
VOCs also contribute to photochemical smog and are bad for the environment. If you've been exposed to paint fumes for a long period of time and don't feel well, get to a well-ventilated area and seek medical attention.
Is Lead A Concern In Paint?
Lead was banned in paints for consumer use in 1978 – which is great! However, lead can still be a concern if you're buying antique products that were painted with lead.
Inhalation of lead is poisonous and the finish can peel, chip, chalk, and crack, and if the particles are fine enough, they can become dust. This is especially a concern if you have children or pets in the home. Keep all paint away from children – whether it's "Zero-VOC" or not.
If you're curious about lead in older painted items, you can use a lead paint tester like Scitus or 3M brand. It's best to swab for lead in multiple places, in case multiple types of paint were used.
Paint Regulations
There are certain baseline paint regulations to ensure the general quality of paint products, both for consumers and the environment. The CDHP 01350 standard is a certification program that tests for the presence of volatile organic compounds (VOCs) in paint, which can be harmful to human health and the environment.
ASTM-D4236 is another standard that requires manufacturers to provide detailed labeling and warning information about potential hazards associated with their paint products, especially for art materials. ASTM F963017 applies to children's toys, including paint finishes & toxicology.
Compliance with these regulations is important for both manufacturers and consumers, as it helps to promote the use of safer and more environmentally-friendly products & decreases potential health issues, BUT these don't ensure a product is "100% safe," by any means. Let's dive in further…
Prop 65 Warning In Paint
Most paint brands (even the "cleanest" of the bunch) will contain a Proposition 65 Warning. Remember, Zero-VOC paint, while safer, is still not 100% non-toxic. It's paint, after all.
Prop. 65 is intended to give the customer clear and reasonable warnings if the product is known to cause cancer or reproductive toxicity.
This warning is mostly due to the presence of Titanium Dioxide, which is a carcinogen in powder form and a paint-whitening/opacity pigment.
Check Out The In On Around Shop
Best Non-Toxic Paint Certifications
As you're shopping for non-toxic paint, it's important to be aware of the various certifications and standards. These can help you identify which products are *truly* safe and environmentally friendly.
Greenguard Gold – the best standard!

This is an independent 3rd party certification that tests and verifies to ensure paint meets their standards for chemical emissions and VOCs.
It limits emissions of more than 360 VOCs!
They have a couple different certification tiers – "Gold" is the best!
UL Greenguard Gold certified products undergo comprehensive re-certification testing on an annual basis

Green Seal-11 – not as strict

Certifies flat paints under 50 g/L of VOCs and non-flat paints under 100 g/L
This is a less strict standard for limiting VOCs in paint, compared to Greenguard Gold

Declare Label

This provides information about a product's environmental impact and end-of-life options
This is a less strict standard for limiting VOCs in paint, compared to Greenguard Gold
Ingredients like nonylphenol ethoxylates, formaldehyde-releasing preservatives, glycol ethers, phthalates, antifungal additives, crystalline silica, and metals (like cadmium and chromium) can all be present in paint. Some of these won't be listed on the ingredient list or Material Safety Data Sheet, so it's best to opt for certified brands that are tested.
Different Kinds Of Paints
Typically, paint can be broken down into 3 main categories:
Water-Based Paint
Water-based typically has lower VOC levels compared to oil-based paint. These are usually the best option if you're looking to reduce volatile organic compound levels in your home.
Like latex or acrylic and vinyl acetate ethylene (VAE) paints
This is about 70% of all paint sales in the United States
Latex paint is commonly used with an acrylic binder. If they're non-acrylic, they commonly use polyvinyl acetate (PVA) or vinyl acetate-ethylene (VAE) binders
Usually pretty durable and easy to apply
Highly water-resistant and ideal for use in high-moisture areas such as kitchens, bathrooms, and exteriors
To get the best results from the paint, look for a solids content of over 30%, which will help to hide stains and cover more surface area per gallon. You can typically find this on the paint label or technical data sheet (TDS).
Water-based is also typically easier to clean up with just soap and water (since they're not deemed hazardous waste), while oil-based paints require solvents and can take longer to dry.
Oil-Based Paint
Also known as alkyd paint

Like linseed oil or mineral spirits

Uses a synthetic resin as a binder

Many oil-based paints are high in VOC, unless they're using natural oils like linseed (which is flaxseed)
Specialty Paint
Also referred to as "mineral" or "natural" paints
Like clay, mineral, and milk paint
Not typically water-based
Mineral paint can include silicate binders, clay-based paints, limewash, milk paint, chalk paint, and more.
These aren't always compatible with pre-painted surfaces or high moisture areas (like the kitchen or bathroom)
Chemicals Of Concern In Paint
Aside from VOCs, alkylphenol ethoxylates (APEs) can be present in some acrylic paints, which is a hormone disruptor. In addition, SVOCs, or semi-volatile organic compounds, are also a concern, which are stealthy, hidden chemicals since they are odorless and oftentimes undetected.
Biocides are also a major concern, which are used as fungicides, mildewcides, and algicides. These chemicals can damage the nervous and immune systems, as well as their potential to contribute to the development of antibiotic resistance. Some brands disclose the specific ingredients used, while others won't – it depends on the product ingredient list and transparency. It's best to use paints that are fungicide and biocide-free.
Preservatives such as isothiazolinones (MIT or BIT) and pyrithione zinc are commonly found in paint, with the former being red-list chemicals that pose risks mainly through skin contact. [6]Pyrithione zinc has a long list of potential health concerns and is currently being banned in Europe. [7] While ECOS paint company uses pyrithione, they do so without the use of zinc.
Best Non-Toxic Paint Brands
Luckily, you won't have to go on a wild goose chase to find safer paint brands – I break it all down for your here. If you're ready for a fresh coat of paint, check out these Zero-VOC, less toxic paint brands!
Use code INONAROUND10 for 10% off!
Zero-VOC
Free of APEs
Acrylic paint that's free of natural latex (if you have a latex allergy)
USA-made
Water-based
Every product comes with ingredient list and VOC test data
They list all ingredients down to 0.01% (which is amazing!)
Offers both interior and exterior paint, primer, stains, varnish, & more
Free shipping on orders over $200+ with swatches, 2 oz samples, color cards and fan decks shipping free
Also offers an "Air Purifying" line, which has zeolite as an added VOC absorber
They use 1-hydroxy-2-pyridinethione as a preservative. Free of isothiazolinone.
Note: not Greenguard Gold certified, but levels are far below the certification threshold, so this is a great option! They have the lab testing to prove it.
Lullaby Paints and Quiet Home Paints are also ECOS brands. In the United Kingdom, they're known as Lakeland Paints.
At the time of this article: sold for about $85/gallon (about ~$76 with discount)
Zero-VOC
Water-based
Greenguard Gold Certified
Offers both interior and exterior paint, primer, & more
Has a rewards program where you earn $5 for every $150 spent, $10 for referring friends, and $5 for writing reviews
Free shipping on orders of $100+ with swatches shipping free
At the time of this article: sold for about ~$64/gallon
Milk paint option
Zero-VOC
Available on Amazon
Made from milk, food-grade proteins, natural pigment, clay & more
Biodegradable
Dries into a chalky finish (keep this in mind, if this isn't the look you're going for)
At the time of this article: sold for about ~$77/gallon
"Better" Non-Toxic Paint Brands
Some of these brands, while Zero-VOC, contain anti-microbial ingredients, like isothiazolinone. While these are "better" than standard paint, they didn't make it into the "best" category.
Non-acrylic latex option
Uses vinyl acetate/ethylene copolymer (VAE) as a binder and isothiazolinones as a preservative
Not as durable as other paint brands
UK-based company
At the time of this article: sold for about ~$110/gallon (very pricey for what it is – hence why it's not in the "best" category)
Formerly Natura line (phased out in March 2021)
Note: Eco Spec is getting phased out in a lot of stores and is more difficult to find. Many stores carry their "ben" line though, which is also zero-VOC.
Zero-VOC
Free of APEs
Acrylic paints
Green Seal Certified
They list all ingredients down to 0.01% (which is amazing!)
Contains mildewcide isothiazolinone
Certified Asthma & Allergy Friendly by Asthma and Allergy Foundation of America
One of the better in-store options
Important reminder: Benjamin Moore has been sued in the past for misleading customers with unsubstantiated health claims. [11]
At the time of this article: sold for about ~$56/gallon (depends on the store)
Zero-VOC
Available at The Home Depot
Acrylic paint
Greenguard Gold Certified
May use isothiazolinone mildewcide in some of their products
At the time of this article: sold for about ~$28/gallons
Both a paint and primer combo
Zero-VOC
100% acrylic paint
Greenguard Gold certified
Mildew resistant, so likely contains mildewcide
At the time of this article: sold for about ~$28/gallon
Milk paint option
Zero-VOC
Mostly for porous surfaces, like wood and masonry
Requires dilution before use (keep this in mind! Not always user-friendly & can have color variations)
At the time of this article: sold for about ~$70/gallon
Zero-VOC
Uses mineral pigments and plant oils
Has more of a clay-finish
Claims to be "so safe and natural you can bathe in it"
Offers hand-painted color cards for a nominal fee
Paint batches can be different colors (hence why they're in the "better" category)
At the time of this article: sold for about ~$66/gallon
Zero-VOC
"Formaldehyde-recusing capabilities" that reduces VOCs from the home
Greenguard Gold certified
Contains Titanium Dioxide, Calcium Carbonate, Crystalline Silica & more – these are all dangerous to inhale [8]
Contains agents to inhibit mold and mildew, however the specific ingredient used for this purpose isn't disclosed
Possibly contains undisclosed fragrance
They filed a patent on low-osor latex paint that's capable of reducing interior odors. It can contain odor-absorbing agents, like undecylenic acid, undecylenate silicone esters, etc… [9, 10]
At the time of this article: sold for about ~$60/gallon
Sherwin-Williams used to have an "Eco-Select" paint line as well, however, it's no longer available on their website.
Bioshield is another option that's clay-based, however, it may not hold up in high-traffic areas or bathrooms. Magnolia Home Paint and Backdrop brands are low-VOC, which don't meet my standards. This is not an exhaustive list – there are many more you can explore, like Rose Uniake, Mythic, Homestead House Paint (in Canada), Earthborn Paints (in UK), Earth Safe Finishes, and more.
---
What To Look For & Best Practice Tips
Look for the Greenguard Gold certification & water-based paint
Always open up your windows for airflow to avoid inhaling paint fumes
Wear respirators & gloves if you're particularly sensitive (or pregnant)
It's best to avoid newly painted rooms for at least a couple of days
Never ingest any paint! (don't lick paint brushes)
Beware of greenwashed marketing red flags (terms that are made to make it seem more "green," "eco," or "safe," even though it's really not). Such as:

"Non-toxic"
"Safe"
"Healthy"
There's no such thing as 100% non-toxic or child-safe paint.
Keep your home's ducts clean – hire a professional cleaner, especially if you've just moved in
Expect to pay more for a Zero-VOC paint – the least expensive paints are cheaper to make and have more VOCs
If you're looking to avoid paint fumes, opt for a nontoxic wallpaper or leave a raw brick, stone or plaster wall.
Have proper humidity control in humid rooms, like bathrooms and laundry rooms
Avoid paint strippers, especially ones with methylene chloride (a carcinogen) or N-Methylpyrrolidone (NMP), which is linked to reproductive harm. alcohol or soy-based paint strippers are better in well-ventilated areas. [12]
Dispose of all paint properly, especially oil-based paint which is considered hazardous household waste. Do NOT pour liquid paint down drains or into the trash!
It's common to paint and prep a nursery before bringing home a new baby, but it's best to do this well in advance to avoid bringing the baby home to a room full of paint fumes. If you're pregnant, stay away from painting altogether.
Final Thoughts – Nursery-Safe Wall Paint
There's a myriad of paints claiming to be "healthier" on the market, but a lot of these terms aren't true. It's best to avoid standard and even low-VOC paint options, even if you're not chemically sensitive.
While "low-VOC" is typically better than standard paint, don't fall for the deceptive marketing. Opt for "Zero-VOC" brands that are ideally Greenguard Gold certified or that provide 3rd party test results. If your budget allows for it, opting for higher-quality paint (especially in nurseries and high-trafficked areas) is better for your health.
Paint is, and never will be, 100% non-toxic – so use caution.
---
⬇ Pin this "Safest Non-Toxic Paint" pic on Pinterest for future reference! ⬇
---
Frequently Asked Questions – Non-Toxic Paint Brands
Click on the below FAQs to learn more about healthy paint, nursery paint, safe paint, non toxic paint for walls, and more.
Is Zero-VOC Paint Safe For A Nursery?
Does Zero-VOC Paint Smell?
Is It Safe To Paint With Low-VOC Paint While Pregnant?
Is Zero-VOC Paint Safe For Babies?
---
Have You Tried Any Of These Brands?
Let me know your thoughts and key takeaways in the comments below!
You can watch our web story here.
xoxo,

Want to read more? Check out my other articles here!
Other references on healthy non-toxic paint brands: Apartment Therapy, Treehugger, Real Simple, Better Homes & Gardens, The Spruce, Well By Design, UL Solutions, Energy.gov, Clare, Bob Vila, Painters Inc, HGTV, Mamavation, The Good Trade, My Domaine, What's In Products, My Chemical-Free House, EWG, Earth Easy, Life Hacker, Green Home Guide, Today's Homeowner, House Beautiful, All Climate Painting, EPA, Lead Safe Mama, Build With Rise, FTC, Consumer Reports, Painted, American Coatings Association,
Copyright In On Around LLC 2022 ©. The statements made on this website have not been evaluated by the FDA (U.S. Food & Drug Administration). They are not intended to diagnose, treat, cure, or prevent any disease. The information provided by this website should not be used as individual medical advice and you should always consult your doctor for individual recommendations and treatment. The information contained in this site is provided on an "as is" basis. Related to this site, there are no guarantees of completeness, accuracy, usefulness, or timeliness. In On Around LLC assumes no responsibility or liability for any errors or omissions in the content of this site.