While home flooring is easy to overlook, it's a key component in creating a healthy indoor home environment. With new floors being a significant investment in your home, it's crucial to opt for non-toxic flooring options that won't harm your loved one… especially if you have kids or pets who spend a lot of time on the floor. With flooring being the largest surface in your home, it's important to make a conscious decision about what materials you use.
What's the best non-toxic flooring material? What should you avoid? What are the best brands?
Keep reading to learn more about the best flooring options!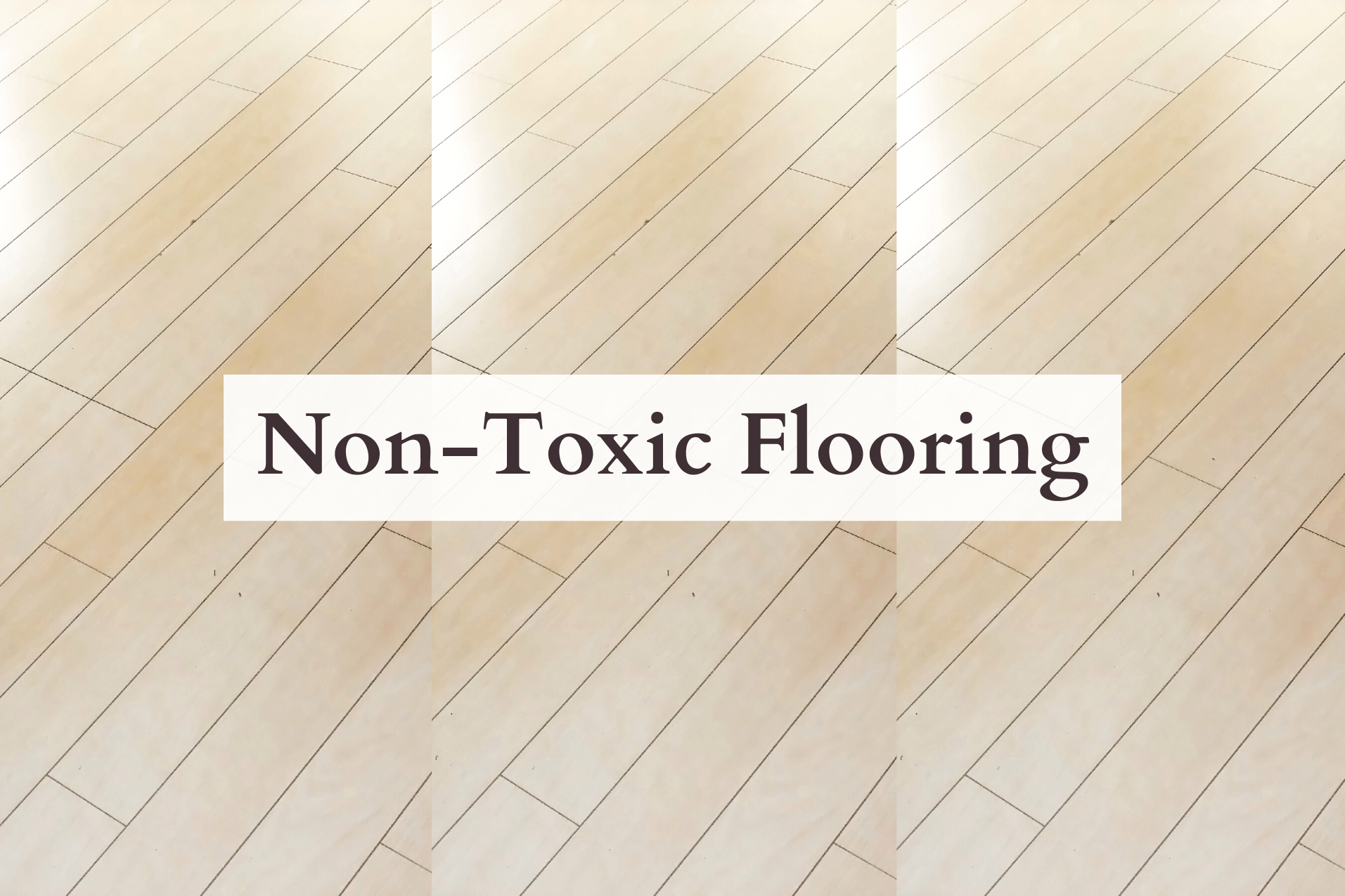 Note: This article contains affiliate links, meaning In On Around will make a small commission at no additional cost to you. This helps me maintain the site. As always, I value full transparency & only work with brands I love and trust.
---
What Are VOCs?
VOCs stands for Volatile Organic Compounds. Home building materials, flooring, and other products can "off gas" chemicals into the air, which can be inhaled. Toxic acetone, toluene, formaldehyde, and many other potentially toxic chemicals can be found in these off-gassed vapors.
People who are especially sensitive to chemical exposures, or those who have asthma, may have worsened reactions to VOCs in the home environment.
To learn more about VOCs, check out this article about paint: Top 11 Healthy, Zero-VOC, & Non-Toxic Paint Brands
It's important to reduce indoor VOC exposure as much as possible.
VOCs & Your Health
Indoor home air can contain a number of VOCs, such as:
Formaldehyde

– this one of the most significant concerns when it comes to flooring
Toluene
Benzene
Phenols
Glycol ethers
Xylene
Methylene chloride
Perchloroethylene
Acetaldehyde
Isocyanates
… and more. Some of these VOCs, like formaldehyde, are oftentimes used in glues for preservation and to combat bacteria. These chemicals are linked to a number of potential health issues, like respiratory irritation, headaches, nausea, fatigue, central nervous system disruption, loss of coordination, cancer, and more.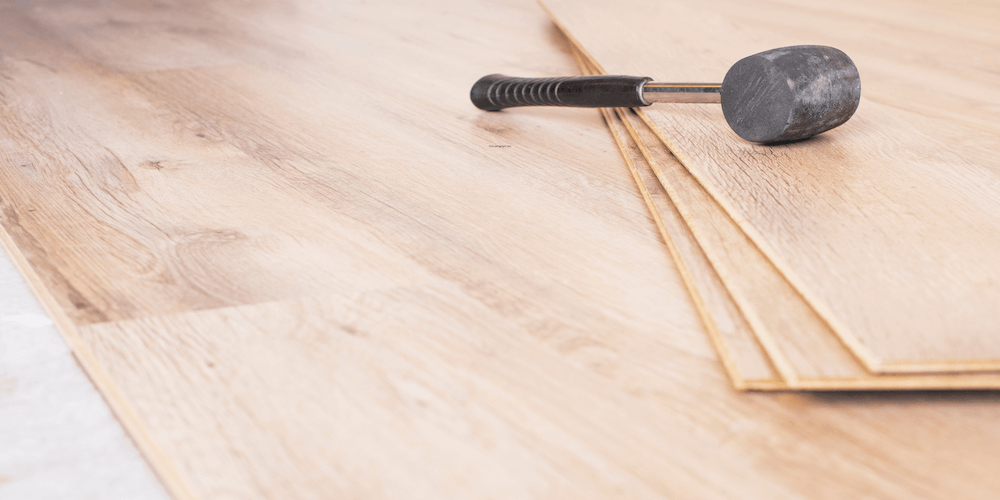 Flooring Materials
With so many different home flooring options, how do you choose?! Let's dive into the potential pros and cons of each option.
1 – Solid Wood
Solid hardwood is the best option for indoor flooring. True hardwood flooring contains solid wood throughout and
Pros:
Looks beautiful – a lot of visual appeal with a variety of stain colors
Easy to clean off dust or allergens
High return on investment – increases home value
Can be resurfaced every 3-5 years
Strong and durable
Cons:
More expensive compared to some other options
Heat can make the wood expand and contract, leaving gaps between the boards if not properly maintained
May scratch or dent over time

Hardwoods (ex: oak, maple) are more resistant to damage unlike softwoods (ex: pine, birch).

Can warp from water damage or hidden sources of moisture
Pre-finished hardwood is usually cured under UV lights with polyurethane, which contains aluminum oxide
---
2 – Engineered Hardwood (Composite Wood)
Engineered hardwood is NOT the same as solid hardwood. It uses a top layer of real hardwood that's glued to plywood or other wood-like materials. This includes pressed wood, plywood, particleboard, and medium-density fiberboard.
Pros:
Has a real hardwood top layer
Less likely to warp
Usually more affordable than solid hardwood
Cons:
Oftentimes used with glues and resins which can off-gas formaldehyde and VOCs

Can't be refinished more than once
Will fade over time
Can sound hollow when walking on it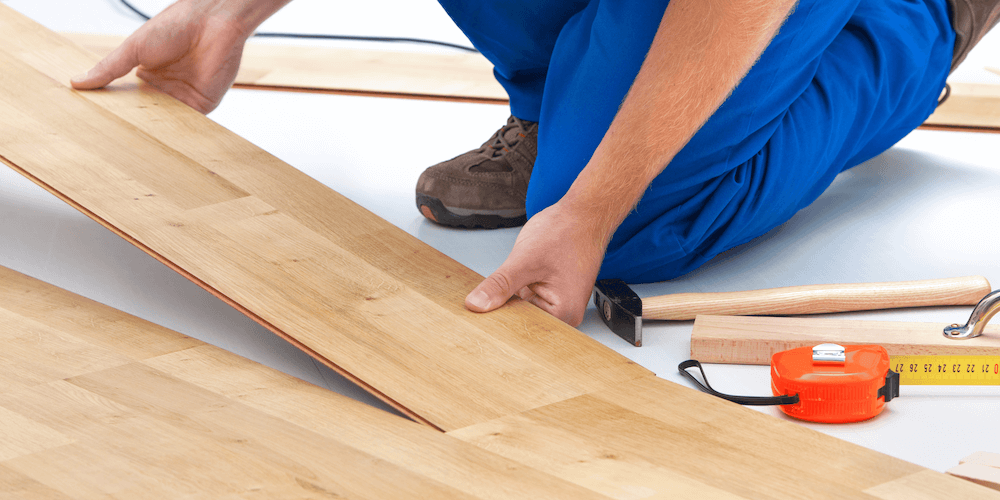 3 – Carpet
One of the most popular home flooring options. To learn more about the best rugs and carpeting choices, check out: The Best Non-Toxic Rugs, Carpets, and Rug Pads
Pros:
Cost-effective

Soft, warm and available in multiple colors and styles
Can help soundproof the room
Cons:
Can collect dust, mites, mildew, and mold
Can contain formaldehyde, benzene, stain repellants, moth-proofing chemicals etc… Stain-resistant varieties are very common.
More difficult to maintain
Can contain different fiber materials, dyes, padding, adhesives, and chemicals
Oftentimes produced from petroleum, and uses nylon, polyester, and olefin
Can absorb smells, moisture, and other home pollutants
---
4 – Laminate
Laminate is usually made of a particleboard wood base topped with a photo of wood or tile topped with a plastic layer. It's made to look like real wood.
Pros:
Looks like real wood, but less expensive
Easy to install
Durable and affordable
Comes in a variety of colors/stains like hardwood
Cons:
A synthetic product that's made to look like real wood, but can look very fake
Very prone to water and moisture damage, so not a good choice for kitchens, bathrooms and laundry rooms
Easy impacted by moisture damage
Can chip
Can sound hollow or plasticky when walking on it
Oftentimes used with glues and resins which can off-gas formaldehyde
---
5 – Vinyl
Vinyl flooring is a type of synthetic flooring material made from polyvinyl chloride (PVC) resin and other additives.
Pros:
Durable, economical and versatile
Can last up between 10-20 years
Affordable
Water-resistant
Cons:
Made from polyvinyl chloride (PVC) resin and plasticizers, stabilizers, fillers, and pigments
Can contain phthalates and other harmful toxins like lead, cadmium, brominated flame retardants, and more.
Contributes to poor indoor air quality
Much lower return on investment than hardwood
Less visually appealing
Older vinyl likely contains asbestos, which is a known carcinogen. Working with a licensed contractor to properly remove vinyl is crucial.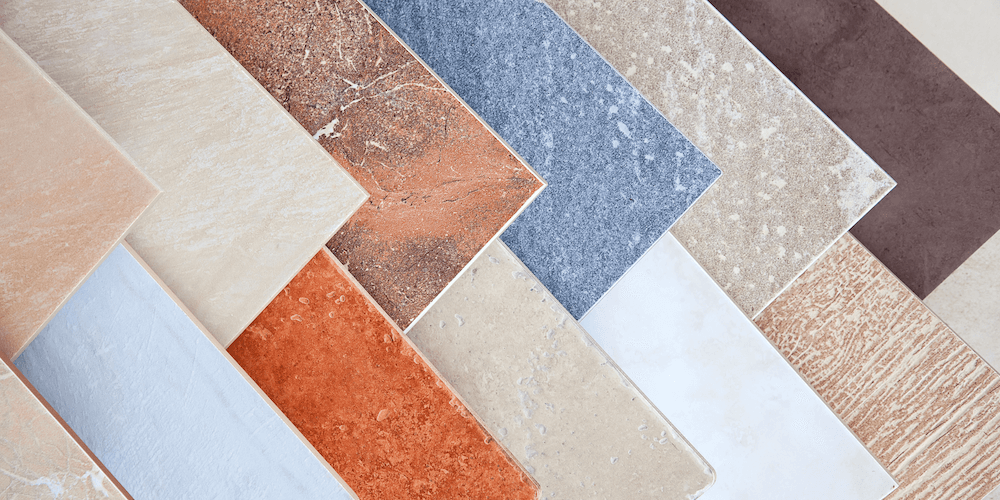 6 – Linoleum or Marmoleum
This is made from oxidized linseed oil, which comes from the flax plant.
Pros:
Durable and versatile
Can last up to 30-40 years
Inexpensive
Requires little maintenance
Cons:
Typically needs a coat of natural wax, like beeswax or linseed oil, for protection
The term "linoleum" is commonly used to also refer to vinyl flooring – make sure you read the label to select the natural linoleum from linseed oil
Water can damage the floor long-term. Regular cleaning is essential.
Typically needs adhesives to install sheet linoleum, but some click-flooring systems use composite wood
---
7 – Porcelain or Ceramic Tile
Ceramic tile is made from natural clay that is shaped, glazed, and fired under high heat.
Pros:
Easy to maintain
Durable
Non-porous, so they're naturally waterproof (great in bathrooms, kitchens, and laundry rooms)
Naturally fire-resistant
Waterproof
Won't stain
Cons:
Can be expensive
More difficult to install
Can chip if under heavy weight
Oftentimes cold and slippery when wet
---
8 – Natural Stone Tile
This includes options like marble, granite, travertine, sandstone, etc…
Pros:
Pretty durable and eco-friendly
Offered in a number of different styles and colors
Naturally fire-resistant
Bold design
Cons:
Can be expensive
Can chip if under heavy weight
Very energy intensive to mine, handle, and transport/ship
Most stone tiles are porous. They'll need regular seals to protect against staining or discoloration, which can expose you to unnecessary chemicals & VOCs – oftentimes every 6 months.
Natural tile can release low levels of naturally-occurring radon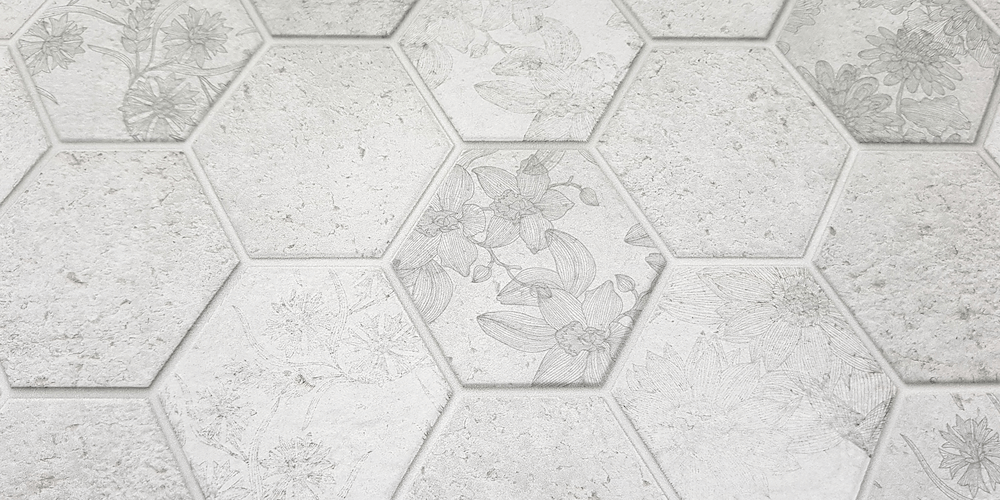 9 – Concrete
Concrete is a strong material made out of a mixture of cement, water, and aggregates.
Pros:
Durable and easy to maintain
Unique indoor design options
Low maintenance
Cons:
Will require resealing every year, which can off-gas
Pricey since it usually requires professional installation
Can easily stain from oil
Limited insulation
Can be cold and hard on feet
Prone to cracking over time
---
10 – Bamboo
Bamboo flooring is a type of sustainable flooring made from bamboo stalks that have been flattened, dried, and glued together.
Pros:
More eco-friendly and looks like wood
Resistant to moisture
Durable
Cons:
Oftentimes used with glues and resins which can off-gas formaldehyde
While it's a renewable resource, it commonly is harvested by poorly-managed and questionable logging/working practices
Remember: "eco-friendly" options are not always non-toxic.
11 – Cork
Cork is a renewable resource that's made from the bark of the cork oak tree. It's processed into tiles and planks.
Pros:
Low-VOC
Naturally fire-resistant and sound-blocking
Repellent to bugs, mold and mites
Warm and soft flooring
Sound-absorbing
Cons:
Oftentimes sold as a cork-vinyl composite with a PVC backing – this can off-gas toxins into the air
Cork commonly is made with crumb rubber, isocyanate (a carcinogen), or formaldehyde binders
Can fade under a lot of sunlight exposure
Not waterproof, unless coated
Vulnerable to damage
Usually uses a resin (glue) to bind all the cork together
---
12 – Rubber or Latex
Rubber flooring is made from either natural or synthetic rubber and is oftentimes used in high-traffic areas in gyms, playgrounds, and hospitals.
Pros:
Non-slip and can be helpful in a home gym
Some natural rubber options are available, however, it's more expensive, harder to find, and can still off-gas
Cons:
Can off-gas nasty chemicals into the air and can contain lead, hydrocarbon processing oils, and other hazardous materials
Rubber can off-gas for over a year
Commonly made with crumb rubber
Will easily stain from oil and fat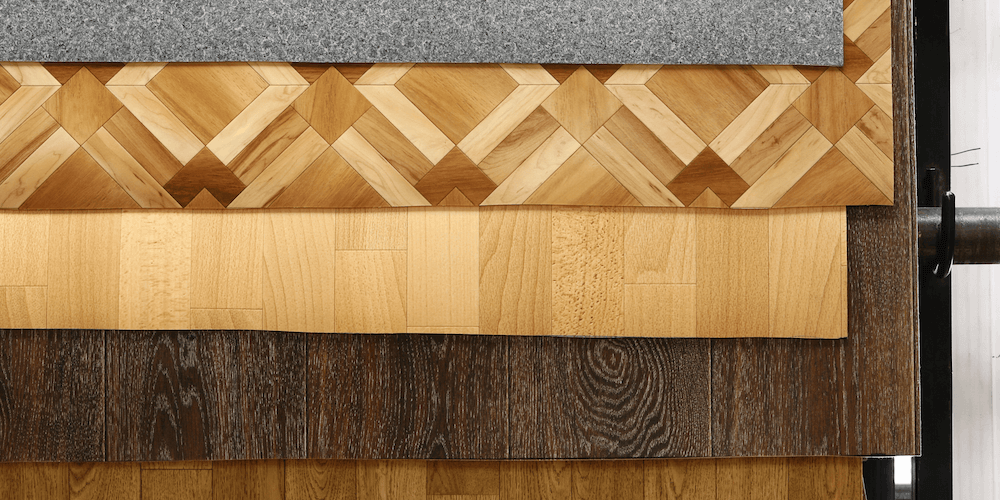 Types Of Wood Glue
Certain home flooring materials, like laminate, bamboo, engineered hardwood or composite wood products, use a combination of resin and glues to make the final product. These glues can off-gas toxic chemicals into the air, like formaldehyde, which is a known human carcinogen. The glue is needed in order to fuse the wood together.
Usually, formaldehyde-based glues use either urea or phenol. Urea glues can off-gas formaldehyde forever. Phenol glues typically emit less formaldehyde long-term. [x]
California's Air Resources Board created standards to track the amount of formaldehyde exposure per product. NAF-certified products mean that there was "no added formaldehyde". ULEF stands for ultra-low emitting formaldehyde, meaning some amount is still emitted.
What To Look For
Of course, there are many things to consider when shopping for home floorings, such as budget, style, room use, and material. Follow these tips to help in the selection process:
Look for these certifications:

Best: Greenguard Gold – limits emissions of over 360 VOCs
Second Best:

FloorScore
Greenguard (not their "Gold" standard)

California Air Resources Board (CARB2) NAF certified also measures formaldehyde levels

Opt for these materials:

Natural hardwood from FSC-certified (Forest Stewardship Council) solid wood
Natural linoleum
United States manufactured ceramic tile

Make sure it's American-made to avoid lead glaze and free of fungicides
For ceramic, travertine, granite, soapstone or limestone tile may not always require a sealer… but if they do, opt for low-VOC sealer
Opt for low-VOC or Greenguard Gold-certified cement backer boards
Use unmodified cement-based grout that's free of latex additives
Before purchasing tile, even if it's USA-made, you can use a lead swab test kit to see if the glaze has any superficial lead in it.
Cut all tiles outside in a well-ventilated area to reduce inhaling dust

Low-VOC mechanically polished concrete

This will off-gas initially, but after a week or so it won't off-gas much at all

If possible, it's best to install via nail-down or click-lock instead of glue.

If you need to use a glue, opt for low-VOC glue options that are Greenguard Gold certified. While this isn't 100% non-toxic, it's a "better" option than conventional glues.
The nail-down method isn't typically an option if there's a concrete subfloor

When staining, opt for low-VOC water-based stains, which emits less VOCs, on average, than oil-based stains
Many flooring companies will offer different products from different materials and certification levels. Always read the label for the specific product you're buying. If you're also looking to paint your home, check out this article for the best non-toxic brands: Top 11 Healthy, Zero-VOC, & Non-Toxic Paint Brands
Check Out The In On Around Shop
What To Avoid
Avoid or limit the following when shopping for non-toxic flooring:
Spill-proof, stain-resistant, or scratch-resistant finishes or treatments
Products that are treated with biocides or fungicides
Avoid HDF (high-density fiberboard) or MDF (medium-density fiberboard) options. These can off-gas more than plywood.
Limit use of these materials:

Laminate

If you do use this opt for Greenguard Gold certified, like the brands Shaw or Swiss Korona.

Bamboo
Cork
Petroleum-based, synthetic or recycled carpeting (even the ones made from recycled bottles)

Only look for carpets without PFAS stain repellent treatment, no vinyl or polyurethane backing, and without fly ash.

Synthetic rubber
Composite wood

Look for NAF-certified products (which stands for "no added formaldehyde")
NAF is a better standard than ULEF, which stands for ultra-low emitting formaldehyde… meaning some amount is emitted.

Don't fall for "eco-friendly" greenwashing or marketing schemes
How To Reduce VOCs After Flooring Installation
First and foremost, ventilation is key. Open your windows when possible, and use a high-quality air purifier, ideally in every room. If you're pregnant or have young children, it's best to avoid the new flooring for some time until the initial vapors are aired out.
In addition, only use contractors who are well-versed in healthy home indoor environments and make them aware that you're trying to limit exposure to unnecessary chemicals. Ensure the contractor promptly and properly disposes of unused products.
---
Non-Toxic Flooring Brands
Looking for the best flooring brands? Look no further! Here are our top picks:
Hardwood
This list is certainly not exhaustive. There are many low-VOC and Greenguard Gold certified options available even in big-box retailers like Home Depot and Lowes. Green Building Supply also offers a wide range of great options, including hardwood and linoleum.
Tile
There are many USA-made tile options, so shop around. Daltile claims to be lead-free (aside from naturally occurring trace amounts), with the exception of any of their red glazes.
Carpeting
Earthweave

Uses natural chemical-free wool with hemp and cotton backing, jute secondary backing, and rubber adhesive.
While Earth Weave offers carpets, they also offer rugs!
To purchase, you can reach out to Earth Weave directly, or purchase through Organic And Healthy Inc.
These carpets are of great quality, but they're on the flatter side. So if you're used to very plushy carpeting, you might want to add a layer of 100% wool padding underneath.

Nature's Carpet (Dark Green Line Only)

Note: Some of their products are treated with insect resist agents and backed with polypropylene and synthetic latex.
More information can be found here.
Wood Finishes
ECOS – use discount code INONAROUND10 to save 10%
AFM Safe Seal – this can help seal in formaldehyde and off-gassing fumes
Stone & Tile Sealer
Wood Floor Glues
For grout, check out: Polyblend Sanded Grout, who claim to be zero-VOC.
Gym Flooring
Rubber can off-gas, so it's best to opt for the lower VOC options, especially if you're going to be working out on the floor. Polished concrete with workout mats can be a good option. While most cork doesn't meet my standards, Nova Cork can work well for yoga studios since it's soft on the feet.
Final Thoughts – Safe, Low-VOC Home Flooring
Most flooring types will release some level of volatile organic compounds… most of the time it's impossible to avoid. Life isn't about 100% avoidance. That being said, there are many low-VOC options available that you could opt for to lower your toxic load.
Using high-quality and non-toxic flooring options can help improve your indoor air quality, increase your home's resale value, and reduce potential health issues. The next time you do a home renovation, consider these options.
---
⬇ Pin this "Healthy Flooring?" pic on Pinterest for future reference! ⬇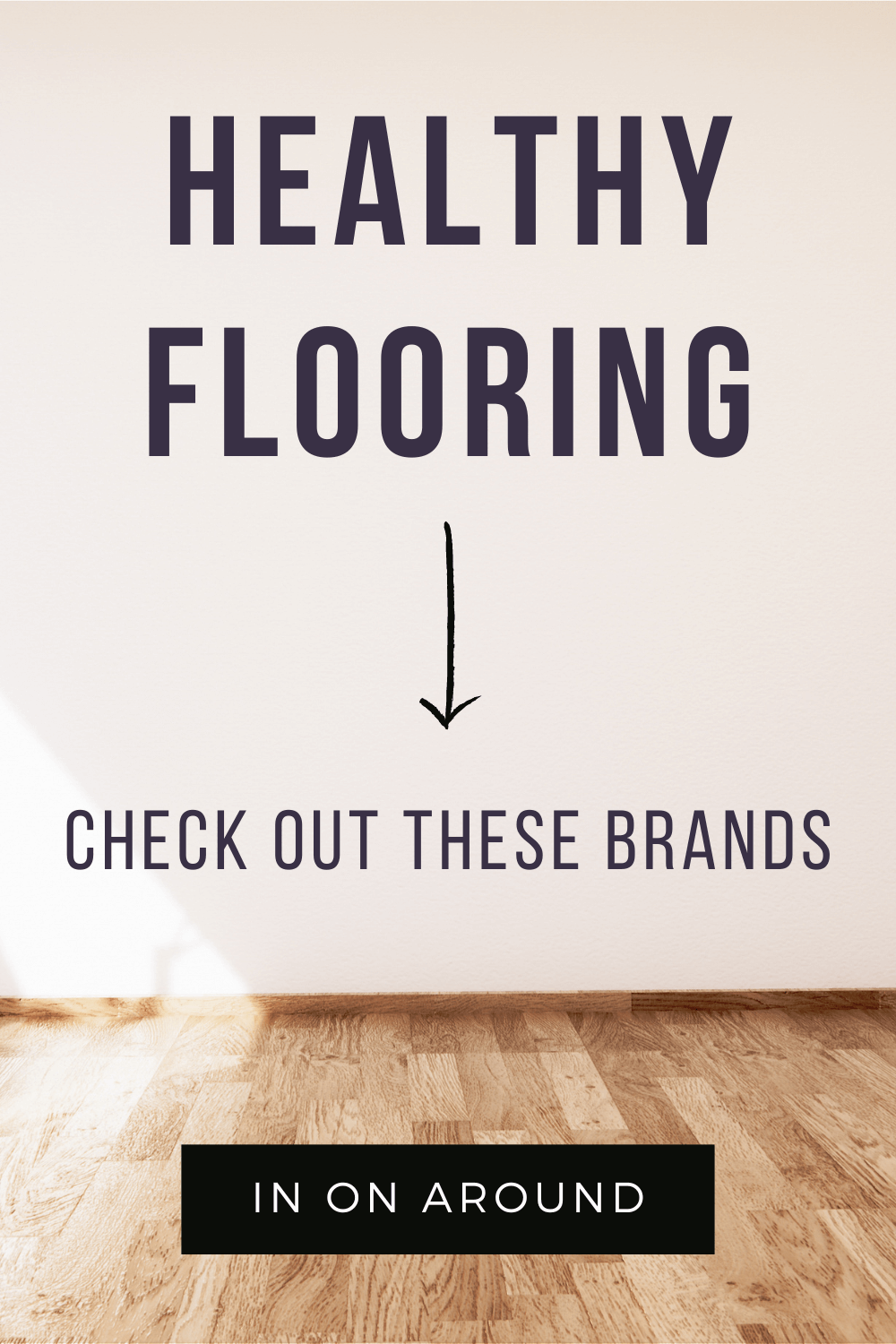 ---
Frequently Asked Questions – Non-Toxic Flooring
Click on the below FAQs to learn more about non-toxic laminate flooring, non-toxic hardwood flooring, and healthy home flooring options.
What are the best non-toxic flooring options for a healthy home?
What are the benefits of installing non-toxic flooring in my home?
Are eco-friendly options non-toxic?
What are the best flooring options for a modern home?
---
What did you learn?
Let me know your thoughts and key takeaways in the comments below!
You can watch our web story here.
xoxo,

Want to read more? Check out my other articles here!
Other references on Non-toxic flooring: Home Advisor, The Spruce, Moms Clean Air Force, One Part Sunshine, EWG, Ecofriendly Flooring, Empire Today, Go New Mommy, Mamavation, Ruan Living, Because Health, Force of Nature, Nex Systems, One Community, Forbes Home, Real Homes, Good Housekeeping, The Spruce, This Old House, All American Flooring, Bob Vila, Flooring Inc, Tesoro Woods, Easiklip, Floor Coverings, Ambient, Flooring Stores, Flooring Inc, Eco Home, My Chemical Free House, Creative Carpet Inc, Build Direct, Flooring Clarity, Healthy Materials Lab, East Coast FL, Lead Safe Mama, Green Building Supply, Mommy To Max, Gimme The Good Stuff, Nontox U
Copyright In On Around LLC 2023 ©. The statements made on this website have not been evaluated by the FDA (U.S. Food & Drug Administration). They are not intended to diagnose, treat, cure, or prevent any disease. The information provided by this website should not be used as individual medical advice and you should always consult your doctor for individual recommendations and treatment. The information contained in this site is provided on an "as is" basis. Related to this site, there are no guarantees of completeness, accuracy, usefulness, or timeliness. In On Around LLC assumes no responsibility or liability for any errors or omissions in the content of this site.