Rugs are notorious for off-gassing nasty chemicals into your indoor air. With indoor air quality 2-5 times worse than outdoor air quality, it's best to opt for non-toxic rugs when possible (especially if you have chemical sensitivities). [1]
… But, how do you find truly natural and non-toxic rugs? What are the best brands? What materials should you look for?
Let's dive into all the details. Keep reading to learn more!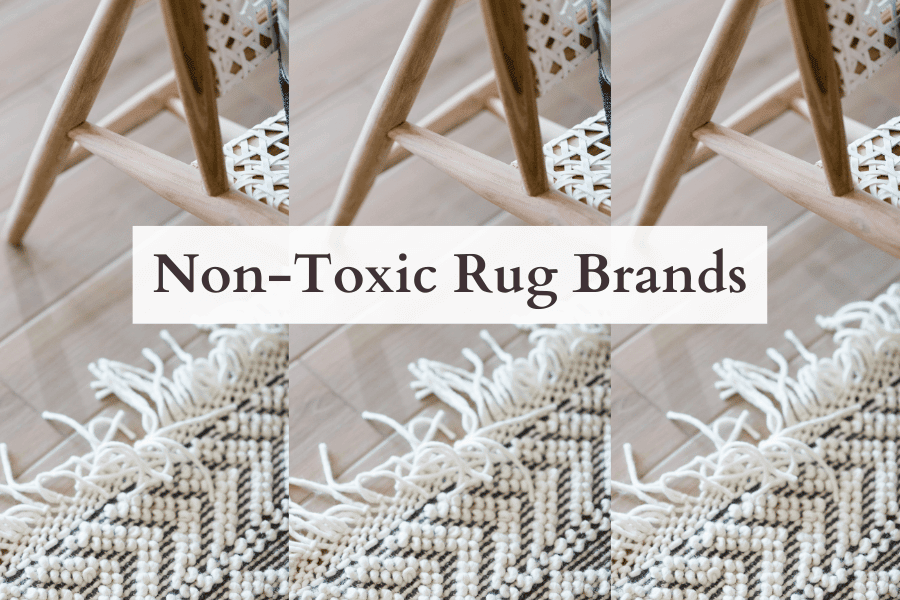 Note: This article contains affiliate links, meaning In On Around will make a small commission at no additional cost to you. This helps me maintain the site. As always, I value full transparency & only work with brands I love and trust.
---
Why You Should Have A Non-Toxic Rug
Like with any textile product that enters your home, rugs can have an impact on your health. What goes in, on & around your body matters (… our whole mission here at In On Around!). Minimizing your toxic load is essential, especially if you have young children or pets roaming around on the floors.
Oftentimes, conventional and mass-produced rugs can contain:
Formaldehyde (oftentimes from glues and adhesives)
Bleach
Dyes (especially AZO dyes)
BPA
Heavy metals
Endocrine disruptors
Pesticides
Dioxin (known carcinogen)
Styrene-butadiene rubbers (styrene is a known carcinogen)
Flame Retardants
Permethrin (for mothproofing)
PVC (vinyl chloride is a known carcinogen)
PFAS or PFCs (Forever Chemicals or Perfluorinated Compounds as stain-repellants)
Many of these ingredients can release phthalates and other endocrine-disrupting chemicals into your home environment. Exposure to volatile organic compounds can cause headaches, dizziness, and irritation in the eyes, nose, and throat.
Are There Flame Retardants In Rugs?
Yes, rugs can be treated with flame retardants. Rugs that are made from petroleum products, like nylon and polypropylene, are usually treated with fire retardant chemicals. Luckily, not all rugs are treated with fire-retardant chemicals.
The Flammable Fabrics Act was passed in 1953 by the US Consumer Product Safety Commission (CPSC). [2]If a rug has a fire-retardant treatment or is made from fibers that have had treatments, it must be properly labeled. According to the regulation, if a rug has been treated with fire retardants, the letter "T" should be legibly labeled on the rug's tag and/or invoice. However, this isn't always clear when shopping for a rug (… if you didn't know to look for the 'T," how would you know?!).
To avoid unintended health consequences from flame-retardant chemicals, it's best to opt for 100% flame-retardant-free rugs.
Materials To Look For In A Non-Toxic Rug
Luckily, there are certain materials you can look for to decorate a safe and stylish home. When shopping for a non-toxic rug, look for the following materials:
Natural fabrics like:
Free of a backing OR one with a natural rubber/latex backing
Chemical-treatment (flame retardant, stain-proof) free
Global Organic Textile Standard (GOTS) certified – when possible (this is the best standard!)
Organic fabrics – when possible (to avoid pesticide exposure from cotton, which is heavily sprayed with herbicides like glyphosate)
Materials To Limit In A Rug
If possible, it's best to limit your exposure to the following materials (keep in mind that many of these will not be listed on a rug's label):
Polyester
Polypropylene (also known as Polyolefin or Olefin)
Nylon or nylon blends
Viscose
Vinyl
Rayon
Synthetic dyes
Stain-resistant, antimicrobial, moth-proofing chemicals
Polyethylene Terephthalate (PET or PETE plastic)
Dichloromethane (Methylene Chloride)
Synthetic rubber/latex or plastic (which is a common rug backing)

Note: a rug can oftentimes look healthy, since materials used for rug backings are not commonly disclosed. It's oftentimes omitted from rug sales pages and tags. Synthetic rubber/latex is not the same as natural rubber/latex. Synthetic latex is man made using petroleum-based chemicals, which can release styrene into the air.
Buyer Beware: Always clarify the true materials used in the rug. There are a lot of brands that are marketed as "wool" or "cotton" that are mixed with other polyester fabrics.
Many of these synthetic materials can release microplastics into the air and leave a smell in the air. Keep in mind, however, that the lack of a chemical smell does not mean it's not off-gassing.
Of course, balance is key. There's no need to be "afraid" of these materials by any means (fear has no place here!), but do what you can to control your home environment to reduce exposure.
Are Eco-Friendly Rugs Non-Toxic?
No, not necessarily. Eco-friendly rugs are not always non-toxic.
"Eco-friendly" is not a regulated term, but it's a common marketing term to increase sales for climate-conscious buyers. Many "eco-friendly" rugs are made with recycled plastic, which is NOT toxin-free. Eco-friendly products CAN contain harmful chemicals.
"Sustainable," "zero-waste," and "eco-friendly" does not necessarily mean non-toxic. Beware of terms like "natural," "ethically made," and "chemical-free" – these are common greenwashing marketing terms!
Non-Toxic Rug Brands
Many of these are available in a wide range of sizes and prices. Many are also machine washable, but always check the instructions before doing so.
Best (Organic)
Check out the best non-toxic rugs on the market (… in no particular order)! Most of these use organic materials and are free of potentially harmful chemical treatments.
[DISCOUNT: This link saves you 5% with discount code INONAROUND]
One of the only rug companies committed to Global Organic Textile Standard (GOTS) certified organic cotton.
Made with organic wool or cotton.
Free of any flame retardants and detergents. They only use natural dyes and organic fibers.
They do use some GOTS-approved latex glues to connect the backings.
[
DISCOUNT: This link saves you 5%]
Free of PFAS (Forever Chemicals), chemical treatments, and PVC.
Made with organic cotton and hemp.
Free of any chemical treatments, latex or plastic/rubber backing,
Made with organic wool and cotton, some are GOTS organic-certified.
They offer some rugs with mixed polyester, depending on the rug blend.
Made with GOTS-Certified organic Egyptian cotton
Machine washable, but limited with rug sizes (biggest is 4'x6′)
Made with 100% GOTS-Certified organic cotton.
Free of PFAS, chemical treatments, and flame retardants.
Uses natural chemical-free wool with hemp and cotton backing, jute secondary backing, and rubber adhesive.
One of the best of the best!
Support brands that are fully transparent.
Better
Most non-organic wool and cotton rugs fall into this category, as long as they're not mixed with poly/plastic fibers or lined with a plastic or latex backing. There are MANY other rug brands that can be lower-tox, especially ones that are 100% wool or 100% cotton. When shopping for a rug brand online, try filtering for those materials.
Made with either cotton or wool, with some mixed other fibers. These would be in the "best" category if they disclosed what the "other fibers" are. Some of their rugs list being made of 3% "other textiles." While this is a very small portion of the rug, it's something to keep in mind if particularly chemical sensitive.
Their rugs made with 100% wool or cotton (without mixed fibers) would fall in the "best" category, so read the full labels.
They can be bought on Amazon too (woohoo!)
Many rugs are made with wool, cotton, and are free of harmful dyes.
OEKO-TEX certified
Made from 100% wool from free-range sheep and dyed with vegetable dyes.
Free of chemical processing and all wool is biodegradable!
Based in Sweden, but offer free shipping to the USA and UK.
The Citizenry and Loomy's Natural Rugs (when made with wool and cotton) are also okay options. However, always double-check the full material list, especially what's used for the backing.
You can also look at Obakki, 54kibo, Second Nature (if you're in the United Kingdom), Merida, and Minna, however, not all of them are non-toxic according to In On Around standards. It depends on the specific rug.
Always allow your new rug to off-gas in a well-ventilated area or outside to reduce chemical smells. Best to off-gas in direct sunlight for as long as possible.
Keep in mind that there are a lot of rug marketplaces online, which showcase handcrafted rugs. Just because something is "handmade," "hand-loomed," or "artisanal handcrafted" doesn't mean it's necessarily non-toxic. When shopping on a rug or furniture marketplace website, always look into the exact materials and coatings they may use as materials. Brands that use some ingredients to limit: Sfavieh, Novica, VIvaTerra, Nordic Knots, Benisouk, Loloi, Lulu & Georgia (many are handwoven wool or cotton, but do not disclose information about backings or coatings).
Are Ruggable or Tumble Non-Toxic?
I get this question about washable rugs a lot… and it really comes down to your personal preference. Personally, I don't believe Ruggable is a non-toxic option, especially when you're comparing it to many other rug brands on the market that use wool or cotton. While Ruggable is free of chemical treatments (which is a good thing), they don't use wool or cotton and are instead made of polyester blends and synthetic latex. They can be "less toxic" than others that use chemical coatings, but they're certainly not my first choice.
The same could be said for a number of other brands like: NuLoom, iDesign, Casa Pura, FLOR, Natural Area Rugs, Cali, Burrow, West Elm, Ruggable, Pottery Barn, Perigold, IKEA. While maybe a "better" option than ones sprayed with fire retardants, I wouldn't consider them fully non-toxic.
Tumble also markets themselves to be "non-toxic," yet they use an undisclosed water-based coating to make the rugs spill-proof (red flag).
Always do your research to see what materials the rug is made of!

Opt for: 100% wool or cotton that's free of chemical coatings, plastic, and synthetic backings.
Low-Tox Carpet Brands
Much like rugs, in a low-tox home, it's important to use high-quality carpeting. Most carpets use woven polypropylene, jute, and synthetic latex, which can off-gas into the home. When shopping for a low-tox carpet Green Label Plus and Greenguard-Certified are best. Look for brands that are designated low-VOC.
Earthweave

Uses natural chemical-free wool with hemp and cotton backing, jute secondary backing, and rubber adhesive.
While Earth Weave offers carpets, they also offer rugs!
To purchase, you can reach out to Earth Weave directly, or purchase through Organic And Healthy Inc.
These carpets are of great quality, but they're on the flatter side. So if you're used to very plushy carpeting, you might want to add a layer of 100% wool padding underneath.

Nature's Carpet (Dark Green Line Only)

Note: Some of their products are treated with insect resist agents and backed with polypropylene and synthetic latex.
If you're not opting for fully wool rugs, Doma, Paradiso, or Newton (all owned by the same company) could be lower-tox options.
It's best to avoid wall-to-wall carpeting when possible and instead opt for low-VOC wood or tile flooring.
Small Area Rugs & Bath Mats
There are a lot of great organic area rugs and bath mats! Most of them are also machine washable because of their small size (but always read the washing instructions).
Non-Toxic Rug Pads & Grippers
Since many non-toxic rugs are made with cotton and wool and without backings, it's best to use them with a non-toxic rug pad to avoid slippage (especially when used on hardwood floors or tile, like in the bathroom or kitchen).
Most conventional rug pads are made with synthetic PVC (polyvinyl chloride), which can off-gas volatile organic compounds into your air. PVC is potentially linked to cancer, hormone disruption, childhood obesity, reproductive development issues, and more. [3, 4]
Look for rug pads that are made of either: 100% natural rubber (NOT synthetic rubber/latex) or jute.
Keep in mind that even these natural materials can have a natural scent and off-gas (which some people don't like). If your natural rubber or jute rug pad has a smell to it, let it sit in the sun outside for a while.
Best to off-gas these rug pads in the sun to remove some of the natural odors
RugpadUSA Rubber & Jute Pads

These are made from organic jute fibers and natural rubber instead of PVC
Note: RugpadUSA also offers felt rug pads, which I don't recommend. Felt (unless 100% wool) is usually a blend of left-over fibers, which can contain polyester, flame retardants, and glues.

Earth Weave

Enertia Padding made with 100% wool

If you're looking for more rug padding, this is the best option!

100% natural rubber gripper

Certain carpet tapes/sticky grips (Anti-slip floor stickers) – This is usually my favorite option!

While these are not necessarily "non-toxic," using 4 small heavy-duty pieces of carpet tape is significantly better than a large sheet of PVC grips. If you don't like the natural smell of certain rubbers or jute, this can be a great option, however always check to see what is best for your specific type of flooring! You don't want to scratch, stain, or rip up any flooring coatings.
If you're buying a rug that comes with a non-slip backing attached, it's best to find one with natural rubber or natural latex instead of synthetic rubber. Keep in mind, however, that this can still have a strong odor.
Buyer Beware: there are some "rubber" rug pads sold online that are not 100% rubber. Some are made with plastic coated in rubber. Always make sure it's 100% rubber/latex.
---
Final Thoughts – The Bottom Line on Non-Toxic Rugs
Clearly, you can find rugs that are healthy AND stylish! Purchasing a non-toxic rug can be an expensive investment, but if you're in the market for one, this article breaks down the best of the best.
Always read the reviews when shopping for rugs! There are a lot of brands that claim to be non-toxic, yet their products have a strong chemical smell. This is a red flag that you should be aware of! It can be daunting when shopping for a non-toxic rug and it's impossible to reduce ALL toxin exposures, but we can take control of certain aspects to reduce our exposures when possible.
Since non-toxic rugs are not treated with stain-proof or waterproof chemicals, proper maintenance is key. Always clean up spills as soon as they happen to avoid permanent stains! Some non-toxic stain removers can also be found in the In On Around Shop.
---
⬇ Pin this "Non-Toxic Rug?" pic on Pinterest for future reference! ⬇
---
Frequently Asked Questions About Toxin-Free Rugs
Click on the below FAQs to learn more about pet-friendly, kid-friendly, luxury rugs that are made in a closed-loop system with nautral materials and organic dyes:
Is Rubber The Same As Latex?
What Materials Are Used In Rugs?
Are There Flame Retardants In Rugs?
How Do You Find A Non-Toxic Rug?
---
Do you own an organic or non-toxic rug?
Let me know your thoughts in the comments below!
You can watch our web story here.
xoxo,

Want to read more? Check out my other articles here!
References on Non-Toxic Rugs: Jess Gaertner, OEKO-TEX, Fed And Fit, Eco Friendly, The Good Trade, The Eco Hub, Gimme The Good Stuff, EWG, Greenopedia, Grace And Lightness, Get Green Be Well, My Chemical Free House, Leaf Score, Healthy House On The Block, RugPadUSA, Go New Mommy, Maison Pur, NYC Health, Unigloves, CPSC, Gov Info, Cornell Law, Flooring Stores
Copyright In On Around LLC 2022 ©. The statements made on this website have not been evaluated by the FDA (U.S. Food & Drug Administration). They are not intended to diagnose, treat, cure, or prevent any disease. The information provided by this website should not be used as individual medical advice and you should always consult your doctor for individual recommendations and treatment. The information contained in this site is provided on an "as is" basis. Related to this site, there are no guarantees of completeness, accuracy, usefulness, or timeliness. In On Around LLC assumes no responsibility or liability for any errors or omissions in the content of this site.