Looking for a shower curtain that won't expose you to nasty chemicals and smells? You're in luck because there are plenty of non-toxic options to make a splash in your bathroom! In this post, we'll dive into the world of non-toxic shower curtains and shower liners, so you can keep your bathroom stylish and safe. What's the safest shower curtain material? What should you look for? What are the best brands?
Keep reading to learn more about the safest shower curtain options.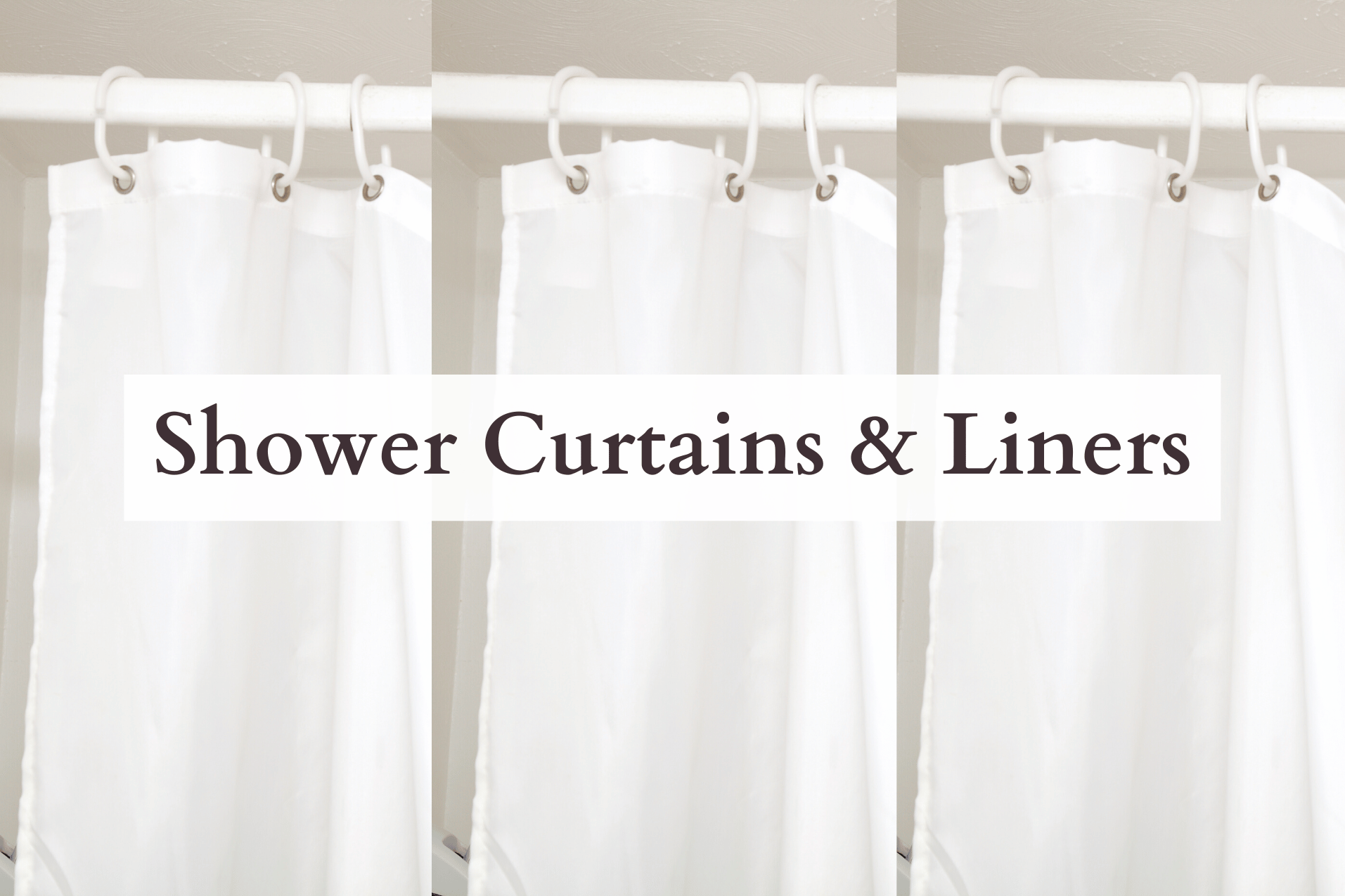 Note: This article contains affiliate links, meaning In On Around will make a small commission at no additional cost to you. This helps me maintain the site. As always, I value full transparency & only work with brands I love and trust.
---
The Potential Health Impacts Of Shower Curtains
When you think about living a healthy life, the material of your shower curtain doesn't typically come to mind… but it can be a hidden source of nasty chemicals. Certain shower curtains can release phthalates, dioxins, BPA, vinyl chloride, ethylene dichloride, and other potentially harmful chemicals into your home's air.
These toxins may contribute to:
Endocrine disruption [x]
Respiratory issues
Dizziness
Immune system damage
Cancer
Central nervous system disruption
Lower sperm count & cause reproductive harm
…. and more. [x]
Hot, humid temperatures can especially cause chemicals to leach (… like during a steamy shower), whether you smell them or not. Using a shower curtain without these potential irritants is the best choice.
Organotins have been found in 60% of all shower curtains and they can impact our nervous and reproductive systems. [x]
Shower Curtain Materials Explained
Shower curtains come in a number of different fabric types. Let's dive into each option:
1 – PVC or Vinyl
This is a synthetic plastic polymer that's made with chlorine
It can off-gas harmful chemicals (volatile organic compounds or VOCs) into the air, as well as phthalates, dioxins, and organotins. [x]
Contains vinyl chloride, which is a carcinogen and linked to cancer
Avoid at all costs! It's commonly called "The Poison Plastic"
This is a very common material in a lot of shower products (liners, bath mats, etc…), so make sure you read every label
2 – PEVA or EVA
Stands for polyethylene vinyl acetate (PEVA) or ethylene vinyl acetate (EVA)
This is a plastic material that's made without chlorine, so it doesn't have a strong smell, unlike PVC
It's another common traditional shower liner material
Slightly better than PVC (they don't contain phthalates), but it can still release chemicals over time
3 – Nylon
4 – Polyester
This is a synthetic fabric that is oftentimes chemically coated to be water-resistant

Oftentimes sprayed with polyurethane (PU), polyacrylate (PA), or vinylidene chloride (VDC) in order to become waterproof.
Avoid any that use fluoropolymer – they typically don't even disclose this on the label.

Some even contain triclosan, which is oftentimes hidden on levels until the term "antimicrobial" or Microban
More lightweight and flexible than PVC or EVA
Typically, feels like woven fabric, similar to the texture of an umbrella
Better than PVC, but best to avoid whenever possible
5 – Fabric (Cotton, Hemp, Linen etc…)
These are the least toxic, yet require a lot more maintenance to avoid mold buildup.
Linen is made from the flax crop and hemp is from cannabis sativa.
Tightly woven cotton or linens are more natural materials, but they won't be entirely waterproof.
Hemp is naturally anti-bacterial, so may resist mold growth. It will still need regular maintenance.
These are the least toxic options curtain options, but only if you properly maintain the fabric for mold.
6 – Glass
Glass showers are the BEST option of them all, but also the most money
Can be inaccessible to those who rent or can't do a bathroom remodel
There's been an increased United States demand for glass shower enclosures [x]
Note: Be cautious with recycled curtains that don't disclose all materials used. Sometimes recycled curtains will mix a number of different fabric types or are made of recycled plastic bottles.
Are Shower Curtain Liners Toxic?
While shower curtains aren't usually the #1 priority to swap when on a holistic healing journey, they can still release potentially toxic chemicals into your bathroom air. Especially if you shower on a regular basis (which I hope you are), these exposures can add up over time and pollute your indoor air quality. If you can, make the switch to a safer alternative.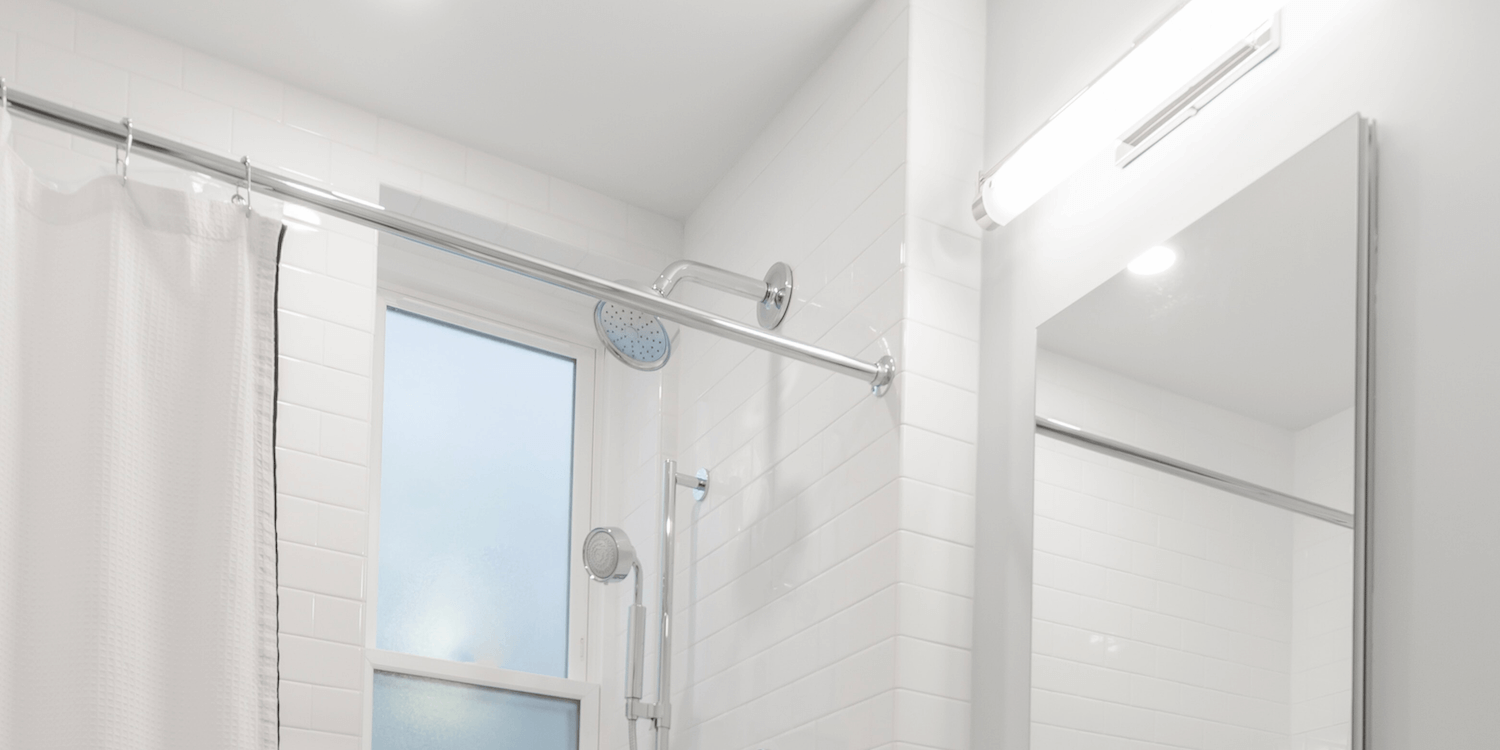 How Often Should You Replace Your Shower Curtain?
It's typically normal to replace your shower curtain liner about once per year, but this depends on how well you maintain it. If properly maintained, shower curtains (especially fabric ones) can last for many years.
To maintain it quality long-term, do not bleach it. Only iron with low heat if necessary.
Shower curtains can also build up mildew or mold which can further pollute your air. Mildew is nothing to scoff at – even the light pink nastiness can impact your well-being!
To learn more about mold, check out: Mold Detox Protocol & Chronic Immune Response Syndrome
What To Think About
When shopping for a non-toxic shower curtain, here are some things to look for:
1 – Materials
Look for shower curtains made from natural materials like:
Organic cotton
Hemp
Linen
Avoid PVC (Vinyl) shower curtain liners whenever possible. While PEVA is a step up from PVC safety-wise, it can still release chemicals over time, so weigh the risks and benefits before purchasing. If you know that you won't properly maintain a fabric curtain, opt for PEVA which will be easier to prevent mold growth.
2 – Certifications
Look for shower curtains that have been certified by independent third-party organizations like:
GOTS – Global Organic Textile Standard
OEKO-TEX
These certifications ensure that the product meets strict safety and environmental standards. To learn more about textile certifications, check out: Healthy, Non-Toxic Textile Certifications (GOTS, Oeko-Tex)
3 – Water Resistance
Make sure the shower curtain is water-resistant and can withstand repeated use and washing without deteriorating. Mold prevention is #1.
Using a "non-toxic" shower curtain that breeds mold is counterintuitive!
4 – Durability
Look for a shower curtain that is durable and can last for a long time, reducing the need to replace it frequently. This is especially important if you're opting for shower liners, which are typically synthetic and won't biodegrade.
5 – Ease of Cleaning
Choose a shower curtain that is easy to clean and maintain, without requiring harsh chemicals or frequent washing. If you know you won't properly clean a fabric curtain or dry it out after every use, opt for the next best option.
6 – Style
Choose a shower curtain that fits your personal style and complements the decor of your bathroom. With so many non-toxic options available, you don't have to sacrifice style for safety. There are so many cute ones available!
7 – Length
Finally, be careful when your shower curtain is too long. Always air out the bathroom or have proper ventilation to prevent mold growth. While the material of the curtain is important to note, preventing mold growth is just as important.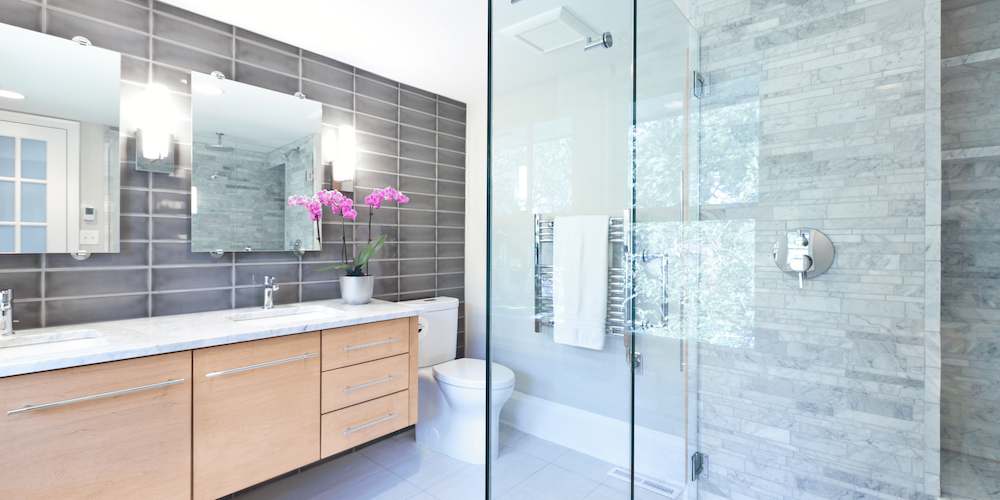 What's The Safest Non-Toxic Shower Curtain Liner?
Frankly, the safest non-toxic shower curtain liner is nothing at all… but this isn't always realistic. If you don't have glass shower doors, fabric curtains without a liner are the second best option if properly maintained. If you prefer using a shower liner, PEVA is the second-best option, though still not 100% toxin-free.
Check Out The In On Around Shop
---
The Best Non-Toxic Shower Curtains & Liners
Shower Curtains
Best
Any fabric shower curtains WILL require more maintenance and washing to prevent mold growth. Here are the best options:
Rawganique – Use code INONAROUND to save 5% on your purchase.

They offers 100% organic hemp, linen and cotton shower curtains!
Free of any PFAS or forever chemicals, BPA, PVC, dioxin, pesticides, etc…
They also offer a 100% natural waterproofing wax bar which can be used to waterproof curtains

Bean Products Shower Curtains – Available on Amazon

They offer:

Organic Cotton Shower Curtains – with 100% GOTS-certified cotton
Hemp Shower Curtains
Linen Shower Curtains

Machine washable
More of a cream color than a bright white
They don't use bleach or toxic chemicals during manufacturing
Note: according to the review, it may shrink

Coyuchi

Made with 100% GOTS-certified organic cotton
Need to be used with a shower curtain liner
They support regenerative agriculture when possible and recycle textiles

Boll & Branch

GOTS-certified organic cotton
OEKO-TEX certified
Offers very stylish waffle weave shower curtains

West Elm

They offer both 100% organic and conventional cotton options, so make sure you read the label.
Their organic options are made with 100% GOTS-certified organic cotton

Parachute

They offer both 100% organic and conventional cotton options, so make sure you read the label.

Their organic options are made with 100% GOTS-certified organic cotton

Lifekind

GOTS-certified organic cotton

Tightly woven cotton that's handmade in the USA

Pottery Barn

They offer both 100% organic and conventional cotton options, so make sure you read the label.

Their organic options are made with 100% GOTS-certified organic cotton

Dream Designs

100% Hemp and OEKO-TEX certified

Made Trade

100% GOTS-certified organic cotton

Soaring Heart

100% GOTS-certified organic cotton
Better
Sand Snow Linen

OEKO-TEX certified, but not organic
Comes with a shower liner that's detachable – they don't disclose what the liner is made of, so don't use it

Print Fresh

Not GOTS-certified organic, but claims to be 100% organic cotton
Available in gorgeous prints!

The Citizenry

Some of their products are OEKO-TEX certified, but not organic – make sure you read the label
While organic cotton is best, regular cotton curtains can be a secondary option. Wash with non-toxic detergent before using (just be careful of any shrinkage). Make sure to pair your shower curtain with a bath mat that's free of synthetic backing. Organic cotton ones are best, just be careful you don't slip!
---
Shower Curtain Mold-Prevention Spray
One of the best ways to prevent mold growth on a shower curtain is to dry thoroughly and spray it with Force of Nature, which is a non-toxic disinfectant!
DIY Recipe
If you're looking to make a shower mold-prevention spray yourself, check out this recipe:
Ingredients:
1 cup distilled white vinegar – not apple cider vinegar, otherwise it can stain
1 cup water – for dilution
20 drops tea tree essential oil – this has antimicrobial properties
10 drops lavender essential oil – for smell
Check Out The In On Around Shop
Instructions:
Mix the vinegar and water together in a spray bottle.
Add the tea tree and lavender essential oils to the spray bottle.
Shake the bottle well to combine the ingredients before each use.
Spray the solution on your shower curtain after each use and allow it to air dry.
This will help prevent mold growth and keep your shower curtain fresh and clean. Be careful around dogs and young children. Even though it uses essential oils instead of synthetic chemicals, essential oils can be harmful, especially when ingested.
If your shower curtain has mold, spray it with white vinegar, let it soak in, scrub it with a brush, and clean thoroughly with hot water in your washing machine. Dry it in the sun, if you can… but make sure it dries thoroughly.
Final Thoughts – Non-Toxic Shower Curtains
If you buy a new shower curtain, it shouldn't smell "plastic-y." That's a major red flag! Aside from glass shower enclosures, cloth curtains like cotton, hemp or linen are best, but ONLY if you're maintaining them properly. Otherwise, mold can be just as harmful as potential chemical exposure. Regardless, avoid PVC shower liners at all costs.
Small household items, even shower curtains, can have a dramatic impact on your indoor air quality. Ditch your PVC one and switch to a safer alternative! By selecting a shower curtain made from natural or synthetic materials that are free from harmful chemicals, you can reduce your exposure to toxins and contribute to a more sustainable world. And you don't have to compromise on style or functionality!
---
⬇ Pin this "Is Your Shower Curtain TOXIC?" pic on Pinterest for future reference! ⬇
---
Frequently Asked Questions – Healthy Shower Curtains
Click on the below FAQs to learn more about alternatives to shower curtains, waterproof shower curtain liners, fabric shower curtains, how to clean plastic shower curtains, and more.
Are polyester shower curtains toxic?
How to clean non-toxic shower curtains to prevent mold and mildew?
What is the safest shower curtain liner?
---
What kind of shower curtain do you use?
Let me know your thoughts and key takeaways in the comments below!
You can watch our web story here.
xoxo,

Want to read more? Check out my other articles here!
Other references on Non-Toxic Shower Curtains: The Good Trade, Green Hive, NonTox U, Clean Healthy Living, Sustainable Jungle, NIH, Mindbody Green, Zero Wasteman, The Artisan Life, Essential Home and Garden, Nesting Naturally, SlipX, Zero Waste Memoirs, Go New Mommy, The Eco Hub, Ruan, Green Snooze, Eco Anouk, The Filtery, Pretty Organic Girl
Copyright In On Around LLC 2023 ©. The statements made on this website have not been evaluated by the FDA (U.S. Food & Drug Administration). They are not intended to diagnose, treat, cure, or prevent any disease. The information provided by this website should not be used as individual medical advice and you should always consult your doctor for individual recommendations and treatment. The information contained in this site is provided on an "as is" basis. Related to this site, there are no guarantees of completeness, accuracy, usefulness, or timeliness. In On Around LLC assumes no responsibility or liability for any errors or omissions in the content of this site.