The holiday season is always something to look forward to! Who doesn't love a festive Christmas tree to celebrate the holiday?! Amidst the merriment, it's important to consider the potential health hazards associated with traditional & artificial trees. So are real trees better than artificial trees? What are the pros and cons of each? How can you find a non-toxic Christmas tree?
Keep reading to learn more about non-toxic Christmas trees. Don't fir-get these tips when it's time for the holiday!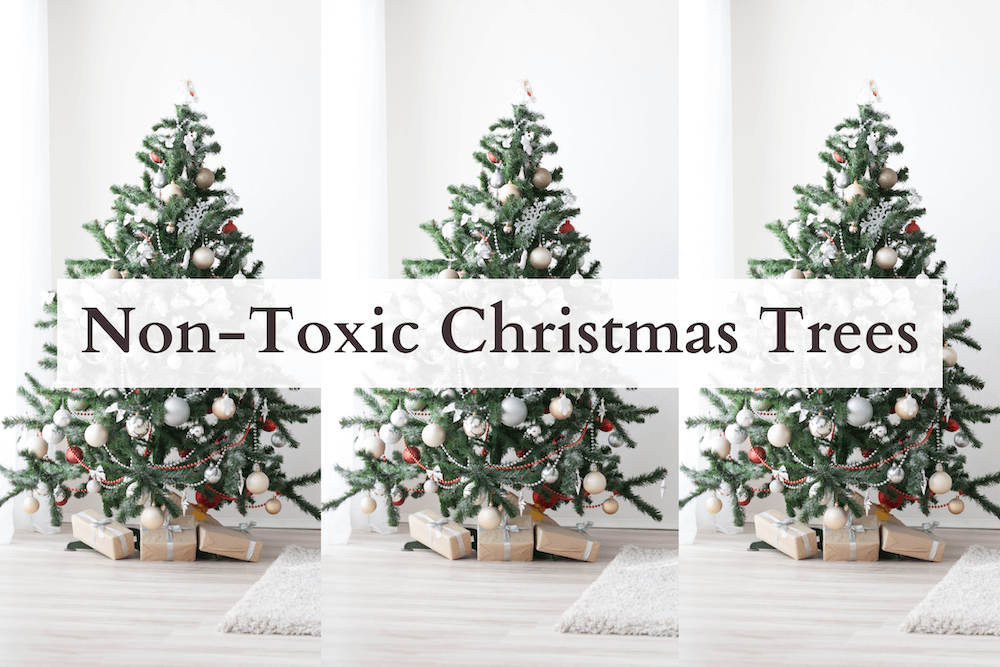 Note: This article contains affiliate links, meaning In On Around will make a small commission at no additional cost to you. This helps me maintain the site. As always, I value full transparency & only work with brands I love and trust.
---
Why Should You Consider Non-Toxic Christmas Trees?
There are many reasons why you would want to consider getting a non-toxic Christmas tree. To begin, they can be a safer, healthier, and more eco-friendly option. There are many different farms & Christmas tree options, so the best way to decide is to weight the pros and cons.
Keep in mind, while we use the term "non-toxic" throughout this article, like most things, Christmas trees aren't 100% non-toxic. There are pros and cons to each option – which we'll dive into more below.
Americans buy 25-30 million Christmas trees per year. [1]
Non-toxic Christmas trees are also an excellent choice for individuals with chemical sensitivities or allergies. Traditional trees may release volatile organic compounds (VOCs) and allergens, triggering respiratory issues. Opting for non-toxic trees can help alleviate some of these concerns.
---
Are Real Or Fake Christmas Trees Healthier?
Well… the answer isn't as simple as you'd think. It's better to first understand the pros and cons of each option. Which is the best non-toxic Christmas tree option? Well, let's dive in…
The Pros Of Live Christmas Trees
When buying a real tree, you're supporting a local farmer (Christmas trees are CROPS, much like other things at the grocery store)

They are cut down to be re-planted
It's a great way to support your local economy!

They're more environmentally friendly

These trees are predominantly grown on hilly terrain and they help control erosion
The trees help creates a natural habitat for animals, while converting carbon dioxide into oxygen

They smell amazing
Real trees give off the traditional Christmas/holiday feel
Unlike fake trees, real trees are natural and will decompose over time without contributing to plastic pollution
You can opt for live potted trees that you can rent or use yearly until it's too big for indoor use

If you own a home and are able to plant the tree, this is the best option!

Many Christmas tree farms offer the ability to cut down your own tree, which can be a fun family tradition!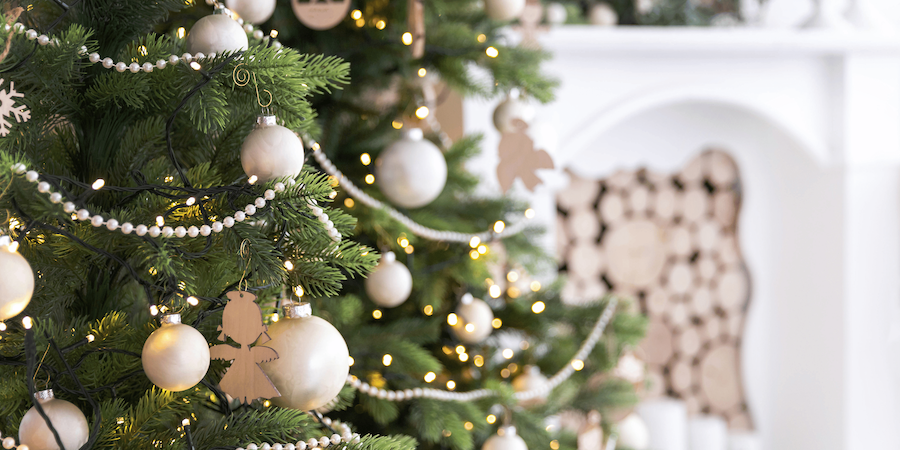 The Cons Of Live Christmas Trees
Can expose you to:

Mold
Synthetic pesticides, like glyphosate – Learn more about glyphosate here: Glyphosate 101

May cause allergic reactions with symptoms like headache, fatigue, and congestion

Tree sap, terpenes, and pollen from live trees can trigger allergies in some people
This is especially important to keep in mind if you're sensitive to mold

Will shed needles on your indoor floor and requires watering, so it requires more daily maintenance
They're typically more expensive
60.5% of people think that artificial trees are more eco-friendly than real trees (which isn't true). [2]
The Pros Of Artificial Christmas Trees
They're typically more affordable than real trees
Fake/artificial trees are low maintenance and very easy to clean (they won't shed needles)
You can use the same artificial tree for many years over and over – they are reusable
There's a low fire risk
Most people plan to own an artificial tree for only 5 years, but it should be used for 10+ years. [3]
The Cons Of Artificial Christmas Trees
Typically made from Polyvinyl Chloride (PVC) which can off-gas into your indoor home environment [4]

PVC exposure is potentially linked to an increased risk of many conditions, like cancer.
PVC contains chlorine, which can release dioxins.

Heavy metal exposure, from lead, is linked to neurotoxicity & lower IQ [5]
Phthalates exposure, which is linked to hormone disruption and cancer.
Flame retardant chemical exposure, which is linked to infertility, thyroid issues, cancer, immune system disruption, and more. [6, 7]

It's been shown that the risks of flame retardant chemical exposure outweighs the potential for slowing fire. They don't do much – you can learn more about them here.
These chemicals can off-gas into your indoor air and end up in your home dust

They're not often recyclable
They don't give off a fresh pine smell, unless coated in artificial fragrance
Most are shipped by boats from China and have a very large environmental footprint
Check Out The In On Around Shop
---
What To Look For
Best Option: Real trees, ideally organic & locally-grown

Opt for organically-grown, if possible (although these are typically more expensive)
If you don't know of a local organic farmer with Christmas trees, you can look up "Organic Christmas Tree Farm Near Me" to see what options are available in your state. Local Harvest & Natural Baby Mama can also be helpful resources.
If you're particularly mold sensitive, maybe keep your Christmas tree outside on a covered deck or patio (if you have one). This will reduce your exposure to additional indoor allergens.

Most importantly: Always have a high-quality air purifier set up nearby to reduce exposure to allergens and pollutants
Christmas trees are grown like crops, so getting a real tree can help support your local farmer.
If you prefer artificial trees:

Look for PVC-free options
Opt for polyethylene (PE) and polypropylene (PP) instead, like from IKEA. While these are still not 100% non-toxic and can contain heavy metals, they are typically a better option than PVC.

Plus, polyethylene trees oftentimes look more realistic
Some IKEA trees are PVC-free and free of flame retardants – always double check the specific item

IKEA artificial trees = the best artificial option
Balsam Hill = second best option since they're PVC-free, but they do use flame retardants

Look for lead-free options
Avoid fake trees with fake snow or painted branches
Opt for USA or European-manufactured trees
If you're purchasing an artificial tree, try to maintain it and use it for as long as possible

If you're okay sizing down, opt for a smaller tree (like a tabletop or Charlie Brown tree!)
Artificial trees will never be as environmentally friendly or less toxic than real trees.
Christmas Tree Best Practices
If you're opting for an artificial tree, take it out of the packaging and let it off-gas outside or in a garage for at least 24 hours before bringing it inside.
Wear gloves when setting up and decorating the tree (you can make it festive by taking out your winter gloves!)
As always, make sure you regularly dust with a microfiber cloth and vacuum with a HEPA vacuum, like from Dyson.
If you opt for a real tree, it's best to hose or spray off the tree first before bringing it inside. Let it air dry thoroughly before bringing it inside. This can help reduce the levels of some pesticide residue, but not all.
If you're handling the tree (live or artificial) make sure you wash your hands thoroughly afterwards.
Prioritize air quality with an air purifier & by regularly opening your windows
Keep kids, pets, and pregnant women away from the tree.
When the holiday season is over, burn your real Christmas tree, use it for firewood, compost it, or turn it into wood chips. Don't just toss it to the curb to go to a landfill.
Tips for Decorating Non-Toxic Christmas Trees
When it's time to decorate the tree, opt for less toxic decorations, lights, and ornaments if possible. Look for lead-free Christmas lights that are ROHS-certified, like from Reinders. This means the lights are limited in heavy metals and the most harmful flame retardants.
For tree skirts, opt for 100% organic OEKO-TEX-certified cotton, 100% linen, or 100% wool felt. For Christmas ornaments, opt for wool, felt, wood, or paper. Many ornaments keep sentimental value, so don't get too concerned over potential toxin exposures. Enjoy the holiday season!
Final Thoughts – Embrace a Non-Toxic and Sustainable Christmas Tradition
There's no Christmas tree that is 100% non-toxic, but don't let that stop you from engaging in the holiday festivities if you celebrate. Opt for a REAL organic tree if you can! Don't be scared by these potential exposures to toxins – don't let it ruin the holiday spirit! Now that you know the pros & cons of each option, you can make the most informed decision & reduce potential exposures.
---
⬇ Pin this "How To Find Non-Toxic Christmas Trees?" pic on Pinterest for future reference! ⬇
---
Frequently Asked Questions – Non-Toxic Christmas Trees
Click on the below FAQs to learn more about eco-friendly alternatives, sustainable holiday decor, indoor air quality, health-conscious choices, chemical-free Christmas trees, and natural & safe options.
Are artificial Christmas trees better for the environment?
Can Christmas trees contain pesticides?
What are fake Christmas trees made of?
Can artificial Christmas trees contain lead?
---
Do you buy a non-toxic Christmas tree for the holiday?
Let me know your thoughts and key takeaways in the comments below!
You can watch our web story here.
xoxo,

Want to read more? Check out my other articles here!
Other references on Non-toxic Christmas Tree: I Read Labels For You, Cancer.gov, Environmental Health News, The Filtery, Natural Baby Mama, All Natural Savings, Detox & Prosper, Well Abode, Beyond Pesticides, Rocket Homes, EcoWatch, NY Times, The Nature Conservancy, HuffPost, Medium
Copyright In On Around LLC 2023 ©. The statements made on this website have not been evaluated by the FDA (U.S. Food & Drug Administration). They are not intended to diagnose, treat, cure, or prevent any disease. The information provided by this website should not be used as individual medical advice and you should always consult your doctor for individual recommendations and treatment. The information contained in this site is provided on an "as is" basis. Related to this site, there are no guarantees of completeness, accuracy, usefulness, or timeliness. In On Around LLC assumes no responsibility or liability for any errors or omissions in the content of this site.