Beneath the surface of your favorite cocoa creations lies a hidden truth: heavy metals. Recent reports are showing that there are high levels of heavy metals in cacao – so, what's that all about?! What are the best brands with the lowest amount of heavy metals like lead and cadmium? We're peeling back the layers of cacao to spill the cocoa beans on heavy metals and their not-so-sweet side effects.
Keep reading to learn more about the best cacao powder brands.
Note: This article contains affiliate links, meaning In On Around will make a small commission at no additional cost to you. This helps me maintain the site. As always, I value full transparency & only work with brands I love and trust.
---
What Is Cacao?
Cacao, often referred to as the "heart and soul of chocolate," is the pure, natural source of everyone's favorite sweet treat. Derived from the seeds of the Theobroma cacao tree, cacao is a rich and flavorful ingredient cherished worldwide for its role in crafting decadent chocolates. It's great for baking, too!
…. but cacao is more than just a delightful flavor – it's a nutritional powerhouse, boasting antioxidants, vitamins, and minerals that can promote overall well-being. Whether you enjoy it as a cozy cup of hot cocoa or as an indulgent chocolate bar, understanding the essence of cacao adds a delicious layer of appreciation to your sweet tooth cravings.
Cacao Vs. Cocoa – What's The Difference?
Curious about the cacao vs. cocoa debate? Let's unravel the mystery. It can be confusing – I get it! Cacao and cocoa might sound very similar, but they're distinct in terms of processing and flavor profiles.
Cacao, in its raw, unprocessed form, is known for its intense, pure chocolate essence, while cocoa is the result of roasted and processed cacao beans, often found in the chocolate products we adore.
Understanding the nuances between cacao and cocoa helps you to make better choices when shopping for your favorite chocolatey sweets.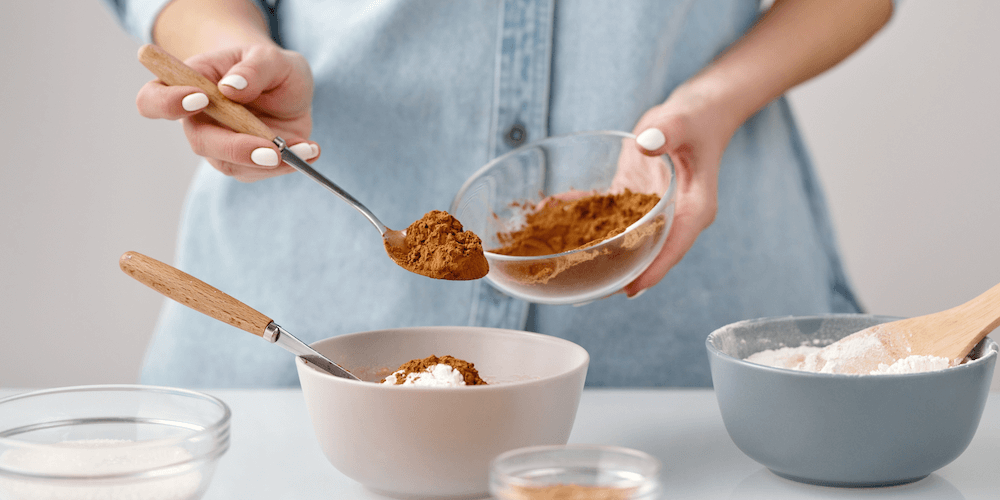 Heavy Metals in Cacao: A Hidden Health Concern
Cacao is one of the most potent sources of heavy metals in the diet. Due to the nature of the crop, heavy metals are naturally found in nearly all cacao… BUT sourcing can make a big difference. Some brands have higher or lower levels… so what should you look for? Let's dive in.
What To Look For In Cacao
When shopping for cacao powder, proper sourcing is critical. Here's what to look for (and it might take some due diligence & research):
Low levels of heavy metals (we want to support brands that are fully transparent)

Do not just take their word for it. You need to see an unadulterated 3rd party test report.
If a company says their product doesn't contain any heavy metals, this is a red flag.

Transparent 3rd party test results

If they give you the "numbers" via email or over the phone without sending over the official Certificate of Analysis (COA), it's a red flag and you can't confirm if that information is correct.
Remember: heavy metals levels are NOT proprietary or a "brand secret."

100% Organic
Free of any additives
Heavy metals are not proprietary.
Is There Cadmium and Lead in Cacao?
Recently, there's been a lot of controversy over heavy metals in cacao and chocolate [I'll have a separate article dedicated to the best chocolate brands]. In 2022, Consumer Reports tested 23 chocolate brands and many of them had high heavy metal levels due to cacao (especially dark chocolate). [1]
The Federal Department of Agriculture (FDA) allows for a maximum of 0.1 ppm of Lead consumed per day in food products. [2] There's no federal standard on oral intake of Cadmium in food.
California, on the other hand, has a maximum of 0.5 micrograms/day for Lead and 4.1 micrograms per day for Cadmium. There are no safe levels for children. It's best to find cacao below the California limits.
To learn more about Proposition 65, check out: What Is Proposition 65 In California? Prop 65 Explained
There are heavy metals found in nearly all cacao powder brands.
Understanding the Risks and Health Concerns
What's the importance of choosing brands with low heavy metals? Well, a high amount of heavy metal exposure can contribute to… [3, 4, 5, 6, 7]
Neurological Effects:

Impaired cognitive function
Learning disabilities
Behavioral issues, especially in children

Developmental Delays:

Delayed physical and mental development in children
Potential birth defects (if exposed while pregnant)

Kidney Damage:

Kidney dysfunction or failure with chronic exposure

Cancer Risk:

Increased risk of cancer, especially lung and bladder cancer with Cadmium exposure

Cardiovascular Effects:

Elevated blood pressure
Increased risk of heart disease

Gastrointestinal Distress:
Reproductive Issues:

Fertility problems in both men and women

Weakened Bones:

Reduced bone density and increased risk of fractures

Anemia:

Low red blood cell count due to lead exposure

Impaired Immune Function:

Reduced ability to fight infections
… and more.
---
Ranking the Safest Cacao & Cocoa Brands with Low Heavy Metal Content
** Keep in mind that heavy metal levels can change by batch & production. If you're asking for a COA, it's best to request their most recent test report for the most accurate data. Sometimes brands will pick & choose their COAs from previous years to send out – keep this in mind when selecting a brand to support. Cadmium and Lead levels are the most important ones to consider for cacao.
Best Cacao & Cocoa Brands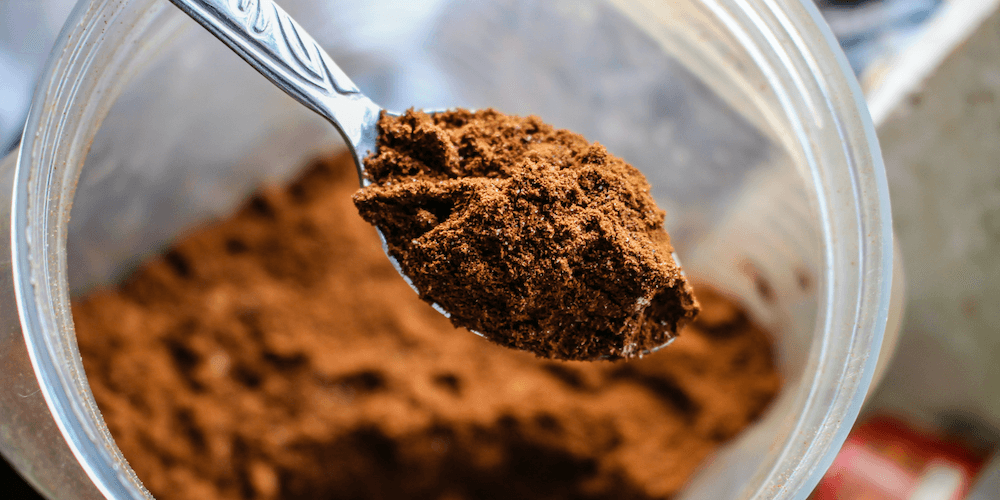 Worst Cacao & Cocoa Brands
Since these brands did not respond to our multiple inquiries, I would not recommend them.
Cacao & Cocoa Brands That Did Not Respond
Wellsley Farms Organic Cocoa (BJ's Wholesale Club) – They said a customer representative would reach out about my request, but I have not received anything.
Blue Lily Organic Cacao
Divine Organics Cacao
Whole Foods 365 Cocoa Powder
Hershey's Cocoa Powder
Ghirardelli 100% Cocoa
This is not an exhaustive list. If a specific brand is not on this list, you can reach out to their Quality Department to request their most recent Certificate of Analysis or set up a consulting session with In On Around here.
---
Enjoying Cacao Safely: Smart Consumption Practices
While this is not medical advice, in my opinion, it's a good idea to limit your consumption of cacao powder to no more than about one teaspoon per day. It's very easy to go over your allotted daily limit of heavy metals when consuming foods rich in cacao.
Focus on supporting your body to be the best it can be. If you're fueling your body with high-quality fruits and vegetables that are rich in nutrients and minerals, your body can combat some of the effects of heavy metal exposure. Don't panic over this information! Heavy metals are ubiquitous, so just be a conscious consumer and do the best you can with the information available to you.
Check Out The In On Around Shop
Final Thoughts – Heavy Metals In Cacao
The presence of heavy metals in cacao shouldn't stop us from enjoying a sweet treat. Let this information empower you to make informed choices when it comes to brands we support. By conducting diligent research and choosing reputable companies that prioritize quality and safety, we can continue to savor the rich flavors of cacao while safeguarding our health!
---
⬇ Pin this "Heavy Metals In Cacao?" pic on Pinterest for future reference! ⬇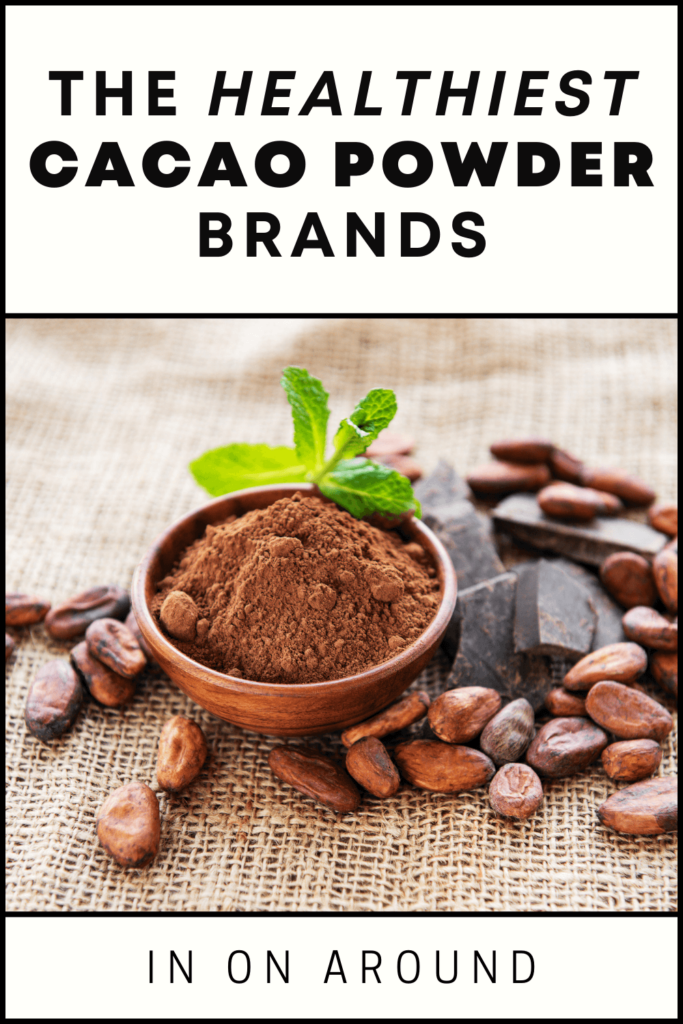 ---
Frequently Asked Questions – Heavy Metals in Cacao and Cocoa
Click on the below FAQs to learn more about cocoa processing, cacao manufacturing, heavy metal contamination, cacao sourcing, lead exposure, and the cacao industry.
What are the common heavy metals found in cacao?
What are the health risks associated with consuming cacao products containing heavy metals?
How is cacao different than cocoa?
Are heavy metal levels proprietary?
---
What's your favorite cacao brand?
Let me know your thoughts and key takeaways in the comments below!
You can watch our web story here.
xoxo,

Want to read more? Check out my other articles here!
Other references on Heavy Metals in Cacao: Consumer Reports, Navitas, Wildly Organic, As You Sow, Soul Chocolate, ATSDR, Harvard, Gimme The Good Stuff, NPR, NIH, Cleveland Clinic
Copyright In On Around LLC 2023 ©. The statements made on this website have not been evaluated by the FDA (U.S. Food & Drug Administration). They are not intended to diagnose, treat, cure, or prevent any disease. The information provided by this website should not be used as individual medical advice and you should always consult your doctor for individual recommendations and treatment. The information contained in this site is provided on an "as is" basis. Related to this site, there are no guarantees of completeness, accuracy, usefulness, or timeliness. In On Around LLC assumes no responsibility or liability for any errors or omissions in the content of this site.